James Bond's Murky Future
A planned 25th film about the British secret agent, starring Daniel Craig, is stuck in limbo. But beyond the production issues are deeper problems that come with constantly rebooting the character.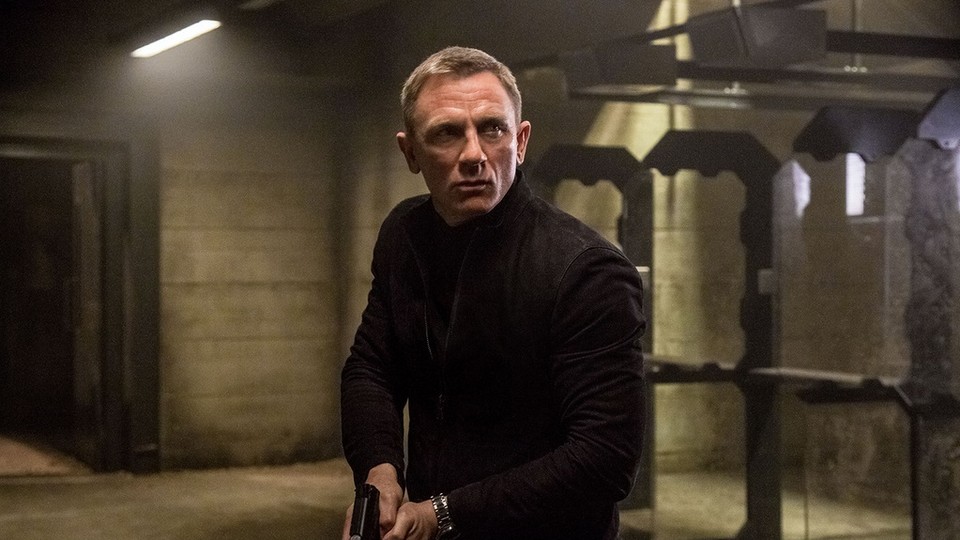 The James Bond series is one of Hollywood's oldest and most enduring franchises. Over the course of 50-plus years, the character has starred in 24 official films (plus a few unauthorized spin-offs) and been played by six actors, basically inventing the concept of the "reboot" through multiple recastings. Since 2006, the role has belonged to Daniel Craig, whose four outings as the secret agent have been the franchise's most successful entries. Craig has never seemed entirely comfortable playing the suave, womanizing assassin, remarking in 2015 (during press for the last film, Spectre), that he'd rather slash his wrists than do another Bond movie.
Craig has long been a prickly personality in the press, but a fuller accounting of that (somewhat notorious) interview suggests the actor wasn't simply sick of a character he'd just finished playing ("For at least a year or two, I just don't want to think about it," he said). "If I did another Bond movie, it would only be for the money," Craig added, and sure enough, the money eventually arrived, with Craig receiving a reported $25 million to return for the untitled "Bond 25," set for release in 2019. The Oscar-winning Brit Danny Boyle (Slumdog Millionaire) was tapped to direct and co-write the film with his frequent collaborator John Hodge.
Last week, Boyle left the project (due to "creative differences," according to an official statement), and his script is apparently going with him. Rather than hire someone dependable but unexciting to keep the project on schedule (as Lucasfilm did with Ron Howard and Solo), Variety reported that the production company Eon and the studio MGM are prepared to undertake a major rewrite and delay shooting if necessary. Boyle and Hodge's script reportedly focused on a Russian villain, and The Telegraph claimed that Craig disagreed with Boyle's casting choices. But after so many reboots, the problem with Bond goes far deeper than who plays the villain—and arguably nobody knows that better than Craig.
"I don't know if I'd like to spend too much time with him," Craig said of the character in a 2015 interview with Esquire promoting Spectre. "Hopefully, my Bond is not as sexist and misogynistic" as previous iterations. The actor's willingness to talk about the character's wincingly old-fashioned (or, to put it bluntly, mildly sociopathic) approach to love and romance has been refreshing. But that self-awareness doesn't erase 007's inherent flaws. In Spectre, Bond walks off into the sunset with his latest love interest, Madeleine Swann (Léa Seydoux), but there's been no mention of Seydoux returning for "Bond 25," because the agent has to be single and unattached for his continued lust for danger to remain plausible.
Craig's frustration with the character is in some ways part of a larger pattern. Every 10 to 20 years, there is some sort of existential reckoning with Bond's place in pop culture, which is then followed by an overcorrection. Roger Moore, who was 57 in his last appearance as Bond, in 1985, was eventually seen by producers as too old and unable to keep up with more modern, action-packed blockbusters. Timothy Dalton's Bond was quickly dismissed by critics as too dark and moody after his second outing, in 1989's starkly violent License to Kill. Pierce Brosnan's films were drowned in product placement and corporate branding, with his 007 becoming a glorified watch spokesman. Then came Craig, whose movies are less gadget heavy and better recall Sean Connery's original performance. Craig helped ground the character in reality again, but with that has come more recognition that James Bond the person would be quite awful to interact with.
So, as Craig prepares for what might be his final go-round with the character, rumors about who might replace him have once again kicked into high gear. The result is an unofficial long list of British leading men, including genuine stars such as Tom Hardy and Tom Hiddleston, and emerging TV talent such as James Norton and Aidan Turner. But for most of the past decade, one name has consistently stayed at the top of oddsmakers' lists: Idris Elba. Not only is he a marquee idol, but his casting as the first nonwhite Bond would also be a genuine milestone.
Elba has recently had fun teasing fans online about the speculation, but the fact remains that "Bond 26," or whatever film sequel would likely recast the character, is more than a few years away. Craig's steely eyed performance is still such an assumed box-office draw (particularly worldwide) that MGM was willing to pony up a huge salary to lure him back. Sooner or later, Craig and the franchise producers will be faced with the difficult task of arranging a proper send-off.
Ironically, the 2012 film Skyfall, which acknowledged Craig's advancing age and staged its final set piece at the Bond family estate, was probably best suited as a goodbye for the actor. But the movie was such a hit that Spectre was quickly put into production. That film did a clunkier job of trying to weave Bond's history into its plot, reviving the villainous Blofeld (Christoph Waltz) and having him claim responsibility for all of Bond's past missions. Spectre was a confusing misfire that only further muddied the franchise's amorphous sense of continuity. If Craig is indeed heading out with "Bond 25," the film will have to find a way to bid farewell to a character who can never really die. This James Bond might be entering his inevitable death spiral—but as long as there's money to be made, there will always be the promise of a new 007.