The Unlikely Harmony Between Iggy Pop and Underworld
Two musical giants collide in Teatime Dub Encounters to produce a fascinating dialogue between old-school rock and New Age electronic.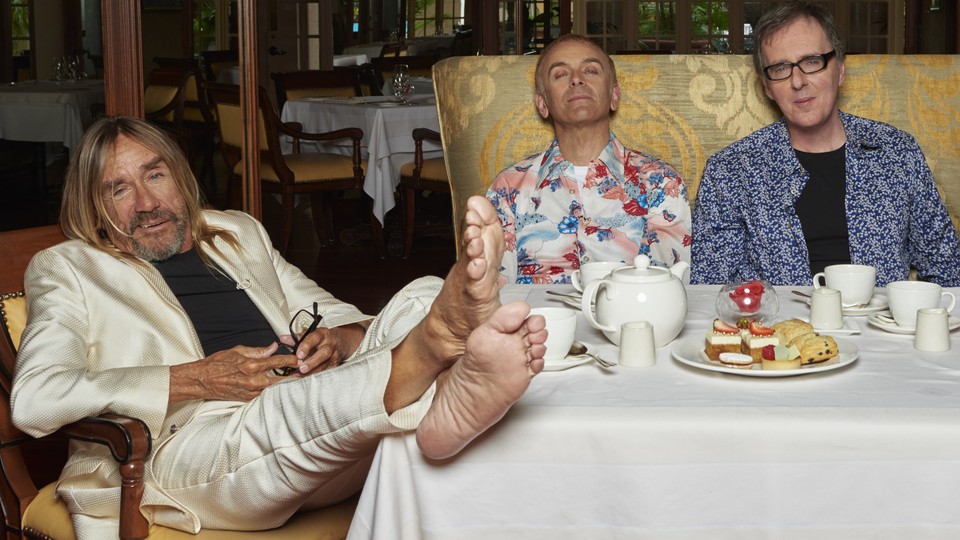 Their intention was to make some music for T2, the sequel to Danny Boyle's Trainspotting. Despite his condition of semiretiredness, Iggy Pop met Underworld, the puckish elders of British electronic music, in a room in London's Savoy hotel. They all knew each other from the original film's soundtrack—Iggy's rave-up "Lust for Life" was featured near the beginning of the movie, while Underworld's "Born Slippy," an abstract banger slashed open by the chanted, overload poetry of the front man Karl Hyde, was close to the end. At the Savoy, Underworld had some recording gear and their own spacious minds; Iggy brought his Iggy-ness.
From a series of these hotel meetings came Teatime Dub Encounters: four tracks of techno-fied spoken word, gapingly energized and bizarrely touching. (Love that title, incidentally. I hear a very English cup-and-saucer tinkle with exotic reverb on it.) It's a dialogue between the digital and the carnal, between Britain and America, between smoothly capable middle age and rude senescence. And it's quite beautiful.
Nature adores a collaboration, especially one in which a leathery singularity like Iggy gets to commune with an advanced neural network. Underworld (Hyde and Rick Smith, currently) are almost four decades into a career of restless creativity. Profound programming is what they do; their rippling, escalating, deep-healing 1993 epic "Rez" is basically an algorithm for transcendence. Then there's Iggy: legendary bloodied torso and one of the creators of the rock-and-roll ritual. With Iggy came danger, to himself and everybody else—he was the burning boy, the athlete of abasement, the downward-plunging divinity. In 1977, the rock writer Lester Bangs called him a "blowtorch in bondage." Now Iggy's 71, a sparkling, animalistic old man with lank wizardly hair and a geezer-ish delight in speaking his mind.
The joint EP, which dropped last month, kicks off with "Bells & Circles," an expertly layered, intensifying Underworld groove over which Iggy bounces and talk-shouts, dilating with cracked exuberance upon the pleasures of smoking on airplanes. And doing cocaine off the tray tables on airplanes. And getting the phone numbers of flight attendants on airplanes. And then mislaying said phone numbers because you're too high on airplanes. "The stewardess would have been better than the cocaine / I made an error in judgment," Iggy laments. Hyde floats in the background, a wistfully lyrical and almost feminine presence. He croons, "Sunlight on my wings," a counterpoint to the thumping comic disgruntlement of the Ig.
The cigarette (and cocaine) you can no longer enjoy on planes symbolizes our lost freedoms, our vanished cosmopolitanisms, our now-proscribed old-school recreations. "Those were the golden days of air travel," Iggy yelps, in a mode we might call manic-elegiac. "It's over for the liberal democracies … Here comes the jungle!" If you experience life as a sequence of unendurable personal constraints funneling toward global crack-up, may I suggest that this track is for you.
"Trapped" is an electro-jiggle with a naggingly high tempo. Iggy works himself into it via the usual shamanistic spirit cries ("Hey-hey! ... Huh!") and then goes sort of rockabilly, shaking and blubbering about the death of innocence. "Let's hear it for Johnny / He's got a mortgage / He's got a house! / Oh no! / He's got a house / There goes the little boy inside / Goodbye, little boy!" (It's not deep, this stuff, but my own little boy inside twitched in assent and curled a tiny fist.)
"Get Your Shirt," meanwhile, is a glittering stomp in the vein of "I Exhale" from Underworld's last album, Barbara Barbara, We Face a Shining Future. Iggy uses the setting for more of his perennial grumbling about the biz. "I signed on the dotted line / And I lost my shirt." And not just the biz; the heart, too, can rip you off. "I fell in love / In love I fell / She stole my shirt! … Don't try hard to be a flirt / Get your shirt!" Are these lyrics somewhat half-assed? I think we can say that they are. But Iggy writes a lot of doggerel; it stops him thinking, keeps him close to the source.
The project achieves its apotheosis with "I'll See Big." The backing track is spacious, rueful, gorgeous, a kind of exhalation of melody, and Iggy's delivery is rusty voiced and intimate. "I wanted to have some friends," he begins. Iggy—his memory dented, his body warped and wrung by many rages—is ruminating on the company he's kept. No jeremiads, no bad rhymes, just an old man recollecting into an electronic atmosphere. "I'm getting a little older now and / I start to think about the friends that are gonna think of me / When I move along … They're not the best, fanciest people / Not even very good people frankly," he chuckles. The weight of the experience settles into the weightlessness of the sound.
Rock and roll is old and its skin is cold, while dance music is in its love-handled middle years. Teatime Dub Encounters splendidly harnesses, for your edification, the long-honed expertise of two great musician engineers, and the berserk senior energy of one priceless man. More tea, please.