How Will Orange Is the New Black End?
As the Netflix series heads toward a possible final season, its conclusion could be hopeful or honest, but not both.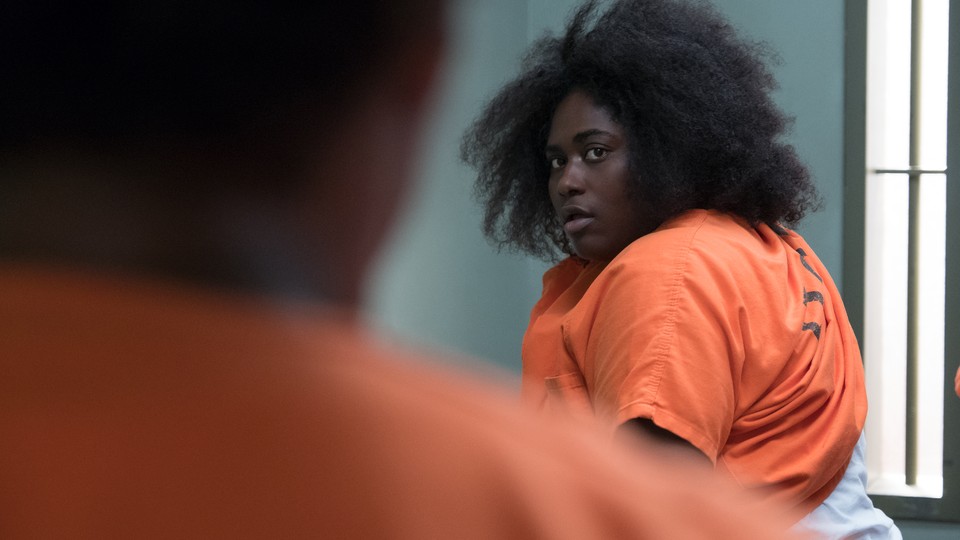 This article contains spoilers through the sixth season of Orange Is the New Black.
Previous seasons of Orange Is the New Black have ended with miracles, with accidental manslaughter, with hope, and with despair. The sixth season ended with an affirmation of how bitterly unequal America is, as Piper (Taylor Schilling) was hopscotched into early release thanks to a guard's desire to be rid of her, Taystee (Danielle Brooks) faced the death penalty after being convicted of a murder she didn't commit, and Blanca (Laura Gómez) walked out of prison not into the arms of her partner, Diablo, but into the custody of U.S. Immigration and Customs Enforcement.
At this point, Orange is streaming television's longest-running series, renewed for a seventh season that starts filming later this year. With Piper out of prison and contemplating a memoir, much like the real-life person she's based on, it's fair to assume that Jenji Kohan's Netflix dramedy is arching toward a conclusion. But given the show's perpetual self-reinvention over six seasons, and its tendency to yo-yo between zany hijinks, thoughtful affirmation, and heartbreaking social commentary, it's also fair to wonder: How will Orange end? With justice? With optimism? Or—given the sadder, more realistic worldview the series has touted in recent seasons—with neither?
The biggest clue comes from the show's decision to throw out its vague timeline entirely in Season 6, abandoning the logical pace of Piper's 15-month sentence to shuttle the events of the series directly into the present. In the 13 new episodes released last Friday, there are references to contemporary events galore: the #MeToo movement, Puerto Rico's power outages, a border wall between the United States and Mexico. And to confuse the chronology further, while the fifth season covered just three days in Litchfield life, the sixth appears to span at least six months. The change, the Orange executive producer Tara Herrmann told The Hollywood Reporter, was deliberate. Given the current political climate in America, the series was willing to blow up its timeline to be able to comment explicitly on topical issues.
Most specifically, this entails immigration. As the show revealed in Season 6, the corporation running Litchfield, MCC, has dealt with its PR crisis in the wake of Poussey's death and the riot by rebranding as PolyCon. It's also expanded into the realm of detaining the undocumented, working with ICE to build immigration detention centers. With Blanca in federal custody, Orange has the opportunity to show what happens to detained immigrants, explore their stories, and challenge preconceptions, just as it has done with Litchfield's prisoners.
The biggest question mark going into Season 7, though, is Taystee. Having elected to fight the charge of murdering Piscatella (Brad William Henke) in court rather than plead guilty to a crime she didn't commit, Taystee was convicted by a jury on federal charges and faces the death penalty. Brooks was as extraordinary as ever in Season 6, and the show's decision to spend more time spinning its wheels with characters like Luschek (Matt Peters) and Caputo (Nick Sandow) than it did spelling out the circumstances of Taystee's fight was one of its biggest deficiencies. That said, Orange's particular focus on Caputo seems significant. No one else in the show apart from the men responsible has figured out who was actually behind Piscatella's death, and Caputo's persistent support for Taystee implies that he hasn't given up.
The question of whether Taystee will ever find justice symbolizes a larger fight within the fabric of the show. For as long as it's streamed, Orange has had a fatalistic attitude about the efficacy of standing up to power. Smaller protests, like Brook (Kimiko Glenn) and Sister Ingalls's (Beth Fowler) hunger strike, are easily crushed; larger ones, like the Litchfield riot, only have ramifications for the prisoners themselves. Outside Litchfield, the greediest, most shameless people inevitably triumph (see: Linda from purchasing's promotion). Inside the prison, corrupt guards collude with power-hungry prisoners to smuggle in drugs and set up fights, and everyone else suffers as a result.
And yet the series isn't without its bright spots; it would be impossible to watch if it were. Moments like the lake scene at the end of Season 3 and even the kickball game at the end of Season 6 are powerful because they draw the prisoners together. When the women are fractured or fixated on their own vendettas, they're distracted from the real enemy: the prison itself. (As one of the guards put it, "When they're swinging at each other they're not looking at us.") The FBI was only able to implicate Taystee and Red (Kate Mulgrew) for inciting the prison riot by separating the women and pitting them against each other. But the flip side is the idea of what the women can achieve when they're united against a common enemy.
Taystee in particular is gathering supporters by the day. On the show, she's given an interview to ProPublica (The Marshall Project is also investigating), and the ACLU is funding her legal defense. Her conviction, and her outrage at the death of Poussey, has become a rallying point for the Black Lives Matter movement. If the oddly touching romance between Caputo and Figueroa (Alysia Reiner) has felt overexpanded in Season 6, it may be for a reason: to give Caputo—Taystee's primary defender—a mole within MCC/PolyCon who can help him vindicate her.
The question is: Does the show believe justice can be served? Will it sacrifice a happy ending (the quashing of Taystee's conviction) to continue doing what it's done since Poussey died—reminding viewers of how cruel and brutal the system is for women stuck inside it? Will it allow Blanca to stay in the United States, or will she be deported, as so many women like her are every day? Will Piper have the capacity to make her memoir about more than just herself, and turn any fame she finds into a platform to advocate for women whose voices aren't heard, as Piper Kerman has done?
If Orange Is the New Black chooses to end without hope, by leaving Taystee with a life sentence (or worse, on death row), having Piper profit from her brief prison interlude, and showing the remaining women of Litchfield as divided as ever, the show could justify such a bleak conclusion by citing the ongoing injustices of real life. But the series has always had a message beyond simple verisimilitude. Outrageous things happen every day, it says. It's easy not to want to think about them. It's even easier, like Sophia (Laverne Cox) does in Season 6, to take the occasional rewards you get offered and give up the fight. But fighting, Orange says, is the only option; giving up is the surest way to make sure things never change. When you can summon the will to keep resisting though, sometimes—just sometimes—you can win. If the show is really intent on being topical in what could be its final season, messages don't get more relevant than that.