How Netflix Snagged Black-ish Creator Kenya Barris
The showrunner recently departed ABC for the streaming network, joining the ranks of Ryan Murphy and Shonda Rhimes in the process.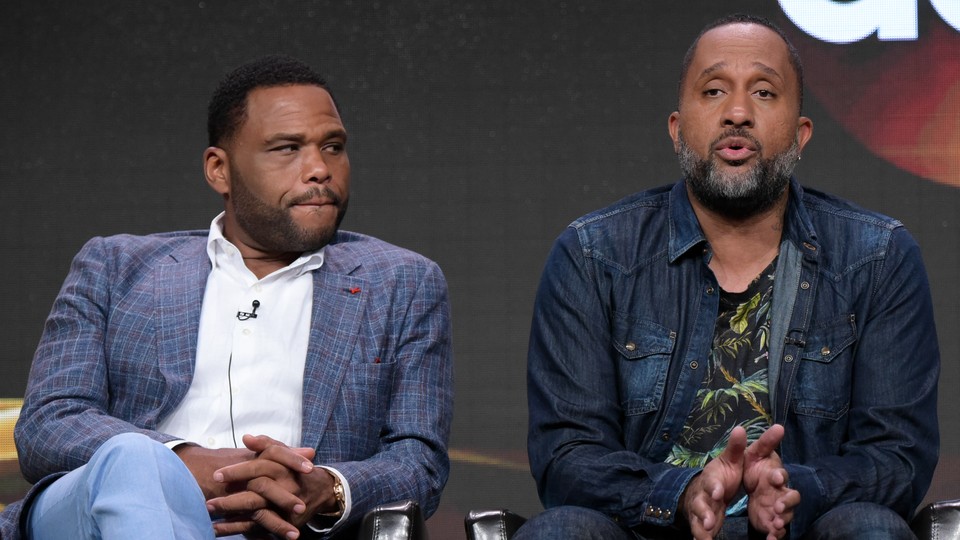 The star Hollywood writer Kenya Barris climbed the Hollywood ladder for years and had supposedly reached its apex. Beginning with brief writing stints on shows like Girlfriends, Are We There Yet? and I Hate My Teenage Daughter, Barris then served as a writer and producer on the sitcom The Game, before creating his own show, Black-ish, on ABC. It was a critical and commercial hit, and with that came a spin-off (Grown-ish on Freeform), hit movies (Girls Trip, Barbershop: The Next Cut) and a production deal with ABC. But in Hollywood, even great success comes with trade-offs—Barris clashed with ABC over Black-ish's content, and the network shelved a politically themed episode over "creative differences" last February.
That's always been the industry bargain: Network TV, or a movie studio, might provide a larger audience, but with that comes more storytelling constraints. Not so at Netflix, which offers the creative freedom of an indie studio or a cable network, the exorbitant salaries of a major media conglomerate, and a massive audience of subscribers almost on a par with terrestrial television. It's why Netflix was able to snap up major creative voices like Ryan Murphy, who signed a five-year deal worth up to $300 million last February, and Shonda Rhimes, another ABC mainstay who jumped ship for a $150 million contract with the company in 2017.
Barris's decision, then, to move to Netflix for a reported three-year, $100 million deal seems like a no-brainer. The company has everything to offer, without any of the presumed compromises.
"When my agents reached out to me about this little garage start-up called Netflix, I wasn't sure what to think," Barris said in a statement to Variety. "But after I talked to Ted [Sarandos, chief content officer] and Cindy [Holland, vice president of original series], I started to believe that maybe this mom-and-pop shop with only 130 million subscribers might just be something."
At Netflix's little "mom-and-pop" operation, Barris will be able to make whatever shows he wants at a more reasonable output (Netflix seasons run between eight and 13 episodes, unlike ABC's 22 to 24). Beyond that, there's little indication the company would object to an episode that dared reference President Trump negatively (which was reportedly ABC's hang-up with the pulled episode of Black-ish).
What's more, at a place like ABC, where space for new shows is limited by the number of open slots on its primetime schedule, even huge names like Rhimes would have their shows flop, or not even make it past the pilot stage. Not long before she signed her Netflix deal, Rhimes saw her show Still Star-Crossed, which was written in 2015 and ordered to series in 2016, get canceled after less than a month on the air. Similarly, Barris had a comedy project in development with the writer Julie Bean that was given a straight-to-series order, then reduced to a pilot-episode order, then pushed off the schedule completely.
Because Netflix's model is less ratings-focused and doesn't need shows to premiere during a particular "sweeps week" (advertiser-focused airtimes), there's no worrying over giving a debut the right lead-in program to boost viewership. The company's approach to development just doesn't have the same kind of creative bottleneck as major TV networks (though Netflix is now reportedly testing advertisements of its own shows between episodes). Still, the start-up is such an unusual disruptor in the entertainment world and it continues to adjust its models of distribution, leaving companies like Disney and AT&T scrambling to create Netflix-like services to keep pace with the streaming company.
But can the good times at Netflix go on forever?
The biggest concern is that Netflix could potentially suffer from too much of a good thing.The company has planned to spend some $13 billion on content this year, and the resulting glut of original shows and movies is becoming impossible to keep up with. Two of its most acclaimed projects, American Vandal and BoJack Horseman, will release their new seasons in mid-September on the same day (a rarity), and the more big creators the company signs, the harder it will be to space things out. Netflix guarantees a wide subscriber base, but it can be hard for a show to stand out within its crowded user interface, and without viewership numbers, it's hard to know if something has been a success.
The company's culture of creative freedom has also led to a lot of television with roomy, slow-moving storytelling that stretches plots over an entire season rather than one or two episodes. The pacing issue, which has become a common point of criticism in reviews of several shows, is one the company is aware of, with Cindy Holland saying Netflix is still in the "early innings of what creators can do," and pointing to more episodic work in the company's comedy division, like Master of None and BoJack.
Creators like Barris, who have backgrounds in the more rigorous, note-heavy world of network TV, might help tighten things up in this regard. But as the Netflix talent pool expands, there's a greater chance of new shows getting lost in the shuffle, no matter how creatively unconstrained they might be.
Whatever the future of Netflix, big-name producers like Rhimes, Barris, and Murphy have the least to worry about. They can help the company draw in top-tier talent and attract new subscribers, making the kinds of shows that, at their best, compete with the finest in network television.