How MoviePass Has Changed Ticket Buying
The company announced a new, more restrictive plan for subscribers after its stock spiraled, but it has already left a lasting mark on theater chains.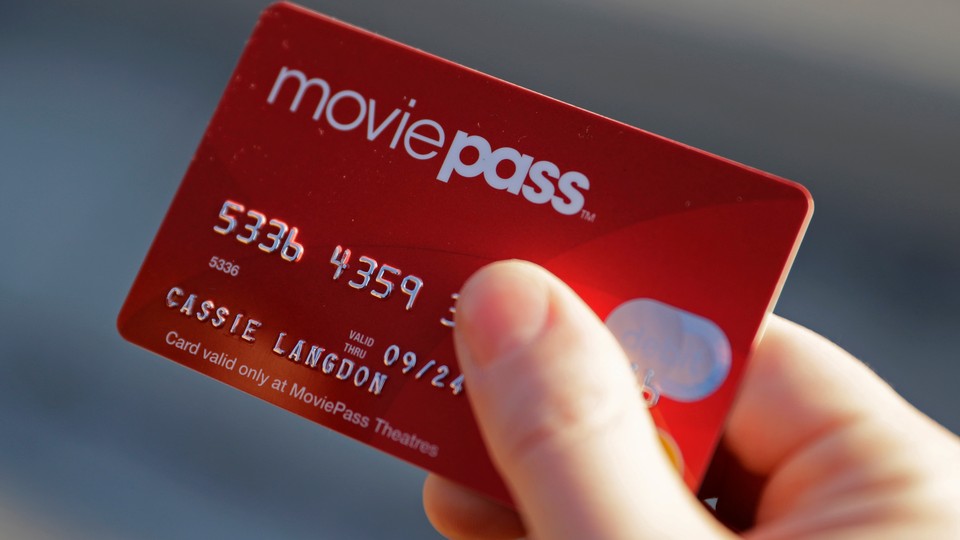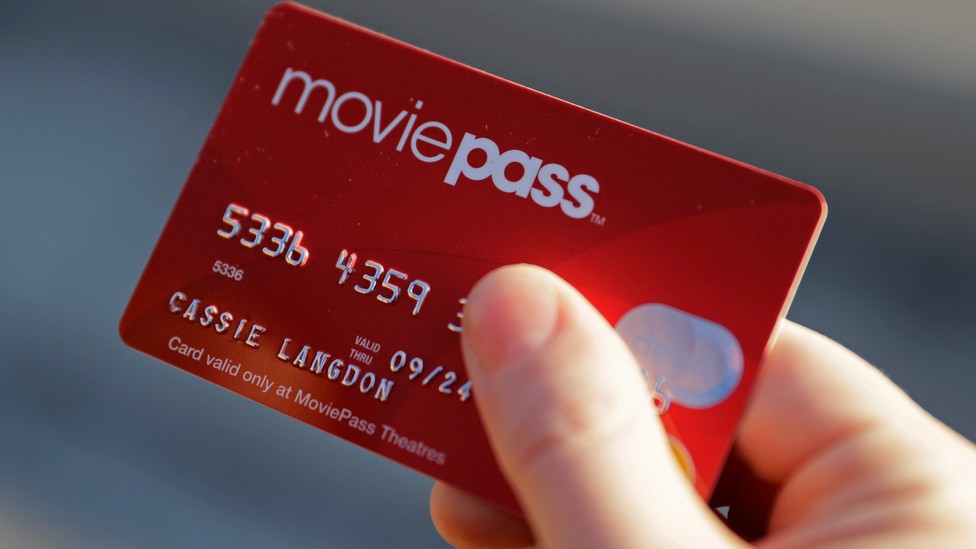 You didn't have to be an economist to deduce that MoviePass's former business model wasn't going to be a real moneymaker. The app's users paid $9.95 a month—less if they bought a year's subscription in advance—and in return could get one free movie ticket a day, excluding 3-D or IMAX screenings. The average price of a movie ticket in America is a little less than $9; in many major metropolitan areas, it's much higher. So even if you watched one film a month, MoviePass wasn't making a profit; the more you saw, the more the company (owned by Helios and Matheson Analytics) lost.
Spending oodles of investor money to build a loyal subscriber base is a tried-and-tested start-up model, but MoviePass's funding situation entered "death spiral" status in the past couple of months as the app struggled to borrow enough money to keep services running. MoviePass's goal, as I've written before, was to eventually monetize the data it gathered on its giant subscriber base (more than 3 million people). But this summer, the financial picture became too grim for that kind of long-term thinking. So on Monday, after weeks of outages and conflicting information on its future, MoviePass announced a new system: For $9.95 a month, you can watch three films a month, with small discounts for any extra ticket bought.
According to MoviePass's chief executive, Mitch Lowe, 85 percent of the app's users already see no more than three movies a month. This new strategy will rein in the app's power users, hopefully bringing costs in line without depressing the subscriber base too much. But it also likely signals the end of a wild, fascinating moment in the moviegoing business, in which the seismic impact of MoviePass led theater chains to begin adjusting their business models to fend off a threat to their own profit margins.
AMC, the biggest theater chain in America, has waged the most public battle with MoviePass. In August 2017, after the initial announcement of the $9.95-a-month plan, AMC said it would try and stop the app from purchasing tickets at its theaters, calling MoviePass's model "unsustainable." In January, MoviePass retaliated by removing 10 of AMC's busiest locations from its app to demonstrate the might of its subscriber base (who were diverted elsewhere), and by demanding a partnership with AMC in which MoviePass got a $3 cut of every ticket sold and 20 percent of concessions revenue.
Eventually, AMC came up with a plan of its own. The "AMC Stubs A-List" package costs $19.95 a month and lets subscribers see up to three films every week. There are no restrictions on format—IMAX, 3-D, and the premium Dolby Cinema are included, with no blackout dates. A three-month minimum commitment is required, but AMC does also promise not to change the prices or scale of the plan within one year of signing on. Perhaps most crucially, Stubs A-List lets users book tickets in advance (MoviePass's system relies on customers buying when they get to the theater, because they need to "check in" on their app before using their MoviePass credit card to purchase the ticket).
If you're a fan of your local AMC theater, it's likely a good deal, though the service would automatically restrict your options to the blockbuster and family fare that usually dominates at the multiplexes (some bigger AMCs offer a wider range of releases). But what's notable is that AMC took action in the first place and eventually offered its customers a new ticket-buying option. For all of MoviePass's ludicrousness, it has demonstrated that audiences have a real appetite for a subscription-based approach to filmgoing, and larger theater chains are catching on.
The three-movie-a-month model that MoviePass is reportedly settling on (it will go into effect August 15) is similar to Sinemia, a competitor that offers tiered plans including $7.99 for two films a month. Cinemark, a smaller theater chain, also has a "movie club" for $8.99 a month that gets you one free ticket, up to two additional tickets for $8.99 each, and 20 percent off all concessions. Regal Cinemas has talked about instituting demand-based ticketing (though no system has been rolled out). The more indie-minded Alamo Drafthouse chain is also testing a service exclusively at its Yonkers location, though it has not yet revealed the pricing.
Many of these plans are tied to specific chains, but that's what's so intriguing about the chaos MoviePass has wrought in the exhibitor market. For years, massive companies such as AMC or Regal have done very little to enhance the cinemagoing experience; they have the major movies, so they get to set the prices with little regard for anything else. Only recently has AMC begun revamping its theaters to include recliners, and both it and Regal now offer reserved seating at certain locations. A subscription plan is the latest sign that theater chains are finally realizing the power of brand loyalty.
Will MoviePass be able to survive on the back of its new strategy after so many reports of its mounting money loss and service outages? The company's primary advantage remains its huge subscriber base, which has only continued to grow, despite the app's glitches and foibles. "We've been whipsawing people back and forth," Lowe told The Wall Street Journal. "I think we've got it now." If things hold, the three-film-a-month plan may be enough to justify the cost for MoviePass users. Where the company's profits will come from remains a bigger mystery.