Ethan Hawke Reckons With Poptimism in Hollywood
The actor gave a fascinating interview on the film industry that included a dismissive remark about the superhero genre. But his broader frustrations are perhaps less controversial.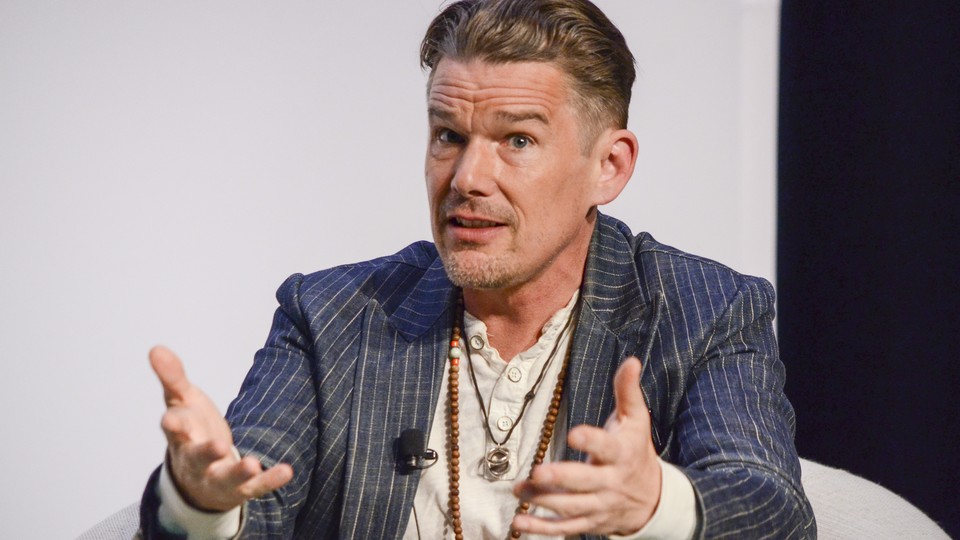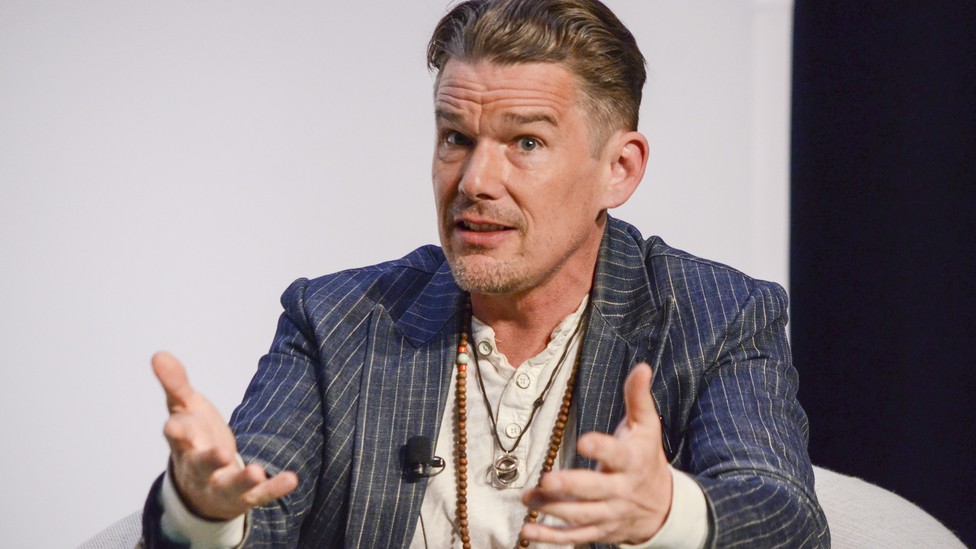 Ethan Hawke made his feature debut as an actor in 1985, playing a teenage boy in the Joe Dante film Explorers. That year, the top 10 movies at the U.S. box office were a varied bunch. There were sequels, like the Sylvester Stallone–starring Rambo: First Blood Part II and Rocky IV. There was a sci-fi classic (Back to the Future), family favorites (Cocoon, The Goonies), a goofy comedy (Spies Like Us), and two major Oscar contenders (The Color Purple and Out of Africa). As with any year in Hollywood, the top grossers don't perfectly correspond to the most beloved or enduring films: Classics like The Breakfast Club, Brazil, Blood Simple, and Lost in America didn't crack the list.
Still, it's useful to compare 1985's top 10 with the one from 2017. Last year's domestic box office was dominated by a new Star Wars, a Beauty and the Beast remake, two other sequels (Despicable Me 3 and Jumanji: Welcome to the Jungle), and five superhero movies—three from Marvel and two adapted from DC Comics. Genre-wise, this collection is undoubtedly homogenous, which is the problem Hawke is speaking to in his recent interview with The Film Stage. "We have the problem that they tell us Logan is a great movie," Hawke said. "Well, it's a great superhero movie. It still involves people in tights with metal coming out of their hands. It's not Bresson. It's not Bergman. But they talk about it like it is."
Logan was the 11th highest grosser of 2017; so far, 2018 has seen a similar glut of superheroes at the top of the box office, and as such, it's not a trend that's likely to taper off soon. Those numbers add some context to Hawke's remarks, which have a slight air of art-snob dismissiveness that's prompted some pushback online. His complaint is also a bit of a straw man; nobody's seriously comparing Logan to the work of the legendary directors Robert Bresson and Ingmar Bergman. But also relevant to Hawke's frustration is the fact that the actor is a 33-year Hollywood veteran who has kept up an interesting career while mostly avoiding blockbuster studio fare.
Hawke has never been in a film that grossed more than $100 million at the domestic box office (the closest was his supporting role in the 1989 hit Dead Poets Society, which made $95 million). He's never appeared in a superhero movie (though he had a small part in the French comic-book adaptation Valerian and the City of a Thousand Planets). Hawke isn't above genre work, either—some of his biggest hits include horror movies like The Purge and Sinister, remakes like 2016's The Magnificent Seven, and cop thrillers like Training Day and Brooklyn's Finest. But a quick sweep through his filmography helps explain his generally dispirited attitude toward today's Hollywood favorites.
"We're living in a moment now where the hard part is how to distribute [smaller movies] and how we all can know what to see … So many things get lost in the cracks," Hawke told The Film Stage, bemoaning the fact that most studios now only care about releasing major hits. Regarding Logan's supposed high quality, he argued that there's a difference between great superhero films and great non-superhero films. "But big business doesn't think there's a difference," Hawke continued. "Big business wants you to think that this is a great film because they wanna make money off of it."
Only within the last 10 years has it become widely acceptable to treat superhero movies as good cinema. I've written about how the summer of 2008 was a major moment for critical consideration of comic-book films. The first Marvel Cinematic Universe entry, Iron Man, demonstrated voracious audience appetite for less well-known superhero properties, and set the tone for the breezy sequels and spin-offs that would follow. Christopher Nolan's The Dark Knight, meanwhile, was so acclaimed that its lack of a Best Picture Oscar nomination was seen as an embarrassing oversight. Since then, the subgenre has gone from being a small part of the summer's offerings to the main event.
That prevalence is a form of cinematic "poptimism," the (sometimes pejoratively used) expression within music journalism concerning the creative legitimacy of more commercial artists. Today, so many of the biggest cultural discussions in film, particularly around representation, center on blockbuster studio movies and superheroes, often sidelining the sorts of smaller works that built Hawke's career.
But the actor isn't taking aim at all kinds of high-grossing movies, nor is he opposed to the idea that schlockier genres can produce meaningful art. "Drive-in movies, if done with art and love, are actually like the Trojan horse. You go see a werewolf movie and secretly it's a PTSD movie about the Vietnam War," Hawke said. "Get Out is a great example … If I told you I was making an important film about race relations in America you definitely don't want to come, you definitely feel like you're being preached to and you start yawning immediately."
There's a lot more to chew on in Hawke's interview than his casual dismissal of superhero movies. Still, the crux of his tossed-off line about Logan is a sort of "apples and oranges" argument, in which he suggests that great cinema and great superhero cinema are two different things. It's precisely this sort of thinking that has led to the Oscars' misguided new "popular film" category, which will somehow honor achievement in blockbuster moviemaking separately from Best Picture. As I noted earlier, in 1985 the Best Picture winner, Out of Africa, was one of the five highest grossers of the year, as were the nominees The Color Purple and Witness—clearly proving that movies can simultaneously be massive theatrical draws and artistic successes.
Now, discussions about film culture seem more bifurcated than ever—there's the popular stuff, and the rest. In his interview, Hawke is simply acknowledging that disparity, and accurately pointing out that the big grossers once used to draw from every genre rather than just a couple. There is still room for great artists to make great cinema at any budget, with any studio, and on any subject matter. But any time one kind of movie begins to dominate, exhaustion is bound to set in.