Donald Trump and the Currency of Tapes
Why eavesdrops, hot mics, and other unorthodox recordings are such a staple feature of the 45th presidency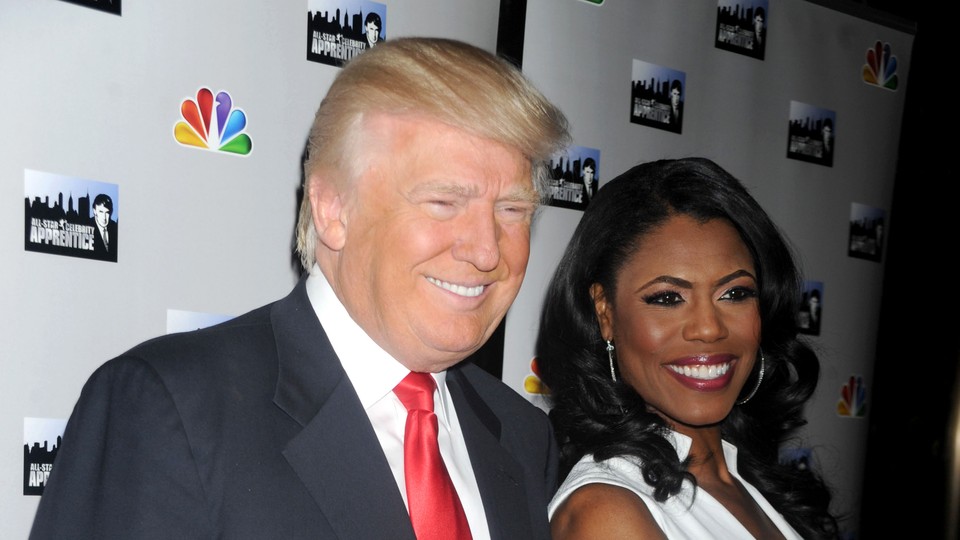 At this point, it's clear that one of the defining features of the 45th presidency is tapes. Whether mythical or real, recordings hover, cumulus-like, on the periphery of Donald Trump's administration. There's the Access Hollywood tape. The purported pee tape. The Michael Cohen tapes. The Mark Burnett tapes. The "Lordy, I hope there are tapes" tapes. The alleged—and quickly disproven—Trump Tower wiretaps. The alleged Mar-a-Lago switchboard console in Trump's private quarters. And now the Omarosa tapes, notable for their cable-news-bite brevity and their tantalizing nonspecificity.
The paradox of all the myriad Trump tapes, whether real or decidedly not so, is that no president since Richard Nixon has seemed so obsessed with surreptitiously recording others, just as no president since Nixon has been so consistently incriminated by recordings of his own activity. Trump's fixation with secretly documenting his dealings is a relic of a bygone era, one where Mafia dons were routinely convicted on the basis of secret recordings and Page Six divorces hinged on information gleaned from secret bugs. While the rest of the world has moved on to email, Trump resists it, citing its lack of security. So a question emerges: How does someone so paranoid about personal communications keep getting stung by secret tapes?
One answer seems to be that Trump's employees are merely emulating their boss in recording their private interactions with him and his staff. During his career as a businessman, The Wall Street Journal reported in 2017, Trump routinely taped private calls with his associates. In at least one legal skirmish (a 1989 suit filed against Trump by a rival casino) Trump later produced his recordings in court. During the 1980s, according to The New Yorker, Trump also let his ghostwriter Tony Schwartz listen in on private phone conversations while Schwartz was working on The Art of the Deal.
Tapes, for Trump, are a kind of currency—a talisman against future malfeasance. In January, after being criticized for reportedly referring to Haiti, El Salvador, and African nations as "shithole countries," Trump tweeted that he never used those words, and that he should probably "record future meetings—unfortunately, no trust!" His sense of suspicion appears to have been contagious. It's no coincidence that two of Trump's mentees, the attorney Michael Cohen and the reality star turned presidential aide Omarosa Manigault-Newman, went so far as to use Trump's own techniques against him. Cohen appears to have recorded his dealings with the president on several occasions, including one phone conversation about a payment to a former Playboy model who claims to have had an affair with Trump. Perhaps more concerning for Trump is the fact that those recordings are now likely in the hands of federal prosecutors after a raid on Cohen's homes and office.
After one of Cohen's recorded conversations with Trump was leaked to the media, Trump raged on Twitter, claiming it was "inconceivable" for a lawyer to tape a client. Trump himself, however, has long found the practice conceivable enough. John O'Donnell, who was president of the Trump Plaza Hotel and Casino during the 1980s, told The Washington Post that "talking on the phone with Donald was a public experience. You never knew who else was listening." In 2016, BuzzFeed News reported that Trump had a console in his bedroom at Mar-a-Lago that allowed him to listen in on phone calls that staffers—and even guests—were making. (A spokesperson for Trump denied the accusations.)
The irony is that, despite his own preoccupation with surveillance, Trump keeps suffering at the hands of those who use his own tactics on him. The true extent of Manigault-Newman's recordings remains to be seen, but her tactics have infuriated the president, who referred to her as "a dog" and a "crazed, crying lowlife" on Twitter. The former aide's insistence that further tapes exist of the president using racial slurs has also revived speculation about material recorded while Trump was filming The Apprentice, which the show's creator, Mark Burnett, has long been rumored to have locked down. In September, the actor Tom Arnold will debut a two-part special on Viceland in which he searches for outtakes of Trump making racist and sexist comments on his NBC reality show, as well as on Howard Stern's radio show.
But even if Arnold succeeds, even if Manigault-Newman is accurately reporting what she's personally heard, will it matter? The lure of the mythical Trump tapes is understandable, particularly when it comes to kompromat that may or may not have been recorded in Russia. But in the case of the Access Hollywood tape, Trump was heard by the world telling the TV presenter Billy Bush that he regularly grabbed women unsolicited by the genitalia. One month later, he was elected president. As enticing as tapes might be, their power—whether used by Trump or against him—seems to be overrated.