Crazy Rich Asians Is a Breath of Fresh Air
Jon M. Chu's adaptation of the best-selling novel is both a step forward for Hollywood and a throwback to the classic high-society comedy.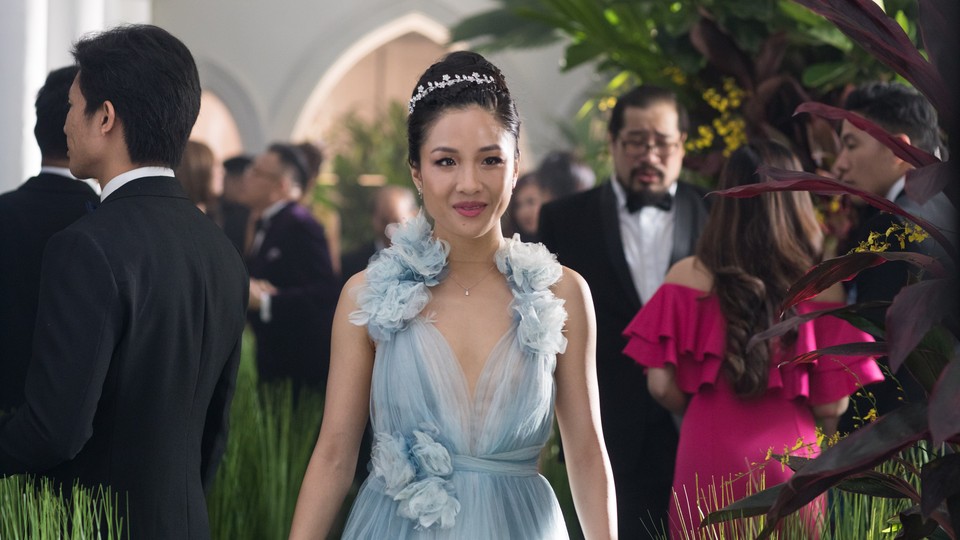 The Young family of Crazy Rich Asians is, for lack of a better word, quite wealthy. They're well-off. One might say they have oodles of money. There's no ignoring the obvious here—the Youngs are absurdly rich, to the point where merely being close to them is exciting enough to serve as the premise of a major summer movie. Though Crazy Rich Asians is rightly being lauded for its groundbreaking nature (as the first studio film with an Asian cast set in the present day since 1993's The Joy Luck Club), it's also a charming throwback to the kind of story Hollywood doesn't tell much anymore: the high-society comedy, rife with family drama, acidic one-liners, and indomitable female characters.
Based on Kevin Kwan's best-selling 2013 novel, Crazy Rich Asians is a classic ballad of life among the 1 percent, and how it can be as thrilling as it is ultimately unfulfilling. The extravagance on display is nonsensical, but that's part of the fun; the movie is filmed with colorful dynamism by Jon M. Chu, the man behind buzzy, disposable delights like Step Up 3D and Jem and the Holograms. The setting (Singapore) and the ensemble cast (which doesn't feature a white actor after the first scene) are breaths of fresh air, but so is the fact that Hollywood can still churn out a winsome family rom-com when it wants to.
Crazy Rich Asians is about Rachel Chu (Constance Wu), a Chinese American economics professor at NYU who has a nice boyfriend named Nick Young (Henry Golding). Casually at dinner, Nick mentions that his friend is getting married back home in Singapore and that Rachel should come with him and finally meet his family. The request seems innocent enough—but then off in the distance, a lady in a stunning houndstooth shawl snaps a picture of the couple and texts it to her friends. Suddenly, the movie screen explodes in a cacophony of text messages, angry gifs, and animated emojis, as the entirety of Singapore's upper crust tries to figure out who this mystery woman in Nick Young's life could be.
That's because Nick is the scion of the richest and oldest family on the wealthy island nation, and Rachel is about to walk into a hornet's nest without realizing it. The bulk of Crazy Rich Asians' two-hour running time sees her navigating the myriad egos and personalities at play in the Young family: the gossiping aunts, Nick's power-hungry cousins, the imperious matriarch Eleanor (Michelle Yeoh), and the equally imperious (but more outwardly kind) grand-matriarch Shang Su Yi (Lisa Lu).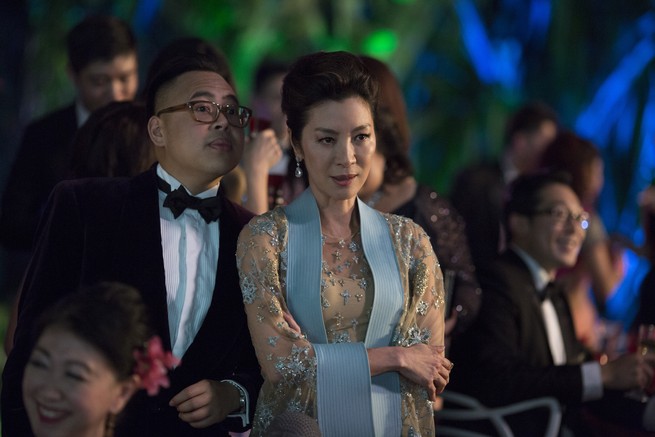 It's largely a blast, anchored by an extremely confident lead performance from Wu. This isn't a story about Rachel being tempted by Nick's riches and getting drawn into the power plays that might come with trying to secure them. Rachel is just in town to meet the folks. She's secure in her own identity and in the strength of her relationship with Nick (who's somewhat bland but very lovable all the same); it's everyone else who sees her as an intruder.
The sometimes hyperactive script (from Adele Lim and Peter Chiarelli) lays out the movie's stakes with the help of Goh Peik Lin (Awkwafina), Rachel's friend from college who belongs to a much gaudier "new money" Singaporean family. The wealth of the Youngs, Peik Lin explains, is rooted in Singapore's postcolonial history. For the Youngs, the idea of the family heir marrying an American simply won't do, no matter how charming or accomplished Rachel is. As Eleanor later explains, Americans are cursed with wanting to pursue their own happiness; to the Youngs, that value ranks a distant second to family tradition.
Yeoh is perfectly cast as Rachel's foil; she's a commandingly cool movie star who can show just the right hint of sublimated emotion when necessary. The film's first scene is a prologue set in London where a stuffy hotel concierge tries to deny the Young family service, after which Eleanor quickly, and cleanly, exacts her revenge—just so the viewer knows what a hard case she is. She's an adversary deserving of the greatest respect, and her steeliness prompts Rachel to try harder to prove her worth.
Crazy Rich Asians is more than a little basic in its plotting sometimes. Rachel has to face off with jealous exes and backbiting mean girls, all for the ultimate prize of a big honking wedding ring—but that's the kind of soapy fun that usually gets confined to television these days. As a director, Chu has enough experience with opulence to really blow out the film's glitzy world on the big screen. It's precisely that embrace of all things lush and unsubtle that makes Crazy Rich Asians such a great time at the theater.