Hollywood Can't Ignore the Success of Crazy Rich Asians
The film has passed $50 million within its first nine days of release, already sparking talk of a sequel. But producers should look beyond one potential new franchise.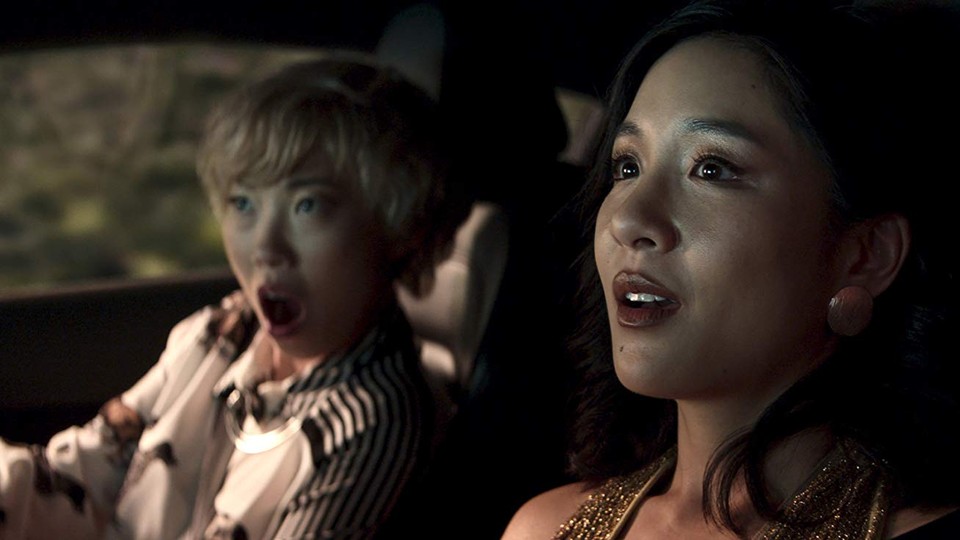 Just three weeks ago, Crazy Rich Asians had been pegged by box-office experts as a minor hit at best, tracked to open at around $18 million over five days—a respectable number given its $30 million budget, but hardly a bonanza. Last weekend, the romantic comedy nearly doubled that early prediction, making $35.2 million in its opening weekend and showing impressive staying power over the following week, crossing the $50 million line in just its ninth day of release. In other words, it was a bona fide triumph; Deadline even reported on Wednesday that a sequel was already in development. While any future editions of Crazy Rich Asians would surely excite audiences, they also wouldn't arrive for a few years.
The news of a potential sequel was a timely reminder of Hollywood's exhausting tendency to demand franchise potential from every surprise organic hit. Even late in the summer, a season that used to be less crammed with blockbusters, studios are serving up reheated offerings such as The Equalizer 2 and Hotel Transylvania 3. Romantic comedies were once essential to the box-office equation, but in 2018, Crazy Rich Asians feels fresh simply for being part of an undersaturated genre. On top of that, of course, is its groundbreaking cast and subject matter, which drove sales to surge in the major U.S. cities on both coasts.
Studios today gravitate more toward sequels and established franchises because they tend to be safer box-office bets. But audiences aren't nearly as narrow-minded as the Hollywood development process might suggest. Time and again, films that appeal to a broader demographic range, or that belong to undersung genres, sell many more tickets than predicted. Which is to say that multiple times every year, a film like Girls Trip, or Black Panther, or Crazy Rich Asians is dubbed a "surprise" success. But moving forward, industry experts—whether studios or box-office analysts—will have fewer reasons to be caught off guard.
In 2017, Girls Trip was the first film produced, directed, written by, and starring African Americans to make more than $100 million at the domestic box office. During the movie's opening weekend, 59 percent of the audience was black, a demographic that major studios have long overlooked. Headlines hailed the film's surprising success, even though there were plenty of other recent examples (Hidden Figures, Creed, Straight Outta Compton) of films aimed at black audiences outperforming studio estimates. Marvel's Black Panther became the biggest hit of 2018, a year that was expected to be dominated instead by the colossal comic-book production Avengers: Infinity War.
It's important to note that all of these films were made for different amounts of money and within different genres, and were pitched at different age ranges. The unifying result was that they surpassed financial tracking, mostly because they brought in theatergoers who are usually off Hollywood's radar. In explaining why Crazy Rich Asians had tracked so low in official estimates from Warner Bros., Variety noted the lack of "comps" for such a movie—that is, projects of similar size, casting, subject matter, and MPAA rating from recent years that studios can use for comparison. Both Black Panther and Crazy Rich Asians also saw sales powered by online campaigns to sell out theaters in big cities (#BlackPantherChallenge and #GoldOpen, respectively), which threw off numbers.
The lack of comps isn't just a problem for predictors. It's also a real reason why studios are so shy to give such projects a green light—because they don't have specific enough data to back up the assumption that something like Crazy Rich Asians could be a big hit. The last romantic comedy to make $100 million at the box office was Trainwreck in 2015—and it was rated R, aimed at a more adult crowd (Crazy Rich Asians was rated PG-13). This doesn't mean romantic comedies don't work in Hollywood anymore; it just means the industry has grown reluctant to gamble on a more unknown quantity.
This landscape explains why the success of films like Crazy Rich Asians is such a major business story for an industry still adjusting to the prevalence of home-streaming options (Netflix, indeed, made an aggressive pitch for the rights to Crazy Rich Asians). Now there are finally established comps for many kinds of movies: PG-13 films featuring an all-Asian cast, blockbusters with black superheroes, R-rated female-ensemble comedies. There are so many demographics that Hollywood can't ignore if it wants to remain a dominant part of American culture, and like it or not, ticket sales are always the best way to get producers to pay attention.