Cher's Glorious Cyborgification of ABBA
When one legend of pop camp covers another, the results are preposterous—and weirdly moving.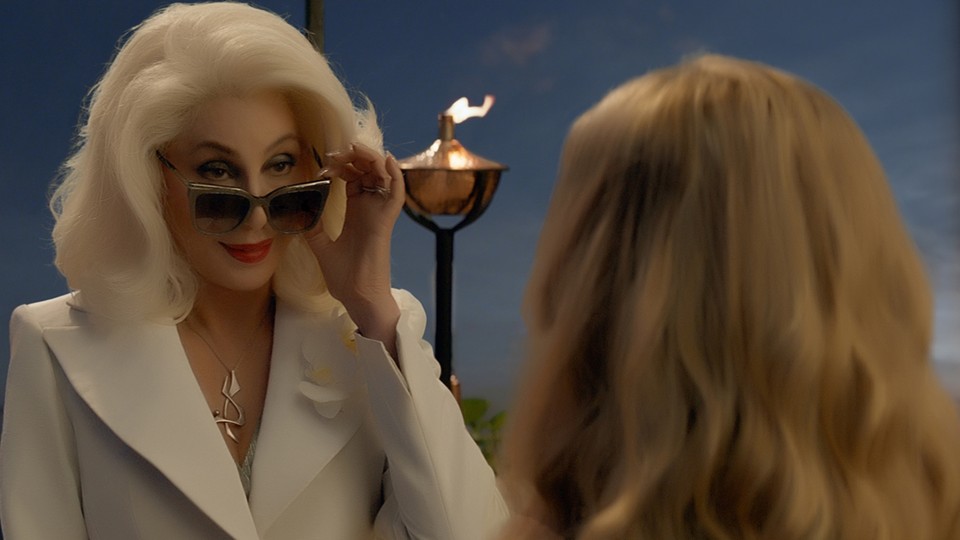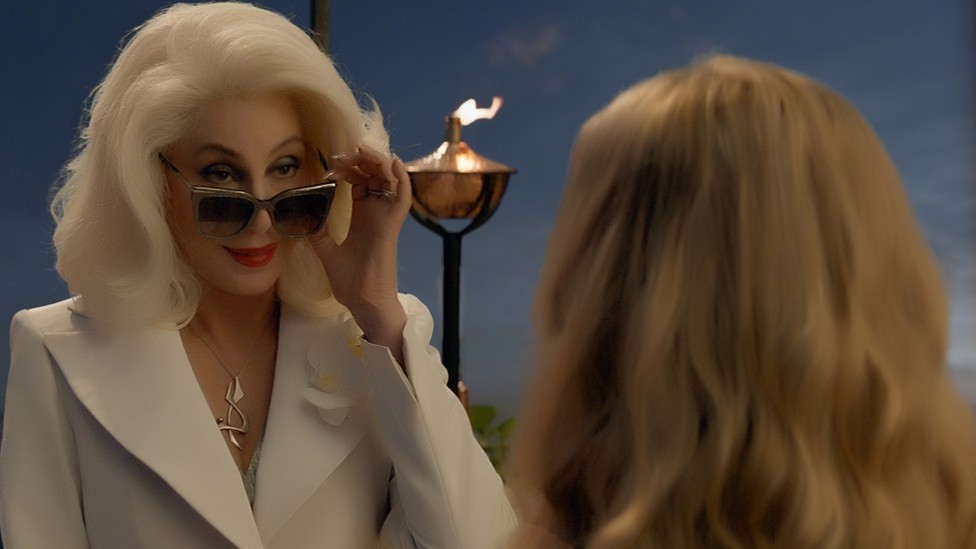 As is the case for all great acts that rewrite the definition of "pop music," ABBA hacked the machinery of human emotion. They took the eternal ticktock of disco and latched it to the glorious confinement of the three-minute verse-chorus workout. They found a universal mean between four individualized singers. And they deduced the equation that specifies a certain amount of emotional down needs to enable the ecstatic up: Before smiling and having fun, you have to remember how sick and tired you felt last night in Glasgow.
Such alchemy was so precise that it invited the standard-issue knock on perfect pop as soulless. Yet the Mamma Mia! franchise—a Broadway musical and, as of this year, two successful movies—reasserted the sloppy heart of the band. Whether groaned by Pierce Brosnan, hissed by Christine Baranski, or gang-sung from an armada of fishing boats, the songs breathed and bled. Though silly and improbable, the story aptly put into conflict personal liberation and the obligations of love: The Baby Boomer follow-your-bliss ethos of Donna Sheridan—played by Meryl Streep and then, in the sequel's many flashbacks, by Lily James—was both celebrated and reckoned with. She lived her life by her own desires, but also, by the end of each film, her daughters and lovers and friends were paid their dues.
Yet the bumbling, humane air of Mamma Mia! Here We Go Again met with a funny—and not unwelcome—disruption in the form of Cher. Presumably to amp the star power for the sequel (offsetting the fact that, spoiler alert, Streep basically sat the film out) the 72-year-old Goddess of Pop was cast to play Sheridan's mother, Ruby. She didn't arrive on screen until the last act, and when she did, it brought a new vibe as Ruby, a pop star herself, touched down on the film's idyllic Greek isle in a helicopter. The camera regarded her with worshipful stiffness, framing her as if she were in a perfume ad, with fireworks in the background making up for a lack of human movement. Almost impossibly, Cher's scenes made the rest of this hyper-artificial film feel genuine and unrehearsed.
Which fits Cher, one of America's most lively cyborgs. Though she's been riotously freewheeling for decades in the public eye—speaking her mind through artistic choices, talk-show appearances, and social media—she's also a symbol of pop as awe-inspiring artifice, whether stomping on a battleship or crooning through a vocoder. Lately, she's embarked on a late-career legacy fortification: A jukebox musical based on her songs is being mounted, she'll accept recognition from the Kennedy Center Honors in December, and, most importantly, she's doing more ABBA. Mamma Mia! Here We Go Again inspired her to record a whole album of covers called Dancing Queen, whose creation she has live-blogged on her charmingly bonkers Twitter feed. Two singles are out so far, and they gild in titanium what was originally a puff-pastry confection—and yet retain the warm center that Agnetha, Björn, Benny, and Anni-Frid whipped up decades ago.
When she posted a teaser for the first cover, of "Gimme! Gimme! Gimme! (A Man After Midnight)," one fan complained that there was too much vocoder, to which Cher replied, "WAIT ....… TO HEAR IT ALL." After that wait ....… well, yes, there's a lot of vocoder, or robotic vocals of some sort. The producer Mark Taylor has blown up an already enormous tune, one of the great gay dance-floor anthems, into the ultimate rejection of subtlety: all Top Gun guitar spindles and industrial-piston rhythms, with an iconic Madonna-appropriated synth riff spackled with yet more glitter. For the Lady Gaga–in-2011-esque breakdown, Cher's voice goes glitchy and androidlike. Yet still, throughout, Cher is really singing, with each syllable evincing a choice to belt or to whisper—and generally, such choices emphasize not the man she needs after midnight, but the loneliness that leads her to call for him. "It makes me so depressed to see the gloom," she says with extreme breath and theatricality: If the song's an escape, it's not one where you forget what's being escaped from.
The latest of the Dancing Queen singles arrived this week and it, too, jolts up the artifice and the emotion. "SOS," the 1975 smash that Brosnan infamously warbled in 2008, is among ABBA's more nakedly abject hits: It opens with a verse of raw distress and then takes a bubbly geyser of a keyboard to a chorus that finds jubilation in total acceptance of the singer's desperation. Cher's producer, Taylor, amplifies this dynamic as he arranges with a galactic sense of scope: The reverb on the piano acts as its own separate instrument, and the folky guitar part in the chorus glints like a tear in the eye.
But the most important thing is Cher's inimitable (though much imitated) Cherness, which somehow makes the words pop anew: "I wish I understewd," she blubbers. As the sing-along onslaught gives way to a quiet outro, a Cher fan might start thinking about the times in the singer's life when she had to ask herself the question of the song: "When you're gone / How can I even try to go on?" And they might remember the answer is that she's moved forward with the armor of pop excess, something she and ABBA have made available to all.