Ariana Grande's Weird Take on Love
The singer's new album Sweetener semi-successfully upends pop's usual approach to scale and tension.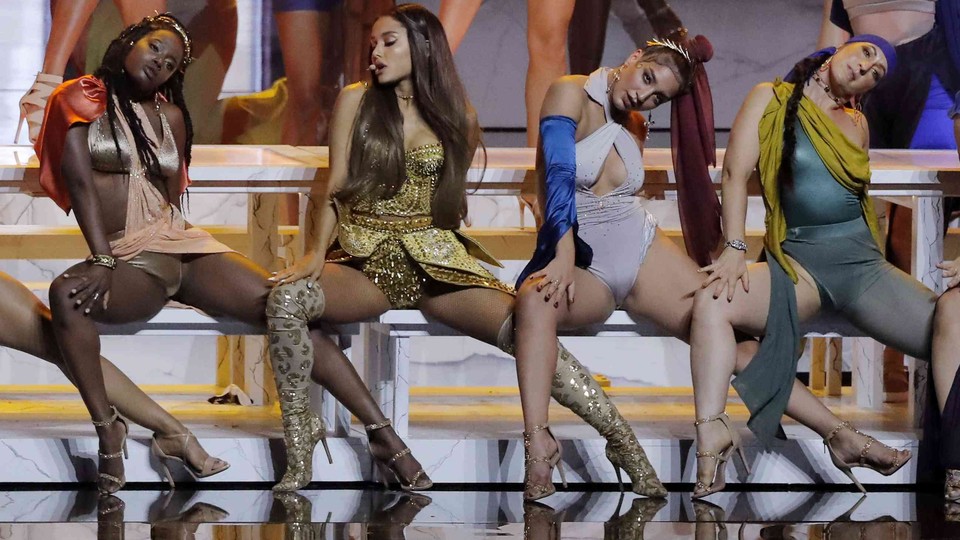 In her best songs, Ariana Grande makes it feel like she has mastered gravity. She'll arc out her light, sharp voice as if it's a dart while her producers kick up a windstorm, making it all the more gratifying when she hits the bulls-eye. For the girl-group frenzy of "Problem," bwongs of bass seemed to launch her upwards as if by trampoline. The EDM juggernaut of "Into You" crackled and groaned, Decepticon-like, as she sung from on top of the chassis. "Side to Side" had reggae rhythms working like sea waves, and she seemed to be executing a floor routine from the captain's deck.
Her fourth album, Sweetener, announces a more radical gravity shift. The cover and the first music video show Grande on the ceiling rather than the ground. The opener has her belting about a crying angel, and the closer's about someone stuck in the clouds. These metaphors make sense for her circumstances: Grande's world was flipped by the 2017 terrorist bombing of her concert in Manchester, and then flipped again by her high-speed engagement to Saturday Night Live's Pete Davidson. The conceit also telegraphs her interest in overhauling the formula she's been known for—an ambition fulfilled on Sweetener, which should leave fans dazed and amused as if they've just finished a cartwheel.
Though two of the early singles were handled by the Swedish hitmaker Max Martin—pop's greatest advocate for how fun it can be to color within the lines—the bulk of the album came from a collaboration between Grande and the legendary hip-hop trickster Pharrell. Grande says she directed him to "make the weirdest thing we can," and though the results are indeed weird for her, they're within Pharrell's quirky remit: tinny drums and squelchy keys, syncopation that a newborn foal might make a meme-able dance to, hooks and harmonies that get chanted or panted. As Pharrell cheers her on in the background ("sheesh!"), she'll trill lackadaisically or riff on trendy rap flows in ways that sometimes blur into dewy spoken word.
All of which means that Grande no longer gives the impression of some superhero escaping an explosion by using her braid as a helicopter propeller. Rather, she's inside the madness. On many of the songs, her flighty voice actually gets used as grounding, with her drawled syllables locating a rhythmic center amid the Speak & Spell jazz of "Successful" and the Janus-faced craziness of "Sweetener." Fans have come to expect a roller coaster's predictable but satisfying thrill from Grande's music, but here they get rackety pinball machines: rewarding and frustrating depending on the listener's own familiarity, mood, and internal rhythm.
Which is not to say Grande has become more inscrutable. The singer was once famous for the jankiness of her words, thanks in part to her vocal style and in part to Martin's "melodic math" trumping the need for songs to mean anything in particular. But now her lyrics are coolly enunciated and emphasized, which may owe to Grande taking a larger role in songwriting. She's tart, funny, and straightforward as she describes the mystery of infatuation. On "Blazed," for example, she goes all in on the soul-mate talk by referencing reincarnation, while winking at the preposterousness of it all: "They be making fun of this on TV / They wouldn't laugh if they were inside my past life." (The preemptive strike against snickering might not be necessary—what comes after the astrology craze if not the resurgence of eternal recurrence?)
These newly crystalline lyrics—and the music they're paired with—show off a tweaked take on her familiar subject matter, the rush of transformative love. In large part, the drama of her old work was applied to fantasies about dangerous romances that thrillingly complicated her life (see "Into You," "Problem," and "Dangerous Woman," among others). But now she's presenting companionship as nothing but balm. Her beloved is the agave nectar of the album title, or a reassuring dream on "R.E.M," or an anxiety-fighting therapist on "Breathin" and "Get Well Soon." Conflict lurks in her lyrics—some darkness that has to be beaten back, or some misfortune that has to be moved past—but Pharrell's arrangements feature no bass lines of looming evil. Instead, there's just ever-present queasiness in chords and rhythms, and Grande's voice offers the Dramamine.
All of which makes for a unique take on pop's typical themes, and with a few listens, standouts emerge. "R.E.M" is Pleasantville grocery-shopping fare with sly bite; the title track gutsily blends the sensibilities of commencement speeches with that of Lil Pump; "Successful" insists you can swagger to the sound of a MIDI file; and the closer, "Get Well Soon," inflates the Motown nostalgia of Grande's very first smash into something epic and emotional. But the other Pharrell songs—and he, again, dominates the album's sound—play as indistinguishable and suspense-free sketches, especially with the tragically rote deployment of Missy Elliott on "Borderline."
Already, the album is setting off debates about whether pop stars can "progress" without losing fans. But really, if the music works as pop—if it connects, entertains, and sticks on its way to deeper meaning—of course they can. (Just look at Beyoncé.) When the weird stuff on Sweetener works, it works. But fans aren't wrong to miss the sense of scale that suited Grande in the past, and the hints they get of it on Sweetener just highlight what's been lost. The jazzy chords and raver shuffle of "No Tears Left to Cry" sound all the fresher in the context of the album, and the other Swede-produced track to immediately emerge as a streaming favorite, "Breathin," satisfyingly builds in a way that the rest of the album doesn't. Grande's not too interested in climbing right now: She's achieved a comfy altitude and wants to cruise. The public can join as it pleases, or it can get off her cloud.