Aretha Franklin's Revolution
The soul singer was an architect of the civil-rights movement as much as a witness to it.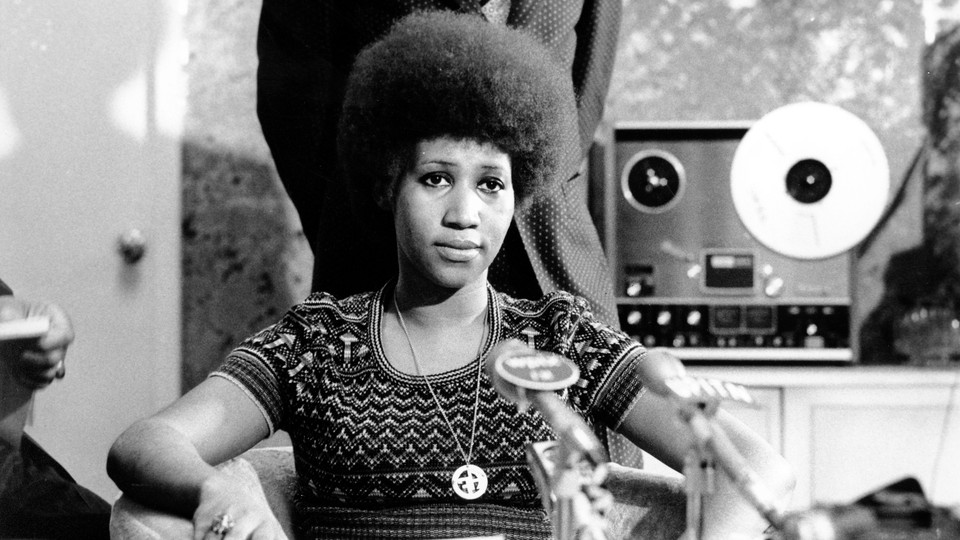 If the Great Migration could be condensed into a single personal narrative, it might be Aretha Franklin's. Born in 1942 in Memphis, Tennessee, to a traveling, womanizing preacher and a gospel-singing mother, Franklin was whisked north by the same currents that brought millions of black souls to the great industrial and financial centers of the country. Settling with her father in Detroit, she received just about as formal a training in gospel music as was possible back then, singing in her father's church and on revival tours, and learning from Mahalia Jackson, who stopped in to check on the Franklin household at times.
At 18, Franklin cast off the gospel and embarked on a pop career that would span nearly six decades, spawn a legion of hits, garner countless awards, and see her enshrined as the Queen of an art she helped build. Fifty years ago, she received an award for excellence from Martin Luther King Jr. Four years later, she sang "Precious Lord, Take My Hand," his favorite song, at Mahalia Jackson's funeral. Almost four decades after that, Franklin serenaded President Barack Obama and the rest of the country with "My Country 'Tis of Thee" at his inauguration. There were generations in her church hat.
Franklin's 76 years on Earth bookended a grand arc of tumult, letdowns, progress, setbacks, terror, and hope in American history. That in itself might not be a remarkable feat so much as a reminder that all black people older than 53 have seen and lived through hell. But Aretha—and that first name is sufficient, as it was in black churches and parlors for half a century—was an architect of a movement as much as a witness to it. She toured with the actors Harry Belafonte and Sidney Poitier to raise money for King's Southern Christian Leadership Conference in 1967, when the organization was in dire financial straits and was attempting to embark on a Poor People's Campaign. She was an activist who strained to keep a movement going even after King's assassination, and who worked to support the Black Panthers and attempted to post bail to free the activist Angela Davis from jail. She loved black people. In this country, that simple fact was radical enough.
And now Aretha is dead.
It seems we are burying more and more of the old royalty these days. That's the way of the world, and in the liberative and redemptive tradition of the Black Gospel, the passings of the elders are ultimate moments of freedom and joy as much as times for sadness. But still, Aretha's death is a loss, and it should prompt reflection. What does it mean to bury the Queen of Soul?
Aside from the revivals that come about every few years, soul is mostly a thing Americans look back on and remember fondly. In recalling a romantic and powerful era of American history, soul is a bit like Latin: an inert progenitor language once spoken by people who somehow seemed larger and more full of life than the models made today. In Aretha's runs, Sam's grandeur, Otis's gravelly urgency, and the splendor of Stax horns, there's some element of impossibility to a youngish observer like myself. It's as if the exodus that produced Aretha became music itself, and for a time produced songs and sounds that can be approached, but never truly replicated.
Part of that uniqueness comes from the fact that soul was also so tightly tied to uprising. More than just a temporal coinciding of a popular trend with the civil-rights movement, soul was another corridor of the movement. If spirituals, jazz, gospel, blues, and R&B were the first musical conduits of black resistance, soul proved to be the conduit when that resistance finally broke through.
Both the civil-rights movement and soul have often been critically misunderstood. The contributions of women—in particular the vibrant organizing for sexual autonomy and freedom from gender violence that built the organizing arms of the black freedom movement—are often elided in civil-rights histories centered on a handful of great men. And historians of soul often focus heavily on the difficult and prominent men at its forefront, on the (perceived) electric masculine energies of Delta guitars and rock covers. But Aretha stood as a corrective to both, and tied them together. Her activist drive proved effective when the money ran dry. Her canon of anthems encompassed racial, gender, and sexual freedom, and properly located the hard knot of women at the center of the movement. Her complete mastery of gospel located one of the taproots of soul in the choirs, and with the hundreds of women powerhouses in their ranks who—unlike her—had never been allowed to pursue careers in the secular world.
Aretha proved to be a capable monarch. At her zenith, her main power was in transformation, in taking less potent songs and breathing fire into them. Through sheer force of will, she transformed Otis Redding's "Respect" from a pleading ballad to a civil-rights staple, a slogan for struggles at the intersection of blackness and womanhood that predated the famous "I Am a Man" signs of the 1968 Memphis Sanitation Workers' Strike. Her barn-burning single "Think," with its chants of "Freedom" during the bridge, continued on the theme. Just a few months after King's death, Aretha commandeered Dionne Warwick's "I Say a Little Prayer," a composition that the jazz artist Roland Kirk would himself commandeer a year later and fashion into an explicit tribute to King.
Those transformations are what made soul what it was, as well. The literal meaning of the genre's name speaks to its purpose. That purpose was taking the animus of a divine creator from gospel and pouring it into the music of the world. It took the black experience, with all its urgency and certainty of overcoming, and transliterated it into the vernacular. Soul was and is a revolutionary art, and Aretha belongs in the broader conversation about this country's revolutionary heroes with any provocateur or patriot who ever lived.