The Perfect Aretha Franklin Song
"(You Make Me Feel Like) A Natural Woman" best captures the effect the Queen of Soul had on audiences worldwide.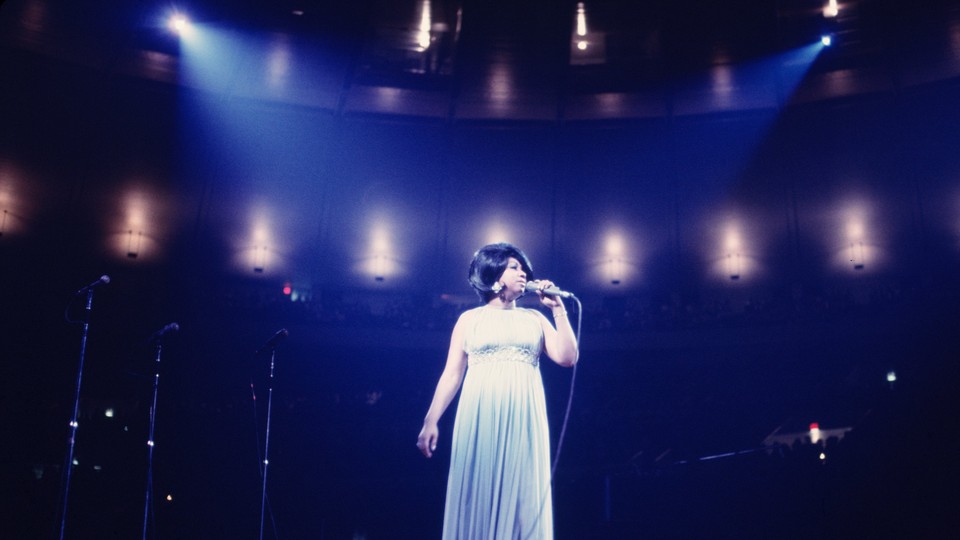 Aretha Franklin defied the boundaries of time and tragedy. The legendary Queen of Soul, who died in her Detroit home Thursday morning at the age of 76, didn't just perform; she enraptured. Franklin sang with a power and conviction that healed. She transformed pain—both others' and her own—into jubilation. This alchemy was studied, strenuous. Aretha Franklin gave us, her listeners, everything.
To hear Aretha Franklin sing was to bear witness as she constructed a one-woman orchestra from the discords of her own agony. Her musical career spanned the greater part of six decades, but every moment vibrated with a distinct urgency. Franklin's voice hypnotized. It transmuted. Any song she encountered became something new. "Respect," originally an Otis Redding song, is best-known as an Aretha anthem. The song became an unofficial rallying cry for both the civil-rights movement and women's liberation, a powerful addition to the artistic arsenals of both efforts. Franklin's singing made shared demands impossible to ignore.
But it is another legendary single that best captures the effect Franklin had on audiences worldwide. Three years ago, at the Kennedy Center Honors ceremony during which the acclaimed singer-songwriter Carole King received her official medal from the White House, Franklin stole the show in signature fashion. Approaching the stage in a floor-length fur coat and no shortage of jewels, Franklin blew kisses to King, who'd written "(You Make Me Feel Like) A Natural Woman" with her then-husband Gerry Goffin. With a stately confidence, the Queen strutted right to the piano and began to transfix. Moments after Franklin started to sing, both King and then-President Barack Obama found themselves overcome with emotion. The latter wiped away tears as he listened, a moment that's since gone viral multiple times over.


But it's hard to capture the majesty of Aretha Franklin in snippets, to divorce the singer onstage from the complex, sometimes tortured woman she was. "A Natural Woman," with its bellows and bursts, is at once euphoric and mournful. It is, in this sense, a perfect Aretha song—brimming with vivacity that exists both despite and alongside pain. The daughter of the famed Reverend Clarence LaVaughn Franklin, Aretha carried countless burdens in her life: abuse at the hands of men, the indignities of racism, professional slights. Still, she imbued "A Natural Woman" with a limitless sense of possibility. She modulated her voice with an expertise that perfectly mirrored the song's crests: She sang of her soul being "in the lost and found" with a quiet desperation, then saturated her vocals with a gratitude that she's "no longer doubtful / Of what I'm living for."
In a 2016 New Yorker profile of Franklin, King shared the origin story of "A Natural Woman," a scene the reporter relayed with admiration:
It was 1967, and [King] and Goffin were in Manhattan, walking along Broadway, and Jerry Wexler, of Atlantic Records, pulled up beside them in a limousine, rolled down the window, and said, "I'm looking for a really big hit for Aretha. How about writing a song called 'A Natural Woman.'" He rolled up the window and the car drove off. King and Goffin went home to Jersey. That night, after tucking their kids into bed, they sat down and wrote the music and the lyrics. By the next morning, they had a hit.
But they didn't have a hit yet—not until Franklin breathed life into the track. King went on to sing her own rendition of the song on her landmark album Tapestry, but it had long since ceased being hers. The song has been covered by artists including Bonnie Tyler, Mary J. Blige, and Adele (whose "Rolling in the Deep" Franklin covered herself as part of the 2014 collection Aretha Franklin Sings the Great Diva Classics). It is, is some ways, a meticulously universal record; womanhood can be fraught territory, unfamiliar terrain that doesn't lend itself to easy navigation. Still, Aretha remains the original "Natural Woman." In her voice, the song changed over the years. Each new rendition sounded lived in, authentic. She was at once the current and the conduit.

When the Queen sang it three years ago, as Obama and King watched, she matched her vocal summit with a distinct choreographic flourish: Without missing a beat, Franklin dramatically removed her coat. Letting it slip to the floor, she raised her arm up as though in praise. The moment was a spiritual revelation, even as Franklin sang a secular track.
The gospel-trained singer, who got her start performing in her father's church, brought a sense of wonder and exultation—of God, of self, of community—to all her records. "A Natural Woman," for all its invocations of external inspiration, brings its female listeners back to their roots. If its lyrics are a quiet reminder of the power of womanhood, then Franklin's voice offered an embodied amplification. She sang it loud and proud, her enthusiasm contagious and complex. Franklin made grandmothers, mothers, aunts, daughters, and sisters feel like natural women. For so many, finding inspiration in the sheer power of her voice was a collective experience. So, too, is her death a shared loss.
Aretha Franklin's voice connected us to the visceral. To listen to her was to remember that the most beautiful triumphs of human existence—especially for women, for black people—come after the deepest sorrows. Weeping may endure for the night, but joy comes in the morning.