Why Young Chinese Artists Are Avoiding Political Art
Artists in China seem to be moving away from political pieces toward more abstract works.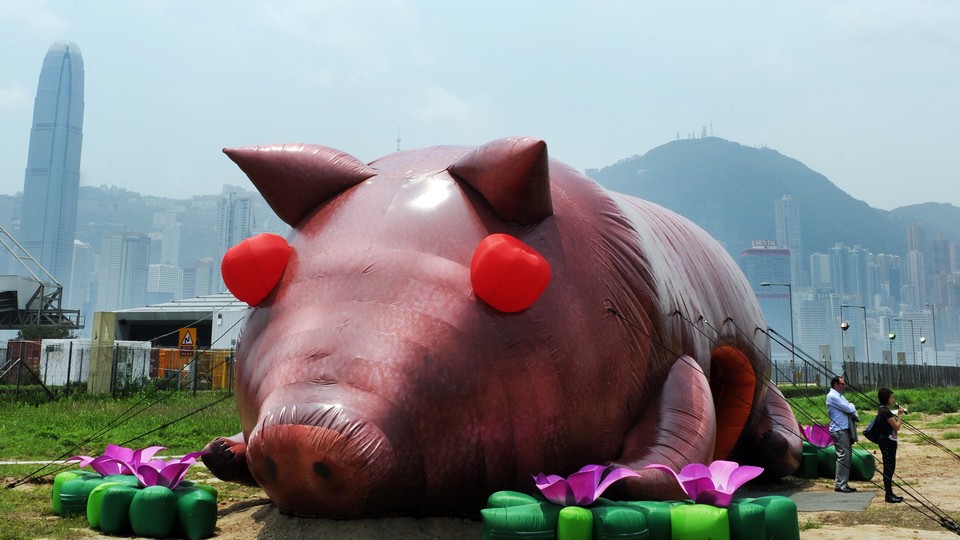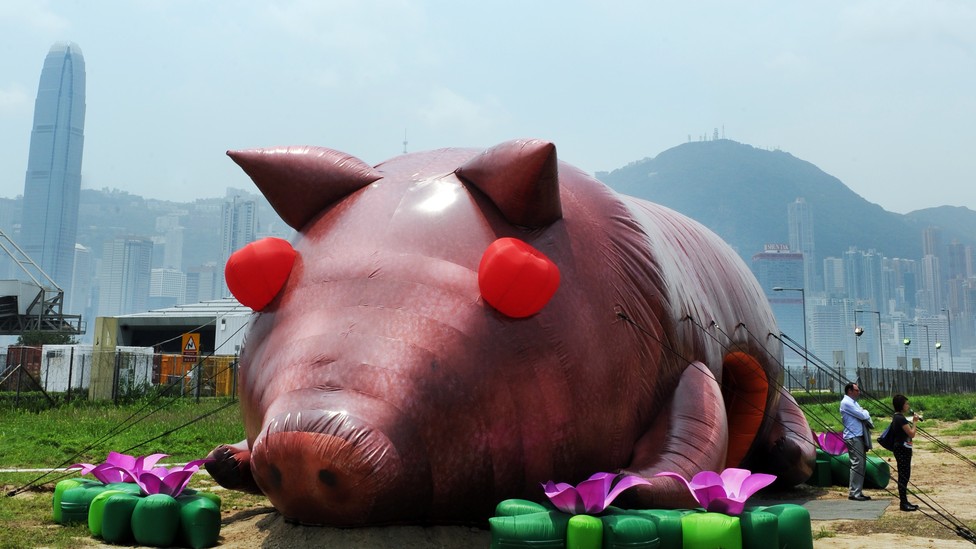 He Xiangyu's breakthrough exhibit took place in 2011, when he was just 25 years old. The Coca-Cola Project was a mound of noxious, gooey residue extracted from 127 tons of Coca Cola, a landfill shrine to consumerism that could be interpreted as an indictment of capitalist China. After that came a giant military tank made out of Louis Vuitton leather, deflated and powerless on the art-gallery floor but charged with political meaning. It was loud, bold art, speaking to a set of political concerns freshly relevant to the post-Tiananmen generation. But since 2013, He's art has been minimalist to the point of parody: a huge canvas pasted in olive oil; a wall clock set one hour fast; a single sock inside a glass cabinet. Those pieces, and others by He's peers, represent a broader trend among younger Chinese artists, as political-statement art gives way to more abstract, contemporary fare.
China's art market first exploded around the early 2000s, with works by Xu Bing, Zhang Xiaogang, and Yue Minjun selling for millions. After decades of art-as-propaganda, these artists created message art that challenged China's socialist past and served as commentary on more recent atrocities. One of Yue's paintings from the nineties that later sold for $5.9 million, "Execution," depicts a firing squad pointing make-believe guns at four men in underwear while both the soldiers and the victims grin maniacally. A famous 1995 artwork by Ai Weiwei, the international darling of Chinese art, depicts him giving the finger to Tiananmen square and the portrait of Mao Zedong on the Forbidden City. During this period, China's art became synonymous with its politics.
Many artists of the new generation are eschewing all that. They include Zhao Zhao, who cuts cubes out of antique Buddhist statues; Cao Fei, a video and digital-media artist concerned with urban decay; and Guo Hongwei, who arranges tiny piles of concrete ash, decorates empty rooms in colorful streaks, and paints intricate collections of birds, rocks, and leaves. This more conceptual art of "post-80s" or "post-90s" Chinese artists, named for the decades in which they were born, tends to reflect 21st-century themes such as urban malaise and the digital era, rather than narrowly Chinese concerns, including political ones.
Indeed, the shift coincides with diminishing space for free expression since the late aughts, when government authorities blocked various foreign social-media websites and intensified their cultural censorship. Ai, who the Chinese government has scrutinized for years, sustained a head injury when harassed by state security officers in 2009, after creating a work that commemorated the thousands of children who died in shoddily-constructed buildings during the 2008 Sichuan earthquake. And the government's heavy-handedness has only increased since Xi Jinping became president in 2013. In late 2014, speaking at a cultural forum in Beijing, Xi said that art should serve the people and socialism and "be like sunlight in a blue sky" and like "a cool spring breeze." His language evoked a famous speech by Mao at the 1942 Yan'an Forum on Literature and Art, in which Mao said "there is, in fact, no such thing as art for art's sake ... art that is detached from or independent of politics."
Ai has expressed "total disappointment" in the young artists who avoid political art, suggesting that they are caving to government pressure. Those artists insist that's not the case: "In China, everything reflects the circumstances of Chinese society," He told me during a visit together to his hometown, near Dandong, on China's border with North Korea. "But we need to be more thoughtful and flexible about it." (His differences with Ai go back to before his recent artistic evolution: One of his works from 2011, "The Death of Marat," is a fiberglass sculpture of Ai's corpse lying facedown on an exhibition-hall floor.)
To be sure, political pressure from the Chinese government is not the only factor that has influenced Chinese art. Another key element is the market, which drives artistic creation more than some purists would like to imagine. Many Western buyers still favor politically provocative work from China, but many of them have expanded their notion of what Chinese art can be—that is, art for art's sake rather than relevant to China and its politics alone. "Ten years ago there was a tendency to read Chinese art as a direct commentary on Chinese sociopolitical conditions," Philip Tinari, the director of the Ullens Center for Contemporary Art in Beijing, said. "Now there is more appetite to look at it as aesthetic practice." New wealth in China has also led to a rising number of Chinese art collectors who don't want political art about their nation, or are afraid to own it. "There is no Chinese contemporary art," Tinari said. "There is just art made by Chinese artists."
The path of many artists has changed as well, with some gaining early exposure to international influences, and many studying abroad or in art academies that opened in China only in recent decades. "The post-80s generation is very different from the generation of artists who grew up during the Cultural Revolution and then experienced the relative openness of the 1980s and the post-1989 crackdown," said Luise Guest, a manager of the White Rabbit Collection of Contemporary Chinese Art in Sydney, a private collection. While they are "much less interested in politics as it is narrowly defined," she continued, their artistic interests still brush against social issues such as the environment, gender, and urbanization. Making explicitly political art is dangerous, they have learned from example—so they focus on other subjects that they are often more interested in anyway.
Last time I saw He, he told me, "I want to change the world's understanding of Chinese artists." He had just unveiled his new exhibit: a series of sculptures reconstructing the inside of his mouth, based on how he felt its contours with his tongue.