Documentaries Are Thriving at the Summer Box Office. Why?
Films like RBG, Won't You Be My Neighbor?, and Three Identical Strangers are doing well with small audiences and sustaining their grosses as they expand to more theaters.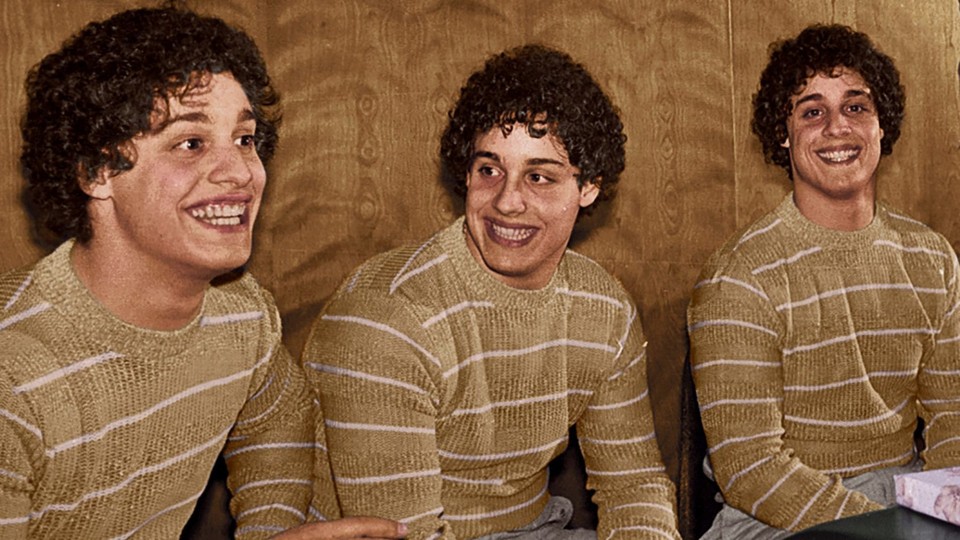 The surprise story at this summer's box office hasn't been superhero movies or franchise sequels (the ongoing success of both, of course, being no surprise). Audiences are also crowding theaters to take in a humbler genre: the documentary. Specifically, documentaries essaying one particularly magnetic celebrity personality, or a singularly gripping tale. The kinds of focused nonfiction narratives that have flooded the new media sphere, whether on Netflix or in the world of podcasting, are doing just as well in wide release—the gentler the movie, the better.
First there was RBG, a look at the career of Supreme Court Justice Ruth Bader Ginsburg from the directors Betsy West and Julie Cohen. Released in May, as multiplexes were dominated by Avengers: Infinity War, it ended up grossing a total of more than $12 million. Morgan Neville's Won't You Be My Neighbor?, about the career of the beloved children's TV host Fred Rogers, came out in June to rave reviews and has grossed $12.7 million with no sign of stopping, expanding to hundreds more screens every week. On July 6, Kevin Macdonald's Whitney, a retrospective homage to Whitney Houston, opened to a solid $1.2 million in limited release. Tim Wardle's Three Identical Strangers, about a mind-boggling case of triplets separated at birth, has posted incredible per-screen averages in its first two weeks of release.
What makes a documentary a success in theaters is often hard to pin down; charged political movies, filmed concerts, and visually stunning nature docs make up the highest-grossing entries in the medium. Michael Moore's Fahrenheit 9/11 is the only one to ever make more than $100 million domestically (it ended up with $119 million in 2004); his films Sicko, Bowling for Columbine, and Capitalism: A Love Story are also on the all-time charts. Other hits include music movies about Justin Bieber, Katy Perry, and Michael Jackson, as well as the hard-right films of Dinesh D'Souza (his 2016: Obama's America did especially well).
The kind of films that are hitting big this year are the opposite of Moore's or D'Souza's work. RBG and Won't You Be My Neighbor? warmly embrace their subjects, celebrating their legacies in largely uncontroversial ways. Won't You Be My Neighbor? is a particularly calming piece of cinema, delving into Rogers's attitude toward TV production while also evangelizing for his open-hearted life philosophy. RBG spends much of its running time on Ginsburg's emergence as a sort of pop-culture mascot, and happily trades on that image, down to its stylized cartoon poster.
Just a year ago, the box office's big documentaries were far more challenging—think of the Al Gore–led sequel to An Inconvenient Truth (which reminded the public of the dangers of climate change) and Raoul Peck's Oscar-nominated I Am Not Your Negro, an impressionistic look at the life of James Baldwin told through his own writing (narrated in voiceover by Samuel L. Jackson). In 2018, even as current events and U.S. politics remain fraught, audiences are flocking to a more benign form of truth-telling.
Netflix's reliance on documentaries to beef up its library of original content may have helped spur the genre to new relevance. Though the streaming service doesn't release viewing data, original films like Amanda Knox, Casting JonBenet, Jim & Andy: The Great Beyond, and What Happened, Miss Simone? have been given huge publicity pushes. True crime (like Making a Murderer and The Keepers), twisty sports drama (like the Oscar-winning Icarus), and the lives of major celebrities are pillars for Netflix. Those parallels can be found in the world of podcasting where My Favorite Murder, Missing Richard Simmons, and Dirty John are among the most-downloaded of recent years (not to mention Serial).
Not everything playing well in theaters is as soft-edged as Won't You Be My Neighbor? or RBG. Three Identical Strangers, which is getting a serious release campaign from the indie studio Neon, is the kind of holy-cow story that glues you to your seat from moment one. Though it's told glossily, with gauzy staged re-creations and infuriatingly obvious needle drops, it has a story twist midway that is genuinely, wickedly shocking (the less you know going in, the better). As an engrossing personal narrative that suddenly shifts into something more sinister, it reminded me more of Netflix's Wild Wild Country or the podcast S-Town.
Though these summer documentaries are getting the slow platform release of an indie festival hit, they could easily play in a multiplex for weeks to a broad audience. There's no question that a film like Won't You Be My Neighbor? would've made tens of millions in its first weekend had it opened wide. Instead, exhibitors are offering these movies as a more genteel alternative to popcorn fare, something for parents to enjoy as their kids go see the latest blockbuster. It's an approach that works, driving millions of dollars in grosses. Is this just a flash-in-the-pan fad during a stressful summer, or the sign of a real shift in audience taste? The first studio that dares take a documentary wide will find out, but I'd wager it's the latter.