Ty Dolla $ign Isn't Just a Feature Artist, He's a Star
The energy the singer brings to his collaborations is the same he carries into his own work: studied, versatile, contagious.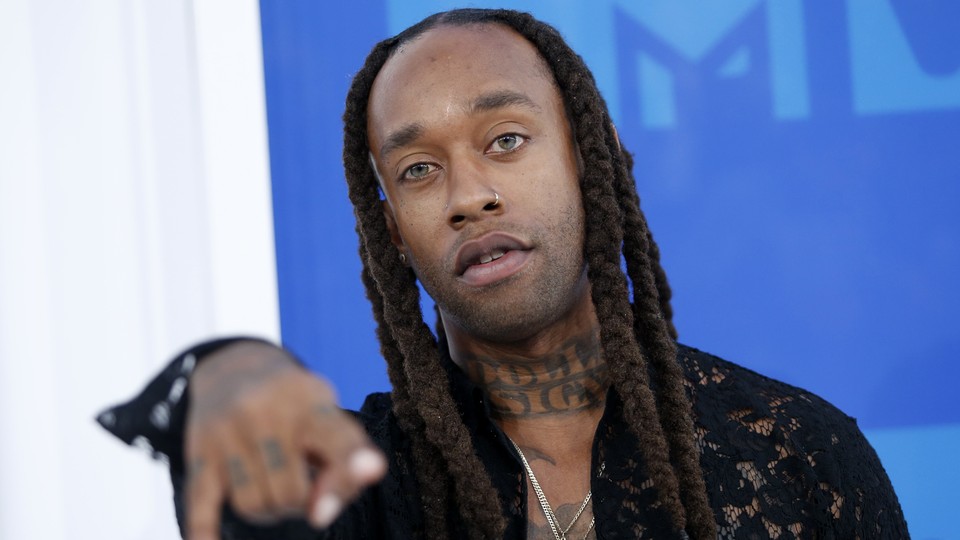 Ty Dolla $ign sings in layers.
On "After Dark," the slinky Static Major–produced song from the second half of Drake's bloated new album Scorpion, Ty peppers the chorus with his trademark ad libs. But it's his verse that shows off Ty's knack for musical citation. As Ty, born Tyrone William Griffin Jr., recounts the story of his dalliance with a woman, he addresses her directly: "You broke up with your man and ain't been with nobody else / You like, 'Fuck these niggas,' rather keep it to yourself." The lyrics themselves aren't particularly notable, but Ty's vocal tics reveal a penchant for studious melodrama. Ty stretches out "Fuck these niggas," pushing his voice into an atypically high register with a distinct melody.
For longtime R&B fans, the allusion is familiar: Ty's interpolation of the line mirrors the repetitive "Fuck that nigga" that drives The-Dream's "I Luv Your Girl," the third single from the singer's 2007 debut album Love Hate. The-Dream, née Terius Youngdell Nash, is a frequent Dolla collaborator. Dolla's criminally underrated 2017 album, Beach House 3, leads with the Dream-assisted "Love U Better." The duo plays off one another throughout the track, with Ty even noting that the woman they're singing to "ain't know if it's a Dolla or a Dream song." (The "Dolla" and "Dream" pairing also recalls the title of rapper J. Cole's star-making "Dollar & A Dream" series.) The effort is balanced, symbiotic.
On Scorpion, which takes its name from the astrological sign under which Drake was born (coincidentally the same season Ty's Beach House 3 was released), Ty's crooning both enhances and provides a welcome distraction to Drake's sometimes haphazard whining. Dolla's background vocals add dimension to "Jaded," a solipsistic saga reminiscent of "Marvin's Room," the drunken temper tantrum/lullaby from Drake's 2011 Take Care. Ty builds on Drake's admonitions—that the woman in question has abandoned him, that she wasted his time—with harmonies that soften the blow of the track's angst. On "After Dark," Dolla channels The-Dream in both tune and amorous approach. He is sly, at once raunchy and romantic. A musical chameleon, Ty Dolla $ign takes to Drake with the fluidity of water: He provides a subtle tonal contrast to the moody Scorpio, an opportunity for female listeners, for one, to feel soothed rather than stung.
Ty Dolla $ign is, after all, the consummate collaborator, a man whose voice provides a kaleidoscopic range of musical possibilities to any artist he works with. He is studied and surgical, his vocal choices and melodic references revealing a love of music that extends far beyond the riffs of his contemporaries. On Scorpion, and several other recent records, Ty Dolla $ign's voice lifts the work of his collaborators from good to great. He provides both an easily mapped panache and an ineffable verve. He raps, he sings, he lets his voice dance somewhere in between. Dolla has the sauce, and he knows other people—perhaps too many people—want a taste. "At first I was just being the homie and every time somebody would ask me, I was like, 'Yeah,'" Dolla told The FADER of his long resume of collaboration. "Then [my publicist] started complaining and other people at [Ty's label] Atlantic like, 'Yo, we need to save some of this shit for your shit.'"
Indeed, Scorpion is hardly the first record of 2018 to be dusted with Ty's indelible influence. Kanye West's scattershot Ye, the first release of G.O.O.D. Music's summer lineup, finds Ty providing background vocals or verses on three out of seven tracks. On the infidelity-centric "All Mine," Ty "done fell in love." On "Wouldn't Leave," he joins a choir and Toronto warbler PARTYNEXTDOOR to temper Kanye's ego with elegiac vulnerability. And even the cringeworthy "Vicious Crimes" is a touch more palatable for Dolla's chorus with the 20-year-old rapper and singer 070 Shake. On Ye and Scorpion, Ty provides respite from Drake and Kanye's self-centric lyricism, but not all of Dolla's collaborative efforts are so fraught. In the last two years alone, Ty has shared a mic with the likes of 2 Chainz (on the infectious "It's A Vibe"), Meek Mill (on the surprisingly romantic "Whatever You Need"), Nigerian afrobeats singer Mr. Eazi (on the remix to Eazi's wildly popular "Leg Over"), and Migos (on Culture II's "White Sand"). Most often, Ty serves as the missing ingredient on an otherwise enjoyable track; he takes bops and makes them bangers.
Dolla's collaborative appeal lies partly in his ability to sense what the lead artist is missing—or what his fellow featured artists won't bring—and sprinkle that element throughout the song liberally. Ty Dolla $ign is not a subtle artist. He doesn't need to be. Ty belts, he moans, he growls. Still, his R&B blends into and buffers rappers' verses with an undeniably composed compatibility. His guest features are perhaps the closest that modern rap has gotten to the golden era of early-2000s hip-hop and R&B collaborations. Even as he croons, Ty remains resolute in his hyper-masculine energy. At his sappiest, he doesn't veer into the saccharine. It's what allows him to sing on the poppiest of records (Post Malone's "Psycho," Fifth Harmony's "Work From Home") and still maintain his South L.A. grit. Ty sings with the ear of a producer.
On his own projects, including and especially 2017's Beach House 3, Ty has largely not received the commercial success he's due—even as he swims in critical acclaim. The buoyant Beach House 3 found Ty bouncing over a number of self-produced beats, with guest verses from The-Dream, Lil Wayne, Tory Lanez, YG, Damian Marley, and Ty's girlfriend, Lauren Jauregui of Fifth Harmony. The first of the Beach House series to be released as an album and not a mixtape, the record flowed seamlessly. Each track swelled further toward the mirage of summer. Thematically, it treaded the pitfalls of fame, the excitement of new love, and of course, the specifics of sex. It was both sultry and fun, a musical victory lap. But "Love U Better," the Dream-assisted number, peaked at No. 20 on the Billboard 200. Beach House 3 peaked at No. 11.
Ty's nearly flawless 2016 mixtape, Campaign, featured the likes of Future, Meek Mill, Trey Songz, and Travis Scott. The record is familiar and cohesive, with Ty exploring his transgressions, as well as the more well-trodden territory of sex and money. The featured artists elevate Ty's vision, but it's the solo track "Zaddy" that best makes the case for why Ty is a star. Repetitive but not redundant, the mixtape's third single casts Ty as a generous lover in both the bedroom and the glitzy boutiques of Rodeo Drive. The singer's prior album, 2015's Free TC, was a considered dedication to his incarcerated brother. Brooding and introspective, Free TC introduced listeners to a multi-faceted artist, one who cared about criminal justice reform and his hometown as much as he cared about multiple women (and keeping them away from each other). It peaked at No. 13, with singles "Blase" and "Saved" peaking at No. 20 and No. 16 respectively on Billboard's R&B and rap charts.
The records have their cult fanbases, to be sure, but Ty has yet to shake the dizzying paradox of being pigeonholed as a "featured artist." Like the Chicago singer Jeremih, whose struggles with his label have often affected his output, Ty outshines other artists on their own records but can't quite tap into that appeal on his own. Perhaps with this dynamic in mind, the two singers are set to release a joint record, aptly titled MihTy, sometime later this year. They've collaborated with each other before. Ty contributed an impossibly catchy verse to "Impatient," one of the standout tracks on Jeremih's much-anticipated 2015 mixtape Late Nights. Jeremih sang the chorus for Beach House 3 single "Dawsin's Breek." The men have sung with and around each other on other artists' records, too. Their voices both contrast and complement one another's, with Ty's typically plumbing the lower registers while Jeremih floats on top.
"The Light," the single the pair released on June 6, is yet another entry into their lusty, harmonic oeuvre. "Let's have sex, but not without the foreplay," Ty opens with a raspy groan. Jeremih adds ad libs and later a verse, his voice hovering above Dolla's: "Back in the days when I was young, I'm not a kid anymore / But these days I'm thinkin' baby we should fuck again." The lines are an allusion to West Coast rapper Ahmad's oft-interpolated 1994 hit "Back in the Day," which itself sampled soul legend Teddy Pendergrass's "Love TKO." "The Light," then, is multiply referential. Both Jeremih and Ty Dolla $ign shine on other people's records, but their own musical knowledge helps set the artists apart.

The energy Ty brings to his Jeremih collabs is the same he carries into his own work: studied, versatile, contagious. His voice carries, his production slaps. Ty Dolla $ign takes his work seriously—it's about time listeners did the same.