A Star Is Broken (and Then Reborn)
Within the space of a day, Donald Trump's star on the Hollywood Walk of Fame was vandalized, and then quickly replaced.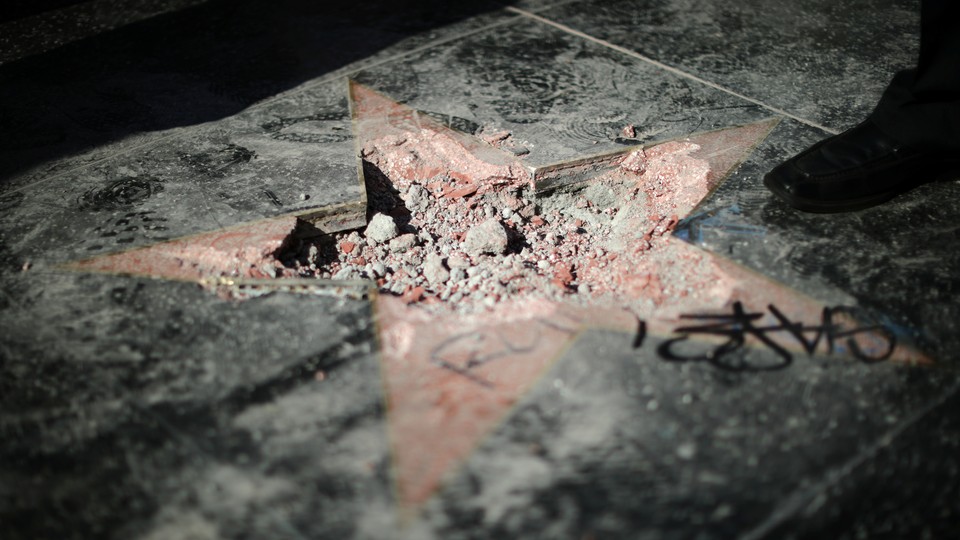 HOLLYWOOD—"Sweet Dreams," John Bucchino's poignant song about an abused woman and a kept man who strike up an unlikely friendship at a bus station, is a rueful meditation on the broken hopes that bring people to Los Angeles, and it ends on a note of deliberate irresolution: "There is a sidewalk in California, where they put the stars right at your feet, and people delight in stepping on them."
In the case of Donald Trump's star on the Hollywood Walk of Fame, some people delight in smashing it to smithereens, and in the wee hours of Wednesday, the police say, a 24-year-old man named Austin Clay did just that, unsheathing a pickax from a guitar case at about 3:30 a.m. and leaving little but rubble where the monument to the host of The Apprentice had been just moments before. It was the second time since 2016 that Trump's star had been effectively destroyed, and the umpteenth that it had been spat upon, defaced with graffiti, spray-painted with a swastika, or decorated with dog feces.
But by midday, four technicians from Top End Terrazzo—clad in bright-yellow construction vests and surrounded by multiple television satellite trucks, a brace of police officers, and a knot of swarming, selfie-taking tourists worthy of Nathanael West—had done what John Kelly, Kellyanne Conway, Dan Coats, Jim Mattis, and Jeff Sessions have been unable to do: They had put Trump back together again, lining up a fresh rack of gold brass letters inside the silhouette of a brass star, tamping down sand with a steel two-by-four, and pouring in the pink-and-white terrazzo-stone powder that would be fused together and waxed to a sheen, good as new, ready for the next attack. The president was on his way to being sandwiched safely on the sidewalk between stars commemorating Kevin Spacey and Y. Frank Freeman, the onetime Paramount Pictures executive who was reportedly known at the studio as "God."
Gregg Donovan, a Trump supporter and a former valet for Bob Hope who was for years the official tourism ambassador of Beverly Hills and now works as a promoter for Hollywood-star tour companies, arrived at 7:30 a.m. on Hollywood Boulevard near Highland Avenue to guard the rubble, which had been covered with an upside-down chin-up bar. By midday, in a red tailcoat and black top hat, Donovan, 58, was still standing vigil in the 90-degree heat, a Keeping America Great! TRUMP 2020 sign held in his hands, a half-gallon of Gatorade at his feet.
"Bottom line, I tell you," he told me, "he's good for business. A lot of people want to take a picture whether they like him or not. I've been a supporter since day one."
About an hour after the attack, the police said, Clay showed up at the Beverly Hills police headquarters and turned himself in. The LAPD booked him on suspicion of felony vandalism and electronic arrest records show bail was set at $20,000. The local KNBC affiliate found a witness who said he'd asked Clay, "What did Donald Trump do to you?" but that he had left the scene without answering.
In October 2016, Jamie Otis, an heir to the Otis Elevator fortune, dressed as a construction worker, smashed most of the star with a sledgehammer in the wake of the disclosure of Trump's comments on the Access Hollywood tape, and removed part of it, saying he'd hoped to auction it off to benefit victims of sexual assault, and had destroyed the star as an act of civil disobedience. He was charged with felony vandalism and faced up to three years in jail and $10,000 in fines. He ultimately pleaded no contest and was sentenced to three years of probation and 20 days of community service, and ordered to pay $3,700 to the Hollywood Historic Trust, the charitable entity that maintains the stars, and $700 to the Hollywood Chamber of Commerce, which sponsors the Walk of Fame.
The first stars on the Walk of Fame, a popular if slightly bizarre tourist attraction that stretches along a once seedy, still tacky stretch of Hollywood Boulevard, were installed beginning in 1960, and new ones are now added at the rate of about two dozen a year. The honor costs about $40,000, and is the responsibility of the honoree (who is required to show up in person), though studios usually pick up the tab for their talent. Trump's star was inlaid in January 2007, and he received it with his wife, Melania, at his side and his then-baby son, Barron, in his arms.
The Hollywood Chamber of Commerce has resisted all past efforts to remove stars, whether Bill Cosby's or Trump's, arguing that the walk's historic status requires it to be kept intact. In 2016, a conceptual artist erected a six-inch wall around the star, with razor wire and Keep Out signs to protest Trump's proposed wall along the Mexican border.
"When people are unhappy with one of our honorees, we would hope that they would project their anger in more positive ways than to vandalize a California State landmark," Leron Gubler, the Hollywood Chamber of Commerce's president, said in a statement.
But the speed with which the ruined star was replaced on Wednesday suggests that the chamber must have a ready stock of letters spelling D-O-N-A-L-D T-R-U-M-P on hand. And the intensity of feeling about this president on both sides of the partisan and cultural divide suggests that it probably should.