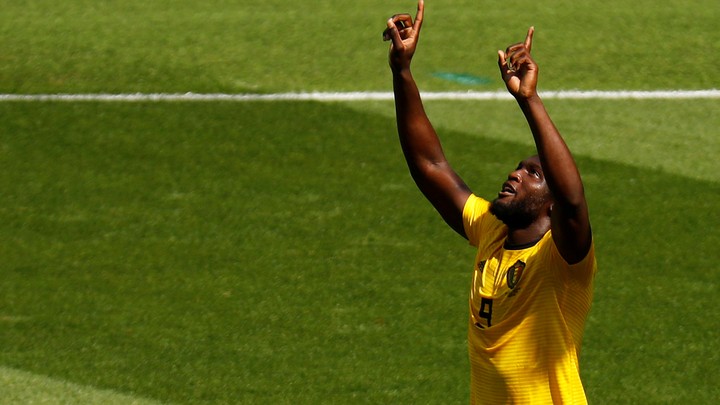 Romelu Lukaku's hop was, to me, the most beautiful moment in the World Cup so far.
It was 2–2, Belgium and Japan even, the game about to go into overtime. The play had been so beautiful that, even though I was rooting intently for a Belgium win, I also didn't want the game to end. I wanted to see more.
When it comes to the soccer played on the field, this World Cup tournament has been a study in contrasts. From the beginning, there were some riveting, flowing, engrossing games—Spain versus Portugal, Mexico's defeat of Germany, Senegal's defeat of Poland, the recent game between France and Argentina—alongside some of the most tedious and at times absurdist soccer I've seen on the international stage in a long time.
Belgium and Japan play similar styles of soccer, rooted in national youth-development programs that emphasize technical skill, quick passing in small spaces, and constant circulation of the ball. This is my favorite kind of playing, and both teams exude talent and determination. The Senegalese referee managed the game perfectly (unlike the refereeing in some of the other games), and much of it was played out through intricate work in the midfield. Japan's two early goals were both beautiful, little miracles bursting out of open play.  
Even after they went down two goals, though, Belgium seemed relatively unruffled, and kept playing their way. Jan Vertonghen scored with a cheeky, arcing heading from the left side. But it was two substitutions by the manager Roberto Martínez—Marouane Fellaini and Nacer Chadli, both children of Moroccan immigrants—that made the crucial difference. Fellaini was put in to do what he does best: overpower defenders in the box and make a header. And, as if on cue, he did just that.
It was still 2–2 and into extra time when Japan took a corner kick that was collected by Thibaut Courtois. When I watch what happened next, it now seems choreographed, destined to play out as it did, but in real time it unfolded as a series of escalating surprises. As I watched, I was thinking, "Is this really happening? Could this really happen?" Courtois rapidly rolled the ball to an already running Kevin De Bruyne. Lukaku was ahead of him, Chadli running in toward the center as well, with Eden Hazard behind him. De Bruyne passed the ball to Thomas Meunier on the right, and everything seemed set up for Lukaku, the No. 9 who is consistently on the point of the team's attack, to power the ball into the net.
Lukaku is the team's star striker, the greatest scorer in Belgian history. He recently told his story, one of seeking out soccer as a way out of the grinding poverty of his Congolese migrant family in Antwerp, of once being asked to show his ID at a youth game by a parent who thought he didn't belong there, of having made it so now everyone in Belgium knows his name. In fact, many there and around the world now wear his name on the backs of their Manchester United or Belgium jerseys, both bright red.  
Lukaku knew the script, but his brilliance was to understand that in soccer the script unfolding in your mind often doesn't work out on the pitch. He knew, too, that the Japanese defenders, who had stymied him brilliantly throughout the game, also understood that the script called for him to score.
The decision he made next was what won Belgium the game. As he ran forward, he had seen that Chadli was not far behind, and positioned perfectly behind him was Hazard. So, just in front of the goal, he moved as if to receive the ball, as if readying to score, and drew the lone Japanese defender who was close enough, Makoto Hasebe, with him. The other Japanese players closing in followed him like magnet. But as the ball reached him, he took a tiny hop, lifting his right leg and letting the ball roll past. Chadli was totally unmarked and did exactly what was needed, swishing the ball past the goalkeeper.
I'm not sure I've ever cheered a goal so intensely, disbelieving. In the midst of it, I hadn't fully seen or understood Lukaku's gesture. That took going back and rereading, studying the moment. But it is such a move—like a gesture by Paul Pogba during the France–Germany game in the 2016 European Cup—that I describe when I try to explain what enraptures me about the sport.
There was both an intelligence and a generosity to the choice, for even with one defender on him, Lukaku could likely have scored what is now perhaps the most famous goal in Belgian history because of its timing and pure improbability. There has been, during this World Cup, a sense of unity and family, some of it attributed to the guiding presence of Thierry Henry, and the mentoring and maturity of Lukaku toward some younger players. Belgium has played, as they sometimes haven't before, as a joyful unit, opening up spaces for one another.
With his hop, Lukaku made something more perfect than a goal of his own, producing a flow of connection and reciprocity, a glimpse of that which, every once in a while, makes the game true beauty.
We want to hear what you think about this article. Submit a letter to the editor or write to letters@theatlantic.com.