The Graphic Novel That Captures the Anxieties of Being Undocumented
Jérôme Ruillier's The Strange understands how the immigrant experience for those without papers can be frightening, isolating, and rarely straightforward.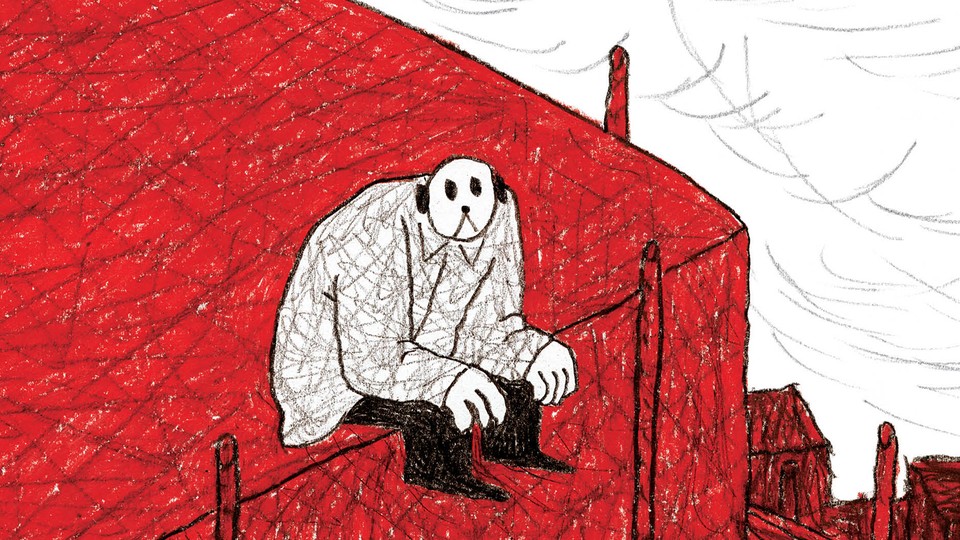 Jérôme Ruillier's latest graphic novel, The Strange, his first translated into English, opens cinematically with a masterfully compressed pre-title sequence. The story begins in medias res, with a bird's-eye view of a townscape rendered in thick lines and set against a dense red background. When the nameless central character speaks, his language of unfamiliar symbols is translated for the reader. We had decided to leave, he says. After paying a local fixer a large sum to supply him with a fake passport and tourist visa, he rushes to board a plane to an unspecified country in search of "a better life" for him and his family. In this moment of airborne transition, what little we do know of him recedes, and we hit the book's title card, which marks his new identity: This undocumented individual is a "strange."
It's an unnerving epithet for the central character of Ruillier's story, which follows this mysterious figure as he navigates a new country alone and without papers. The protagonist is not a "stranger," with the opportunity to become known, or perhaps to even become a friend; he's a "strange," and therefore always alien. This semantic choice by Ruillier, though subtle, was enough to fill me with dread. For 15 years, I lived undocumented in the United States; for much of that time, I knew nothing about my legal status. Today, I'm a professor of creative writing, so as I turned the page, I remembered sharing with my students something the novelist Elizabeth Bowen once said of a story's plot: that the ending, while not to be predicted by the reader, "must be seen to have been from the start inevitable." With this element of craft in mind, I braced myself for how The Strange would capture the inexhaustible anxieties of being undocumented, and for what kind of "inevitable" fate it would give its protagonist.
To tell this fictionalized story, Ruillier said he collected and assembled "the accounts of undocumented immigrants and their families, as well as police officers and other people close to the issue" with the help of a friend who works with the France-based advocacy network, Réseau Éducation Sans Frontières. These experiences are the book's anchor. Drawing from his background as a children's author, Ruillier cast the world of The Strange with an assortment of talking bipedal, winged, and water-bound animals going about their lives like human beings. A spectacled hippo, for example, works the front desk of a detention center, while the central character is a stocky, dispirited-looking canine. The result is a polyphonic portrait told primarily through the eyes of those who have crossed, or somehow altered, the protagonist's path. While some portrayals are predictable (rhinos and gorillas play the parts of officers), the accompanying text leaves room for the unexpected. Not everyone who appears benign is, and every moment of contact is fraught.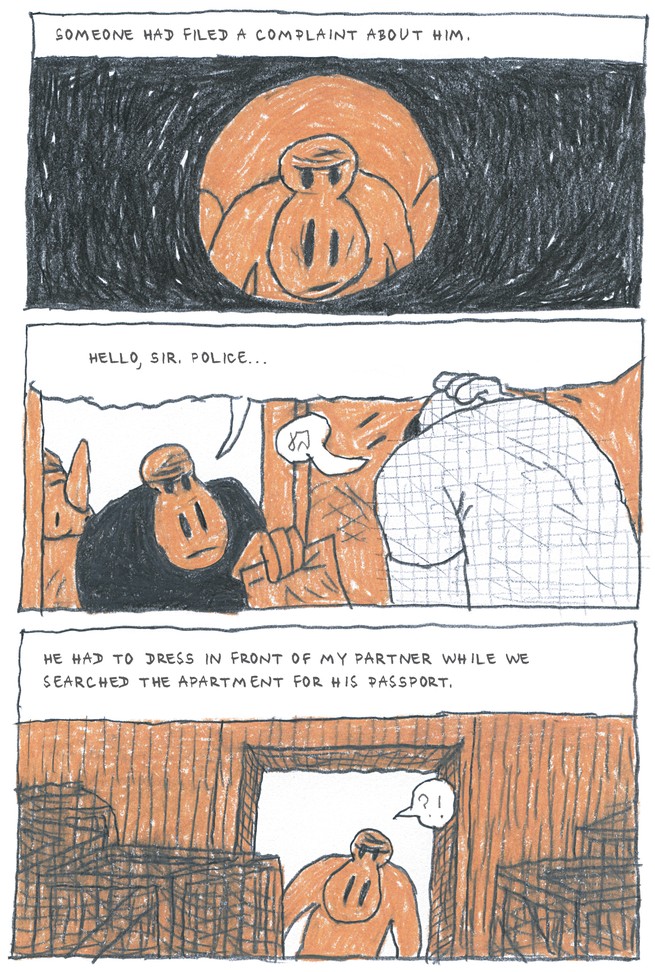 This portrait is necessarily limited in scope, since those who tell the central character's story have only ever known him as a "strange." Each new account thus further fractures his identity. He is simultaneously a scapegoat, helper, thief, family member, illegal subletter, day laborer, not from here, and in need of help. Someone unable to intervene and define himself. We never really learn, in fact, what prompted his decision to leave. Ruillier disrupts any impulse on the part of the reader to make judgments, to think from the perspective of a fictional country's courts. As a note from Amnesty International at the end of the book affirms, this vagueness allows the story to strive for a degree of universality.
Threaded throughout the graphic novel are the rallying voices of politicians (Ruillier quotes Nicolas Sarkozy, Manuel Valls, and Marine Le Pen in the section breaks) and media commentators who, using recognizable tactics, seek to taint how the locals perceive a growing population of "stranges" during an election cycle. Repeating what she heard on the radio, for instance, one neighbor eyes the protagonist suspiciously in the elevator and assures herself that she has "every right" to turn him in. "They're just here," she continues, "to poison the lives of honest people."
Though The Strange's plot is relatively linear, the varied, incomplete, and shifting points of view refract the protagonist's story. He is always on the move and frequently disappears from sight. While a crow might follow him to a building in the North End, the part of town where all of the "stranges" live, it is a middleman character who informs readers what happens next, as he guides the "strange" to his sublet. No single character knows or discloses too much. By employing this narrative strategy, Ruillier illustrates the way an immigrant's story of departure and arrival is rarely straightforward.
Indeed, I was reminded of Valeria Luiselli's illuminating 2017 book, Tell Me How It Ends: An Essay in Forty Questions, which drew on the author's experiences working as a volunteer court translator for unaccompanied migrant children from Central America. Luiselli notes that the stories of the children, who were facing deportation, were "always shuffled, stuttered, always shattered beyond the repair of a narrative order." She continues, "The problem with trying to tell their story is that it has no beginning, no middle, and no end."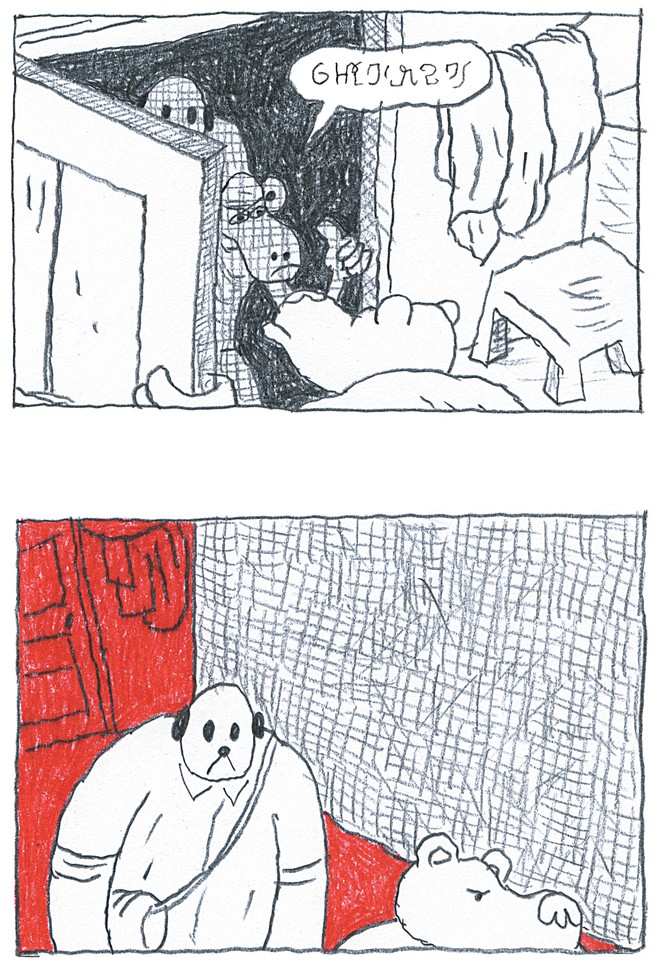 Ruillier tackled the problem of fragmentation by weaving together the many stories he gathered; this allowed the reader to get, in the author's words, "a close and intimate take of many different sides of the issue, even contradictory ones." The brevity of the individual accounts means readers don't linger on moments of extreme hardship or prejudice. And though the tone throughout much of the graphic novel is subdued, Ruillier offers readers at least one clear glimpse of joy. After being attacked by a group of other "stranges" while living in a camp past the edge of town, the protagonist is brought into the home of Catherine, a member of an activist group called the Network. There, he listens to music from his home country and later, for the first time in the story, he bursts into laughter.
Nearly 18 years ago, when I began writing Driving Without a License, the book informed by my own experience being undocumented, I planned for a linear bildungsroman. Roughly 70 pages into my first attempt, and with admittedly few narrative frameworks to use as models, I realized that because I was still living in legal limbo, my own story had no clear beginning, middle, and end that I could plot around. After attending a craft talk with the poets Natasha Trethewey and Cecilia Woloch, I realized that I needed to return to a different medium. I found that poetry, particularly linked poems, better allowed me to approach the center of my experience from its multiple entry points. And, much like with The Strange's many panels, no one poem could singlehandedly divulge the whole truth.
Ruillier's strength as a storyteller lies in his layering of these multiple points of view, which he pairs with a stripped-down aesthetic. Drawn with a simple five-color palette, The Strange lacks ornamentation and melodrama. Ruillier's style is impressionistic, and the artist seemingly never uses a sharpened point (I was reminded at times of what it was like to be a child with a coloring book, engrossed in a scene, laboring a colored pencil down to a nub). Emotions are often expressed entirely through emanata. The borders of the panels are freehanded, the hatchings and crosshatchings appear urgent, and open space is filled in with a mix of smooth and rough scribbles. Greater visual weight, in short, is given to the individual characters and their reports on the whereabouts of the "strange."
As a formerly undocumented immigrant from the Philippines reading the book in America, I found The Strange to be both a stressful and remarkable read. When the perspectives shifted from panel to panel, I wondered to whom these accounts were being told. As they accumulated, each read like a testimony—as an answer to a deliberate line of questioning. The hairs on my arm raised each time a passenger, crow, or passerby revealed that they "noticed" the protagonist and had something to say about the encounter. What Ruillier reproduces in The Strange called to mind the years I spent controlling and compartmentalizing my identity. I was careful about what, and how much, others knew about me for fear that they could accidentally reveal something about my status (if they knew) or realize that my backstory didn't quite add up (if they didn't). Once, a friend wrote me a lengthy email to apologize for bringing up my personal life with another friend. (Can you imagine? A friend asking for forgiveness for talking about me to another one of my friends?)
Throughout Ruillier's graphic novel, there are a series of accounts, including those given by other "stranges"—all discussing the central character in the foreboding past tense. When the story returns to the protagonist's point of view at the very end, he remains—without spoiling the conclusion—as intangible as ever. When asked about how he decided on the look of The Strange, Ruillier explained how, like the French painter and sculptor Jean Dubuffet, he aimed to "draw the impression the object left me rather than the object itself." Readers, by the book's design, cannot say for certain who he is, even though there is documented evidence of his presence. It becomes clear The Strange is a tale about a protagonist who is not the agent of his own story, and whose fate in many ways satisfies Bowen's dictum.
The graphic novel closes with a silent sequence of teeth and shadow, then a panel of darkness. This is what it was like. For many who still live with the threat of deportation and whose delicate and uncertain future waits on the desks of others, this is what it is still like.