The Existential Comfort of Making It
The NBC crafting competition is a balm for troubled times.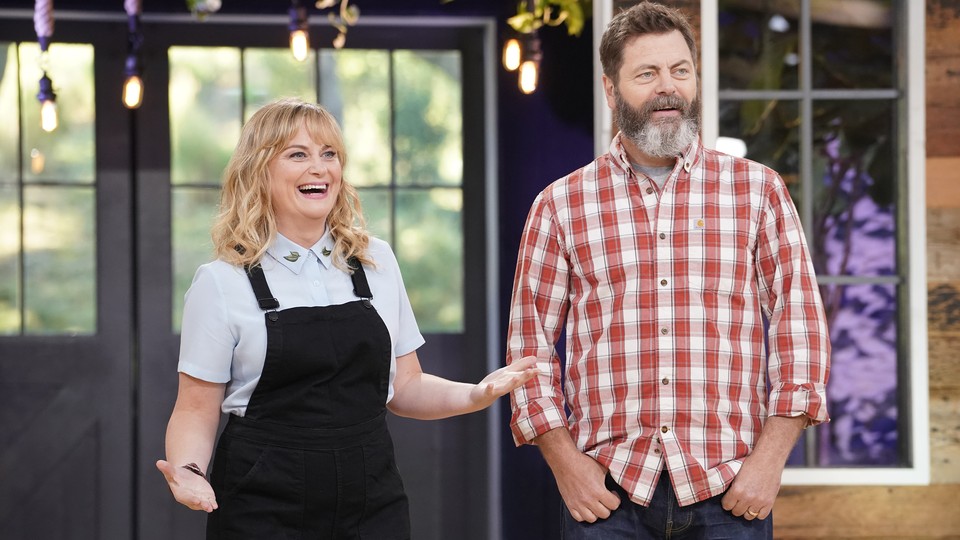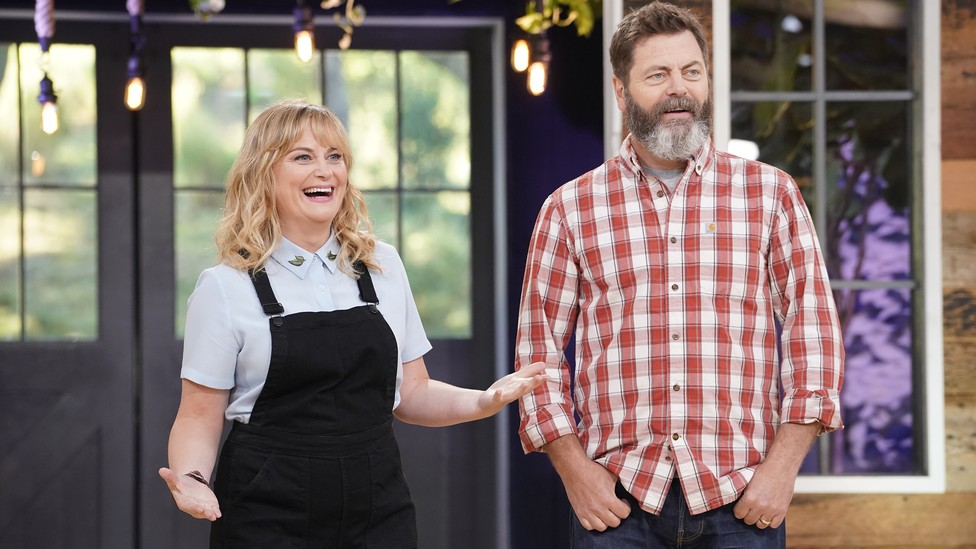 When the historians of the future look back upon this particular era in history, NBC's Making It is one way they'll ascertain how very wrong things went in 2018. To be clear, the crafting competition hosted by Amy Poehler and Nick Offerman is a total joy, a cashmere-swaddled hug of a show that exudes geniality and zany warmth. If it had a scent, that scent would be fall leaves, cinnamon, and clean linen. Making It's spirit animal is a golden retriever. It's the kind of series that's so irrepressibly comforting, so extremely absorbing, that it could only be summoned by a culture that's sorely in need of relief.
Making It is the Room of Requirement of reality shows, something that manifests only when you can't go on without it. In spirit, the series seems clearly modeled after The Great British Baking Show, the cooking contest that revolutionized televised contests by dialing down the tension and amping up the puns and pastel colors. Poehler and Offerman, last seen on-screen in NBC's Parks and Recreation, act as an odd-couple pair of hosts (he's an accomplished woodworker, she's a self-confessed crafting idiot who compensates for her lack of technical knowledge with enthusiasm). Over the course of the series, eight contestants vie for the Making It crown and a cash prize of $100,000 (although as Offerman notes, "The real prize is a job well done"). "Life is stressful enough," Poehler says in the intro to each episode. "Let's make a show that makes you feel good!"
What this means in practice is a low-stakes fiesta of glue guns, sewing machines, and feathers, as well as a welcome return to television for the miracle that is Offerman's left eyebrow. Each episode consists of two challenges, a "Faster Craft," in which contestants compete to speedily create something, and a "Master Craft," in which they're given the opportunity to truly showcase their skills. The very first challenge is to render a self-portrait in animal form, and things only get cuter from there. There are Halloween-costume contests, family-heirloom challenges, and jaunty musical interludes involving ukuleles. People constantly repeat comical sounding words like decoupage and pool noodle.
Even the judges, the Barneys creative ambassador Simon Doonan and the Etsy trend expert Dayna Isom Johnson, are more amiable Mel and Sue than piercing Paul Hollywood, gently critiquing craftsmanship only after they've found something to praise. "In the world of Making It, there are no mistakes," Doonan says in the first episode. "You just go at it with your glue gun blazing." If ever there could be an antidote to the soul-crushing, Coke-swigging, ALL CAPS–tweetstorming, nuclear annihilation–threatening, Freudian id–flaunting chaos of the news cycle, this show is it.
Because reality—boy does it suck. In Making It's first episode, you're reminded of just how much in a fleeting moment during the family-heirloom challenge, when one of the contestants, Jeffery Rudell, explains why he has no real heirlooms to incorporate into his picture album and quilt. He and his family parted ways, Rudell explains, because of his sexuality. His parents even sent a black wreath to his workplace mourning the "death" of their gay son. Poehler, Offerman, Doonan, and Johnson are momentarily floored. The show's jubilant spirit wobbles a bit but then recovers, as Johnson marvels at how Rudell has transformed his pain through creativity. Crafting, Rudell notes, is "a cheaper version of therapy."
And so, essentially, is Making It's pure escapism, bedazzled with sequins and felt. It's an opportunity to see Poehler and Offerman at their most carefree, trading craft puns and feeding off each other's radiant positivity. ("Is he a genius or is he changing his genus?" Poehler asks when a contestant changes his Halloween costume from a bat to a dog.) Even the advertiser-sponsored segments feel like a vacation. At one point, when a contestant gets emotional while crafting a front-porch holiday display, there's a knock on the door. "I just got a message that someone needs a hug at this station," Offerman says. Yes, Nick Offerman. Yes, we do.