The Cathartic Symphony of Future's Beast Mode 2
The long-awaited sequel to the rapper's 2015 project with the superproducer Zaytoven finds the duo mining familiar territory—self-loathing, wealth, drug use—to nearly ecstatic effect.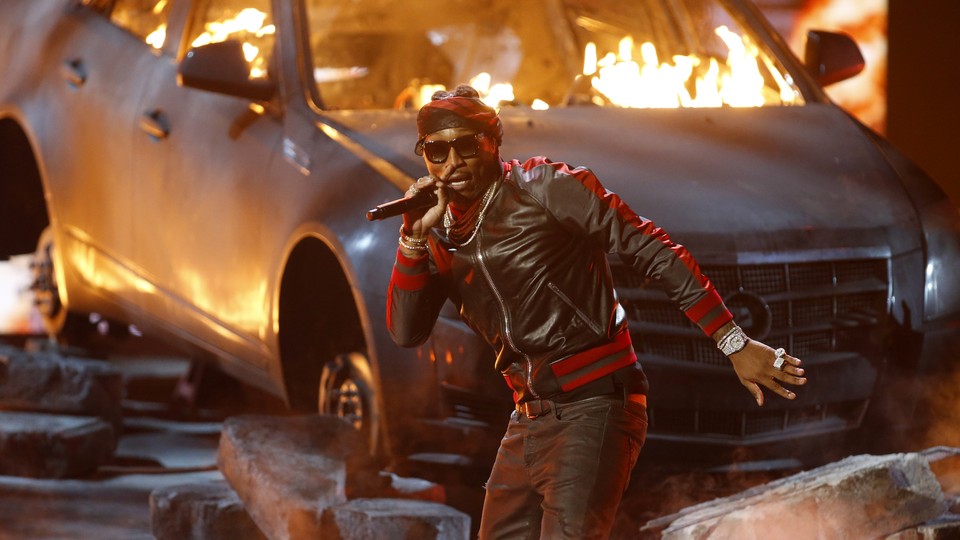 At the tail end of 2014, the Atlanta rapper born Nayvadius Wilburn, best known as Future, began to free himself. That October, the rapper released his first mixtape since the lukewarm pop-rap record Honest, his second studio album—and since the contentious demise of his engagement to the R&B singer Ciara. Monster was dark and brooding. It pulsed with the pain of its self-loathing trap impresario. Over gritty, haunting production from Atlanta legends like Metro Boomin, TM88, and Nard & B, the post-pop, post-relationship Future metamorphosed into an unrepentant monster, a "young Freddy Krueger." He disturbed; he dominated.
Less than three months later, Future released another mixtape and cemented his takeover of 2015's rap charts. This time, though, he teamed up with an Atlanta superproducer whose signature style lends itself to a far more intricate emotional ecosystem. Zaytoven, born Xavier Lamar Dotson, began his music career as a church organist. That liturgical influence pervades his beats, which allow artists like Future, Gucci Mane, and Nicki Minaj to seamlessly synthesize the sacred and the profane.
Beast Mode, the January 2015 Future and Zaytoven collaboration, found both men in rare form. Zaytoven lent masterfully symphonic production to tracks on which Future plumbed the depths of his emotional decay. The record quickly established itself as a classic Future tape, the kind of album that satiated fans' thirst for the rapper's dysfunctional dirges and drew new listeners into the Atlanta musicians' glitzy, tormented underworld.
Over the next six months, Future went on to multiply the congregants of his hedonist lair with the release of 56 Nights, the 808 Mafia–produced mixtape named for the length of time Future's longtime DJ, Esco, spent in a Dubai jail, and DS2, the rapper's wildly successful third album and the follow-up to his breakout mixtape, 2011's Dirty Sprite. By July 2015, Future had made good on his promises: He had corralled his own demons—avarice, the guilt of success, substance abuse—into a dizzying crescendo of lyrical formations and soothed his fans' profound personal anxieties in the process.
But there was still more to come. And so, nearly three and a half years after Beast Mode, Future and Zaytoven have teamed up again, this time to surprise fans with the release of Beast Mode 2, the mixtape's long-awaited sequel. To produce the nine-track project, the notoriously prolific rapper and producer reportedly considered 100 songs along with the late audio engineer Seth Firkins. "It's not just a rap song, it's art being painted to me," Zaytoven told The Fader of the creation process. "When I think about Beast Mode, that's what I think about. I don't think about just a hard project; they just created some art together."

Beast Mode 2, as an opus, is at once both irresistibly baroque and meticulously refined. The production is lush, gorgeous. With a runtime of 31 minutes, it rejects the narcissistic excess of records like Drake's Scorpion. With each track gently flowing into the next, it resists the discordant upheaval of albums like Kanye West's Ye. But perhaps the most exhilarating element of Beast Mode 2 is the same tension that propelled the first Beast Mode into the upper echelon of Future's historic mixtape run: Zaytoven grants Future the opportunity to harness his voice—and vices—over soothing, nearly hymnlike production.
The effect is hypnotic. Where Monster offered lyrical aggression undergirded by musical darkness, Beast Mode and its sequel present a more fluid aural and emotional landscape. Zaytoven's beats flow around the anchor of Future's voice, lifting him impossibly close to absolution in the process. To listen to either of Future's Beast Mode projects is to submerge yourself in his agony and emerge with a strange acceptance of your own.
"Wifi Lit," the opening track of Beast Mode 2, finds Future taking his cockiness and materialism to new heights. It's a fitting introduction, a reminder that the "Fuc Up Some Commas" rapper is a flashy workaholic who never stopped hovering over his empire: "Gone in the sky, over 20,000 / I keep my Wi-Fi lit / I spend over 5,000, that's just on one 'fit." But Beast Mode 2 gets its true tonal beginning with the second song, the phenomenally named "Cuddle My Wrist." As Zaytoven's delicate keys craft a gentle opening, Future gears up to expound on the burdens of wealth and fame: "I got that monkey on my back / I walk around with 500 racks / I keep the city on my shoulders, carry it 'round like a bag of stacks." He stretches out the vowels, his voice nearly cracking. The song is infectious, his stress intoxicating. Over Zaytoven's keys, it's nearly a prayer.
"Cuddle My Wrist" bleeds into "Racks Blue," a lamentation-cum-confessional. "What I'm supposed to do when these racks blue?" he begs on the track's hook, the question a self-referential nod to the blue tint of hundred-dollar bills. "I know my heart belongs to the ghetto / Responsibilities without humility," he muses later, the weight of his riches once again tugging against the pressure he feels as a mega-successful artist "Comin' from poverty, hittin' the lottery."
A nearly immobilizing sense of survivor's guilt has long animated Future's raps. On Beast Mode 2, Future revisits his struggle to both reconcile the discomfort he feels for having made it when others around him didn't—and to understand why fame hasn't cured him of his emotional woes. Within the compact revelation of "Red Light," his anxiety is both external ("Runnin' through the red light, peakin' through the rearview / Niggas might just sneak up on the car and try to spray you") and psychological ("Full of medication, I wouldn't change it / I was once broke but no complainin' / I finally start to embrace that I'm famous / It's hard for me to erase when I was nameless"). The track is a journal entry set to strings.
Still, it doesn't crash over listeners with nearly the same velocity as Beast Mode 2's final song, the aptly named "Hate the Real Me." An eschewing of any redemptive narrative, the track amplifies the cacophonous chorus of voices in Future's head. He is pleading, apologetic, in search of the next fix to get him away from the dark corners of his own mind. Zaytoven's keys move faster, the backing melody reminiscent of the soundtrack to a chase. "Hate the Real Me" builds and builds and builds, but Future never really ascends. The visceral effect sows anxiety, but still the rapper's candor is comforting. Against the backdrop of Zaytoven's holy production, Future is just a sinner like the rest of us.
Future is, of course, no stranger to flaying himself on records. Even on the rapper's most pop radio–friendly records, he name-checks his drugs of choice, quick to remind listeners that his instincts are more for self-medicating than they are recreational. On the first Beast Mode, he took to Zaytoven's production with a similar vulnerability. "Just Like Bruddas," the mixtape's climactic sixth track, saw Future juxtaposing his love of his community with his fraught relationship to narcotics:
Half a million dollars on a ring, I'm taking Percocets
Down five Xanax and I pray I wake up and forget
I been with the gang cause they love me how I am
Shit ain't been the same, they talkin' bout me on the 'gram
They say I turned my back on my baby mama, I'm on them tabs
And my hood looking up to me, I love them niggas to death
Even in the after life, when ain't a breath of me left
Future doesn't only dance with his internal conflicts on Beast Mode or Beast Mode 2. The maladjusted lothario also has many a dalliance with a particular strain of misogyny: the cutting and manipulative digs at past lovers that some of the rapper's fans rush to freebase. On "Cuddle My Wrist," he "shoulda never got caught up with a cougar" (most likely a reference to the former NBA player Scottie Pippen's wife, Larsa, with whom Future is rumored to have had an affair and continues to taunt Scottie about). Beast Mode 2 also dropped two days after its expected date, with its actual release date conspicuously corresponding with the two-year wedding anniversary of Ciara and her husband, the Seattle Seahawks quarterback Russell Wilson. Naturally, some of Future's fans have already taken the coinciding date as an opportunity to rehash the formerly betrothed artists' messy breakup and ensuing court dramas. To watch male fans of Future derive an odd sort of glee from the continued humiliation of the rapper's ex is disconcerting, an experience that can color the entirety of Future's already fraught oeuvre for female fans.

But Future's introspection, no matter how dark and brooding, is not reserved for male artists—or listeners. His raps resonate because his voice grants dexterity to pains that can feel static and unmoving. His raps are his own, but Zaytoven's production, on both Beast Mode and Beast Mode 2, refracts the most sinuous of Future's struggles and renders them more navigable. Beast Mode 2 is far from divine, but together Zaytoven and Future have made something sacred.