The Twisted, Enthralling Rot of Sharp Objects
The HBO miniseries, directed by Jean-Marc Vallée and adapted from Gillian Flynn's thriller, probes the dark heart of small-town America.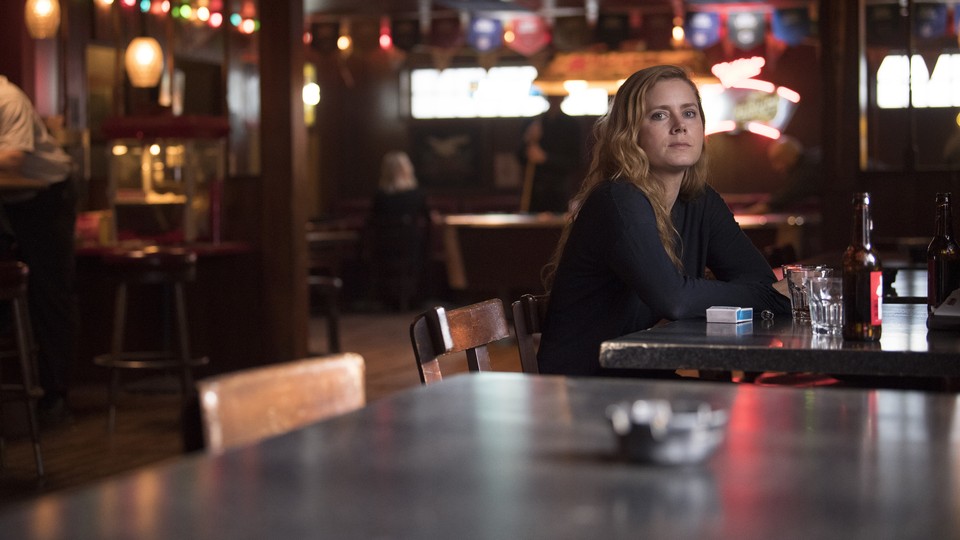 The eeriest part of watching Sharp Objects is when you begin noticing all the things that shouldn't be there. Maybe it's a little girl dressed in white, sitting on a sofa that was empty seconds ago, or a spider hanging over a gauzy canopy bed in a bright-purple room. But mostly it's words, carved in big block letters, that keep surfacing. DIRTY, written in dust on the trunk of a car. BAD, scratched into the surface of a wooden desk. CURLS, on the stump of an old tree. HARMFUL, on the interior of a Jeep door, visible for only a second. VANISH, in raised white scar tissue on human skin.
Like 2017's Big Little Lies, Sharp Objects is directed in its entirety by the Canadian filmmaker Jean-Marc Vallée and adapted from a book—in this case, from the debut novel of the same name by Gillian Flynn, the author of Gone Girl. But if Big Little Lies was soapy melodrama elevated by superb performances and Vallée's extraordinary visual eye, Sharp Objects is Southern Gothic for the 21st century, probing the grim heritage and often squalid reality of small-town America. In the hands of its showrunner, Marti Noxon, and Flynn, who wrote several episodes, the eight-part series is told with literary invention. It contains so many fascinating, grotesque details—children clutching pistols, floors inlaid with elephant tusks, a detective carrying a pig's head in a paper bag—that you almost forget the central mystery: Someone in the fictional town of Wind Gap, Missouri, is killing teenage girls and extracting the teeth from their corpses using pliers.
Camille, a St. Louis journalist sent home to Wind Gap to report on the murders, marks the first starring television role for Amy Adams. Tortured, toxic, and self-loathing, Camille is the primary lens through which viewers see the events of Sharp Objects unfold. Vallée uses fragments of memories, dreamlike sequences, and trigger points to hint at her history, flashing back and forth through time. His technique is reminiscent of how Season 2 of Westworld played out, only Sharp Objects offers more immediate gratification, solving its puzzles quickly and with precision. Still, the overall effect can be uncanny and disturbing. Camille's wounded psyche isn't an easy place to be, and Adams's quiet, sullen presence somehow conveys Camille's frantic unease both in Wind Gap and in her own body.
The de facto queen of Wind Gap is Camille's mother, Adora (played by Patricia Clarkson), the heiress to a fortune made from a pig-slaughtering plant, and a ball of nervous, vicious Southern-belle energy in the mold of a Tennessee Williams character. Clarkson, like Adams, barely raises her voice above a whisper, but Adora's power vibrates through the atmosphere like sonar. Half the men in Wind Gap, including Adora's husband, Alan (Henry Czerny), and the police chief, Vickery (Matt Craven), yield unquestioningly to her authority; the other half are on her payroll. But Sharp Objects is more interested in Adora's relationship with her daughters: Camille, who escaped the town; Marian (Lulu Wilson), who died in childhood and haunts Camille's memories; and Amma (Eliza Scanlen), a disturbingly precocious 15-year-old who's also learned how heady having power over others can be.
Vallée is attuned to detail, to touch, to sensation. In a flashback, a teenage Camille (Sophia Lillis) gently scrapes one of Adora's eyelashes down her cheek. Later, an adult Camille does the same thing to her own skin with a sewing needle. Adora likes to run her fingers gently over Camille's curls in a gesture so weighted that it feels like a slap. Vallée lets his camera linger on certain sharp objects (a serrated knife, a metal screw) in Camille's vicinity to convey how obsessively she's thinking about them. But other things, the series argues, can be sharper and more damaging. There are the words that get attached to women in Wind Gap who don't fit into certain archetypes, as Camille tells the Kansas City detective (Chris Messina) investigating the murders. There are the stultifying limitations of the town itself, which offers three career paths: pig slaughtering, domestic work, or raising children.
Sharp Objects is also preoccupied with legacy and how pernicious it can be. Back in Wind Gap, Camille finds constant triggers that remind her of things she worked to forget. When she walks into a wake for one of the murdered girls, the repeated whispering of her name hangs in the air. Adora's honeyed, poisonous passive aggression stings Camille more acutely than anything else; her mother's words brand her psyche. The legacy of Wind Gap itself is also a loaded one, as the series reveals in an episode dedicated to Calhoun Day, the festival commemorating the town's founding. As Confederate flags litter the lawn, Amma stars in a theatrical performance observing local history and celebrating how Wind Gap was built on racism and rape. (If the show has a weakness, it's that alarmingly few characters of color appear in it, and that none get to explore how the town's heritage has affected them.)
Vallée offers image after image that emphasizes a kind of corruption in the American dream. Camille always seems to be driving around Wind Gap, allowing the camera to focus on the giant golden M next to the town's picturesque candy store and barber, or on the Dairy Queen adjacent to the liquor store. The sweet tea is spiked with vodka. A little boy at home with his meth-addicted mother shows Camille his pistol to prove that he's safe. A hunting cabin is decorated with images of hard-core pornography as well as strips of drying animal flesh. Showing Messina's Detective Willis the spot she used to hang out in high school, Camille describes it as "party central, like a Midwest Lord of the Flies."
The show is Southern Gothic by way of Eugene O'Neill, indicting a culture and its myths without exoticizing them in the same way as, say, True Detective. But it's also a tightly written thriller centered on women—on the damage they can do whether they redirect their trauma outward onto others, or inward onto themselves. Alcoholic women can be something of a cultural cliché, but Adams makes Camille's drinking seem protective rather than destructive—she's muting her own impulses as much as she's overindulging. Sharp Objects also matches Camille's drinking with Detective Willis's, perhaps leading viewers to question why hers might seem pathetic but his is more natural, even macho.
Vallée's use of music, showcased in Big Little Lies, is even more evocative in Sharp Objects. Songs are almost always diegetic in scenes, meaning they end abruptly when a character turns off a car ignition or yanks out an earbud. Many scenes are notably silent, or set to the sounds of cicadas in the woods or conversation fragments nearby. The effect is a spooky kind of realism that balances Sharp Objects' more extravagant tendencies. The grisliness of the imagery, the aching damage in Camille, the delicate theatricality of Adora, the lovely danger of Wind Gap—all meld to make a series whose darkness is as alarming as it is undeniably enticing.