Sharp Objects' Music Contains a Chilling Message
Like with Big Little Lies, almost all of the HBO drama's songs are diegetic—and connected to the larger mystery.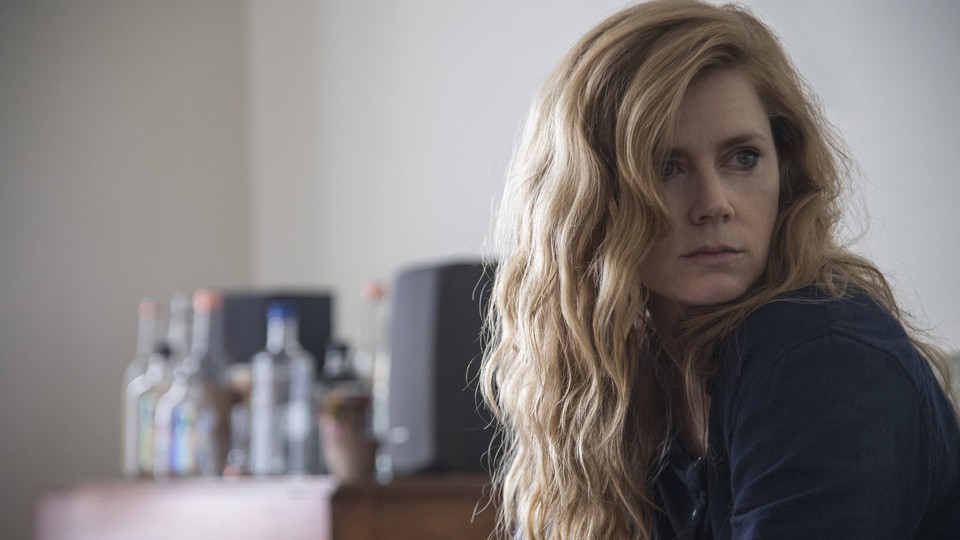 This post contains spoilers for the first three episodes of Sharp Objects.
Three episodes in, it's still not clear what HBO's Sharp Objects is about, exactly. A string of murders in a small Missouri town? The secrets of Camille Preaker (Amy Adams), a journalist addicted to booze, self-harm, and flashbacks? The ominousness of swivel fans? The creator/writer Marti Noxon's elliptical storytelling and the director Jean-Marc Vallée's wandering gaze make for an immersive trip, but one in which you can't guess at even the next mile.
One thing is clear, though. This is a show about music. The title sequence opens with a needle descending on a record player, and the accompanying song changes week to week. Camille is the hyperactive DJ of her own life, queuing up tunes on her cracked iPhone when on drives, in bed, and in the bath. Her stepdad plays piano, and the town's social life revolves around a karaoke bar. Almost always, the soundtrack is diegetic: Viewers hear the same thing as the characters do.
Which isn't surprising given the show's pedigree. Last year, Vallée brought his alternately gauzy and jittery sensibility to Big Little Lies, another female-led murder-mystery miniseries that, in a very real way, revolved around songs. The children on the show had an eerily deep knowledge of David Bowie, and the parents conducted their skullduggery while humming to the Temptations. Most of the music was diegetic, and the concept of listening was, itself, thematic: a proxy for how people dwell on their own frequencies but can connect by sharing what's in their heads.
In Sharp Objects, something similar but not the same is going on. Music voices the show's central question: Is it better to look at the darkness, or to hide it? This inquiry begins on a visceral level with the creeping dread of the soundtrack curated by music supervisor Susan Jacobs, whether heard in Sylvan Esso's spindly folktronica or in Led Zeppelin's surging doom. LCD Soundsystem, though synonymous with partying, provides a desiccated drum loop as Camille approaches a funeral. Even Franz Waxman's "Dance and Angela," a stately shuffle for 1951's A Place in the Sun, subtly hisses and pops in the first title sequence. Damage, it seems, is everywhere.
Music marks social class and inner attributes, too. Hence why the picturesque mansion of Camille's mom, Adora, wafts with placid classical and standards beloved by her husband Alan Crellin, he of preppy sweaters and a carefully kept library of records. Frequently, the show mines the primness of the Crellins' tunes for irony. During a traumatic flashback Camille suffers in her first night back in her childhood bedroom, there's a spooky clamor in the background. As she frantically runs out of the house in the present day, the sound coheres into "The Way It Used to Be" by shmaltz-master Engelbert Humperdinck. Adora and Alan are dancing to it.
Camille's tastes run darker than her parents, obviously. Led Zeppelin is a staple, and at the karaoke bar, we learn that her go-to song is "Ring of Fire": an on-the-nose choice for an inwardly tormented country girl. (Strikingly, it's the version not by Johnny Cash but by Eric Burdon and the Animals that gets cued up.) The obnoxious bar owner's karaoke fave is Queen's "Bohemian Rhapsody," a bombastic and indulgent pick. When Camille follows her secretive young half-sister Amma in Episode 3, we faintly hear from her headphones "Mama's Gonna Give You Love" by Emily Wells: a tellingly hip and sexy twist on the classical music played at home. (It's also a typically eclectic pick from Jacobs, who won the first ever Emmy for music supervision last year).
Yet it turns out that Camille's tastes aren't entirely her own. In a flashback saga in the most recent episode, "Fix," we watched her check herself into a facility after cutting herself. There, she bonded with another self-harming patient, a teenage girl. That girl asked her about what she listened to, and Camille—bafflingly to viewers—replied, "It's not really my thing, music." Back then, apparently, she didn't listen to much. But the girl advised Camille that her headphones were the only healthy way she knew of dealing with pain. The two listened to Led Zeppelin's "Thank You" together, and Camille briefly borrowed the phone—only to return and find the girl had killed herself. Horrified though Camille was, she kept the phone.
The message here is as clear as it is queasy. Music acts as a way to self-medicate for Camille and for others like her, not unlike alcohol and long drives. It also reflects—or hides—truth. The women and girls of Sharp Objects have been policed to project one reality: doll-like rather than tomboy, purple rather than black, Engelbert Humperdinck rather than Jimmy Page. The penalties for stepping out of line can be brutal, but for Camille, the choice is between rocking out or hurting herself. When this latest episode ended with her hurling her iPhone from a car window in a fit of angst, it set up one of the show's most gut-churning mysteries yet: Can she survive the silence?