The Unknowable Robin Williams
Come Inside My Mind, airing on HBO Monday night, is a thoughtful and wistful portrait of an elusive subject.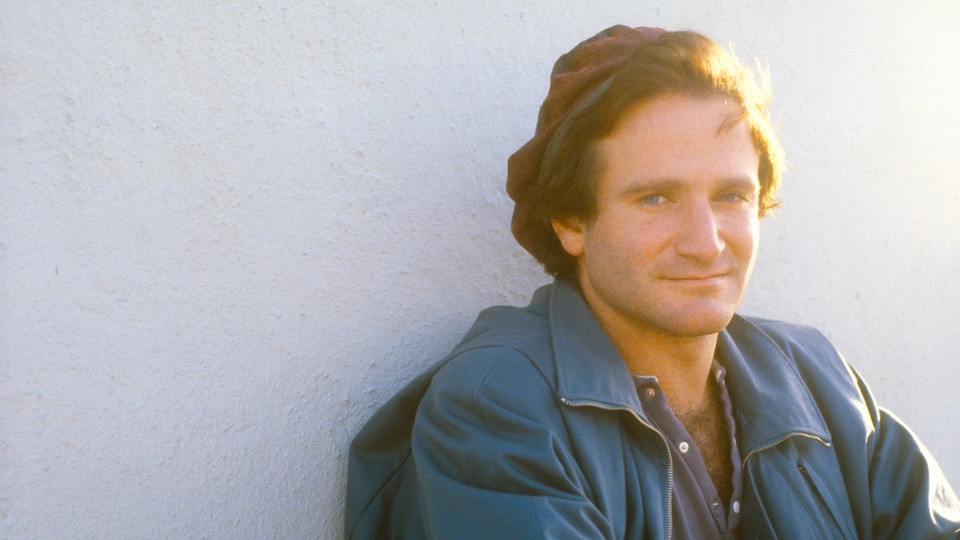 "Ladies and gentlemen, it's time to pump neurons," Robin Williams announces in voice-over, over a black screen. "We are about to enter the domain of the human mind." In the two hours that follow, the director Marina  Zenovich tackles one of the most explosively cerebral subjects in comedy: someone whose creative energy was so vast that it seemed to overwhelm his body in performance, Williams's limbs jerking and his face contorting as they tried to keep pace with his frantic, restless brain.
Robin Williams: Come Inside My Mind, which airs on HBO Monday night, ticks all the boxes of a standard biography, charting Williams's childhood, his early days in improv, his quick and destabilizing success with Mork & Mindy, and his path into film acting. Zenovich's primary curiosity, though, seems to involve the mechanics of Williams's genius. She layers scenes of his stand-up shows and old photographs on top of interviews with Williams's family, friends, and peers. "In my head, my first sight of him was that he could fly, because of the energy," David Letterman says. "All I could really do was hang onto the microphone for dear life, and here was a guy who could levitate." But Williams's manic onstage energy had a flip side, as Zenovich explores: addictions to drugs, alcohol, and affirmation; a particular discomfort when he wasn't performing; and a profound fear of failure and abandonment, even at the height of his success.
One of Come Inside My Mind's biggest assets is Williams himself, who acts as the film's lone narrator, talking about his childhood, his thought process, and—occasionally—his psyche. "I don't tell jokes, I use characters as a vehicle for me," he explains at one point. "I seldom just talk as myself." He describes stand-up as "survival," and compares the endorphin rush of comedy to a different kind of high. And yet, even with Williams himself as a presence in the film, there's an unknowability about the comedian that keeps him at a distance. It feels perhaps like a symptom of Williams's attempts to insulate himself from himself—to use performance and jokes and characters to silo off a part of his brain that he didn't want to inhabit.
Zenovich gestures at key moments in Williams's life that helped form his particular id, but without being heavy-handed. Williams describes his lonely childhood in a Detroit suburb (his two half brothers were raised by other families), and the influence of his mother's sense of humor. His father was a fan of Jonathan Winters's appearances on The Tonight Show Starring Johnny Carson, which Williams would go on to emulate with his use of characters. In improvisation classes at the College of Marin, and later at Juilliard, Williams tapped into his ability not just to make people laugh, but also to win them over by doing so. "He was always looking for connection," his first wife, Valerie Velardi, explains in an interview. "And if he needed to pull out another character or an accent, he was just shameless."
Come Inside My Mind charts the bizarre circumstances of Williams's big break playing Mork in an episode of Happy Days. (Garry Marshall's son refused to watch the show after Star Wars came out, so Marshall told writers to throw in a spaceman, and a gap in ABC's schedule led to the MacGyvered creation of Mork & Mindy.) The movie documents Williams's sharp crest toward fame, his new wealth, and an addiction to cocaine that ended after John Belushi's death shocked Williams into quitting. But his relationship with sobriety, the film suggests, was an uneasy one. As a performer, Williams thrived on extremes: on quiet stillness shifting into manic extroversion in a fraction of a heartbeat, and on feeding off the energy of others. "His pathos was seeking to entertain and please," his son Zak says, "and he felt when he wasn't doing that he was not succeeding as a person."
The pleasure of Come Inside My Mind is in the opportunity it offers to spend time with Williams, not just as a performer, but as a spirit whose exuberance was so contagious and so winning that his death in 2014 felt to many like a personal loss. Zenovich incorporates scenes from the actor's best-loved roles but also taps more intimate footage, like the in-character voicemails he left his friend Billy Crystal, or the moment during Williams's son's christening when he made the baby fly in homage to his godfather, Christopher Reeve. The sheer joy sparked by his sense of humor, and by watching him laugh and laugh at the absurdity of everything, is balanced by insight into what it apparently cost him. That Williams remains elusive by the movie's end only amplifies the feeling of how original and irreplaceable he was.