Remembering 'Big Nancy' Sinatra
The first wife of Frank Sinatra, who died at age 101, pre-dated the invasions of fame, and survived with grace what came next.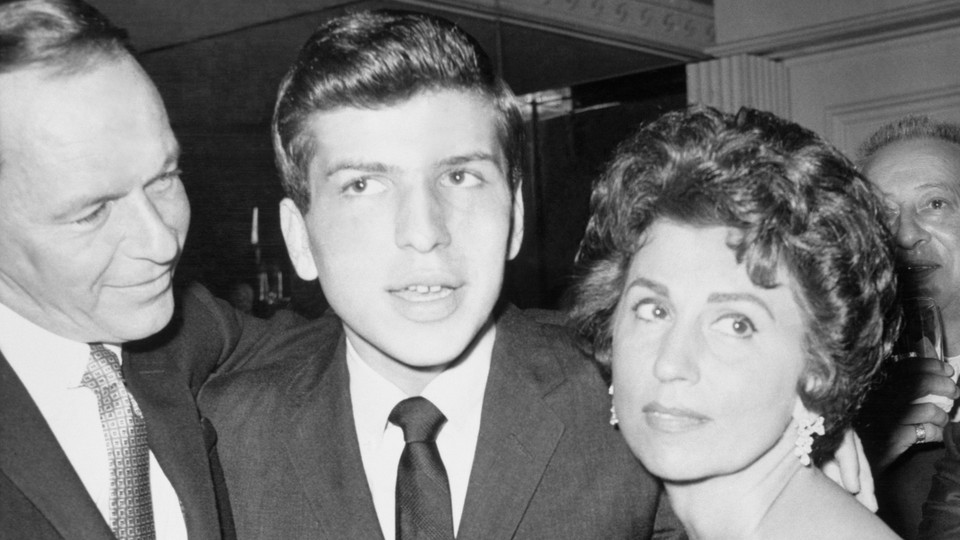 She was, a friend of hers once noted, "a great wife, a great ex-wife, and a great widow," and when Nancy Barbato Sinatra died at 101 on Friday, she took with her perhaps the last living link to a world that knew Frank Sinatra not as a legend but as an impossibly skinny fireman's son from Hoboken, who would sing for a pack or two of cigarettes and a sandwich, but dreamed of more.
And from the moment she first laid eyes on him, while filing her nails on a front porch in the beach town of Long Branch, New Jersey, when he was 19 and she two years younger, until his death at 82 in 1998, she was the one he trusted most—with his fears, his joys, his children, and whatever he was able to share of his innermost life. That he could not love her with the constancy she deserved is well known. His infidelity was famous, and shattering, and he married thrice more.
But that he loved her always, with the trust born of a bond forged before fame and riches and hangers-on and leeches crowded in on him, is just as obvious, if less well understood. As a young wife, she sewed his extra-large, floppy bow ties, all the bigger to be torn off by adoring fans. As a mature woman, she kept her dignity when he shredded his. And as a grand old dame, it was she who made the meals and provided the welcoming home where the man who once described himself as an "18-karat manic depressive" felt safest and, by most evidence, happiest, too.
And no wonder. Sinatra's early fame—he rocketed to stardom in 1943, four years after their marriage—was of a manic, invasive sort that has since become familiar but was shocking then. The New Yorker writer E.J. Kahn recorded that The Voice's bobby-soxer fans were so obsessive that theater managers had to smear syrup of ipecac (a nausea inducer) over the glass display cases that held his picture lest the girls kiss them over and over again. Admirers plucked hairs from his head (or harvested them from the floors of the barbershops he frequented), and at least one claimed to be the proud possessor of a Sinatra hangnail, which she carried around in a locket.
"Big Nancy"—as she would be known, in contrast to her first child, who shared her name—pre-dated all that. She came from a big, boisterous Italian-American family in Jersey City. Her name was an Anglicization of Nanicia, and she grew up with opera always playing on the radio or Victrola in the background. Her father was strict but her table was open. Frank, who had never, ever had a steady girl, was smitten.
She pre-dated the fame, yes, and she endured and survived all the rest that fame brought: the move to Hollywood, the movies with Gene Kelly, the fatal attraction to Ava Gardner, the devastating career slump of the early '50s when he seemed washed up, the Academy Award for From Here to Eternity, the broad, sunlit uplands of the classic Capitol Records years, the world tours, the early retirement, the comeback, and the long, slow fade into feebleness. It was to Big Nancy that Sinatra returned whenever the clouds hung low and dark, coming in quietly late at night, stirring the embers in the fireplace and falling asleep on the couch.
In the spring of 1976, almost 25 years after their divorce, with Barbara Marx, the woman who would become his fourth wife, pressing him to marry her, Frank surprised his children Nancy, Frank Jr., and Tina by conducting a discreet romantic liaison at his hideaway "Mountain House" near his Palm Springs compound. "My parents were presumably not playing Parcheesi," Tina later wrote, and when the family all gathered to celebrate Easter, Big Nancy had taken the guest cottage nearest Frank's master bedroom. "They were discreet around their children, even then," Tina wrote, "and it was only after the lights were low and the kids safe in bed that Mom stepped out to be with the only man she ever loved."
In the end, Sinatra married Marx—and he stuck with her through some troubled times. But moments before the wedding, he felt compelled to tell Nancy Jr. and Tina that he was torn. "I want you to know," he said, "that I've thought this over very carefully. I've thought a lot about Mother, and I really tried to make things work again with her, because it would have been great for all of us. I'll always love her, but this is the right thing for me right now."
"What could you tell a man in such turmoil that he hadn't told himself a thousand times over?" Tina wrote. In the end, of course, nothing.
Like Jacqueline Kennedy Onassis, Big Nancy never complained, and she never explained. She goes to her grave having given only the barest handful of interviews over the years. Right to the end, her friends attested, she was sharp and funny, comfortable in the elegant house where she'd lived for decades. She never remarried and rarely even dated. In the end she made clear, in the words of the song, that she'd rather have 50 percent of Sinatra, any percent of Sinatra, than all of anybody else at all.