R. Kelly Is the Hero of His Own Disingenuous Epic
In the R&B singer's new song, the 19-minute confessional "I Admit," he devotes ample time to describing his own demons but precious little energy atoning for the harm he has wrought.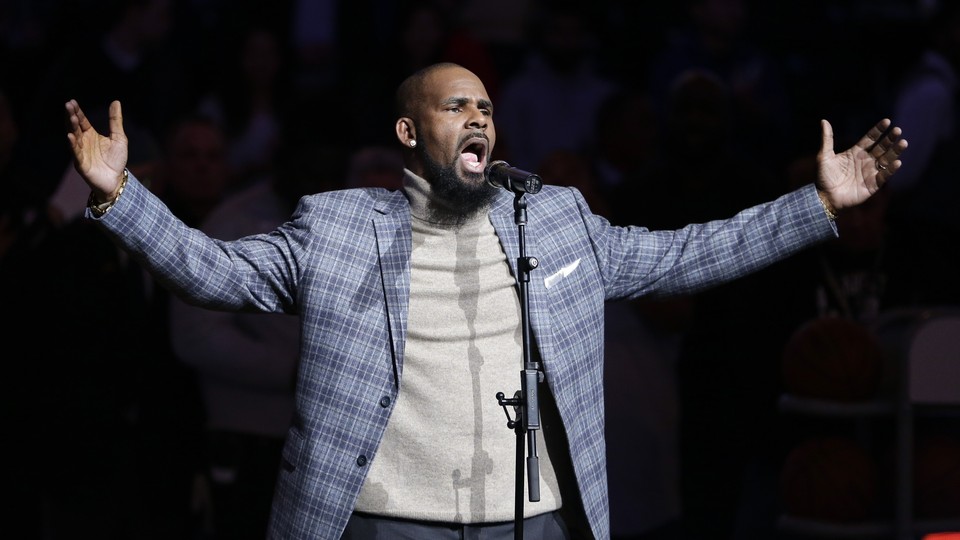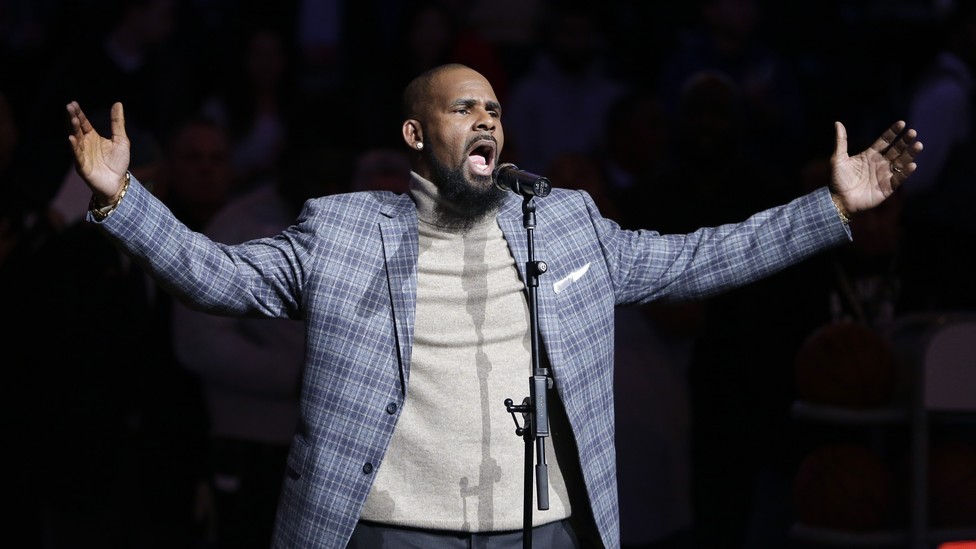 On Monday morning, the R&B singer R. Kelly shared his first new solo song since the release of his 2016 holiday album, 12 Nights of Christmas. The 19-minute confessional "I Admit" plumbs the 51-year-old artist's personal and professional history, taking listeners on a lengthy, convoluted thematic journey that affirms Kelly's positioning as its (and our) hero. It is a difficult, dissonant track; for much of the nearly 20 minutes that "I Admit" spends drawing listeners into Kelly's internal world, the singer's voice is as soothing as his subject matter is disturbing.

With a stomach-churning mix of self-pity and hubris, Kelly sings about a litany of difficulties he's faced, from his money troubles and learning disability ("Said I had dyslexia, couldn't read all them contracts, yeah / Now the truth in this message is I'm a broke-ass legend") to recent allegations that he is running a sex cult ("Say I'm abusing these women, what the fuck that's some absurd shit (what?) / They're brainwashed, really? (really) / Kidnapped, really? (really) / Can't eat, really? (really) / Real talk, that shit sound silly (yeah)"). He details various sexual acts he engages in with women he says are "overage." He doubles down on the "love" he felt for the late singer Aaliyah, who was 15 when she married a 27-year-old Kelly (an arrangement for which the marriage certificate falsely claimed she was 18). He recounts various childhood traumas he endured, including serial sexual abuse at the hands of a family member. He lashes out at people he believes have abandoned him—relatives, reporters, and fans alike. The song is a reckoning set to melody.
But even as he admits to various misdeeds, Kelly still sees himself as a valiant, if flawed, figure: "Fuck all the fortune and fame," he sings. "Forget the name, I'm a human." Later he invokes scripture to explain his disregard for the people who have attempted to hold him accountable for his alleged mistreatment of women: "No weapon formed against me (amen)/ Shall prosper (amen)." The emotionally raw "I Admit" is, then, less apology and more wide-ranging allocation of blame, Kelly's attempt to pardon himself by redistributing the cumulative weight of his own transgressions. Everything and everyone else—media, the justice system, lawyers—are stumbling blocks on Kelly's journey to absolution, not worthy challengers or moral interlocutors. Kelly is aggrieved and indignant. He mocks "haters," that broad, nebulous swath of naysayers whom he sees as wishing him irrational harm. He digs into his vengeful arsenal and references some critics by name, punctuating his path to redemption with the mention of those who have gotten in his way.
In the epic of Robert Kelly, John Legend, Steve Harvey, and Tom Joyner are guiding figures who have left him to fend for himself against the numerous public obstacles keeping him from private peace. Jim DeRogatis, the Chicago journalist who has reported on Kelly's alleged abuses for nearly two decades, is a particularly unworthy adversary for the cantankerous antihero, who resorts to mispronouncing the DeRogatis's name to emphasize the reporter's irrelevance: "To Jim DeRogatis, whatever your name is / You been tryna destroy me for 25 whole years / Writing the same stories over and over again / Off my name, you done went and made yourself a career." (For his part, DeRogatis stood by the veracity and rigor of his reporting: "We are talking about dozens of young women telling the same story about a man who has sold 65 million records and been in the world spotlight for three decades.")

How Kelly speaks of women throughout "I Admit"—and the last decade and a half of his career—is far more grievous. Whether to DeRogatis, to law enforcement, or to the public, "dozens" of women have spoken at length about the abuses they say they endured at Kelly's hands. Kelly addresses DeRogatis, Legend, Harvey, and Joyner, all of whom have taken a stand against his alleged abuses in some capacity, by name, but at no point does he speak to—rather than at or about—the women who have come forward with harrowing accounts.

The closest Kelly gets to addressing a woman without the distance of a proxy comes toward the end of the 19-minute saga, when he injects a new venom into his voice to rattle off a series of gendered epithets: "But what blows me is when certain people turn phony / They say Rob I got your back, Rob you the man / But they really doubtin' me, bitch you know who you are / Bitch I bought you a car, bitch you stayed at my crib (yeah, yeah) / I loved you with all my heart (my heart)." He mentions the TV host Wendy Williams early in the track, but does so primarily to relay a conversation the two had about his various indiscretions. Black women, broadly speaking, are simply told to "show black men some love (yeah) / 'Cause black men, we go through enough," as though Kelly were a victim of police brutality and not a man accused of sustained abuse against the very women from whom he demands fealty.
Kelly laces his anger with expressions of shock, disappointment, and misplaced affection—a response to accusations of abuse that feels nauseatingly familiar. The problem, he insists, is not that he has a history of abusing women, but rather that a woman would dare to "doubt" him after he had supported her financially or that another woman would deign to ask him about these allegations. The logic is harmful, the domain of a man who sees the right to mistreat women as part and parcel of his celebrity.
To the extent that "I Admit" details Kelly's history of wrongdoing, it also obfuscates specific crimes. He stops short of admitting to having been the person in the tape that landed him in court over child-pornography charges, noting that his "lawyer said "don't say noth.'" (Kelly was acquitted of the charges after a heated 2008 trial in which his defense compared one witness to Satan.) But perhaps one of the more jarring strains of the track is the way Kelly simultaneously frames pedophilia as a simple matter of opinion—and takes aim at #MuteRKelly, the campaign to organize boycotts of the singer's music and performances:
I admit I fuck with all the ladies
That's both older and young ladies
But tell me how they call that pedophile
Because of that, shit that's crazy
You may have your opinions
Entitled to your opinions
But really am I supposed to go to jail
Or lose my career because your opinion?
Yeah, go 'head and stone me
Point your finger at me
Turn the world against me
But only God can mute me
Again, Kelly does not address the women—the real humans with complex lives—whom he has affected, except to frame their objections as trivial matters of disagreement. But the (primarily black) women who have campaigned against Kelly's prominence in the music industry have not done so because they are enemies seeking to destroy him or complicate his winding narrative. The stakes here are neither literary nor imaginary. R. Kelly, for all his admissions on this new song, fails to acknowledge the human impact of his actions. He rifles through his own traumas roughly, noting that they still cause him deep pain and drive him to drink, but he never extends that same understanding to the girls and women he has reportedly targeted. There is certainly a worthwhile conversation to be had about a number of the issues that shaped a young Kelly—incest, child sexual abuse, ableism—but "I Admit" is not the introspective PSA that the singer frames it as. Rather, it is a potent, dangerous tool of sly, public manipulation. By listing his own traumas and struggles ad nauseam, Kelly attempts not to make amends with any of his alleged victims, but to distract from their stories.
Subsuming the pain of injured parties is, of course, just one particularly pernicious tool of the serial predator. The predator who gains acclaim for his art can wrest sympathy on a much bigger stage. "I Admit" is similar in form to Kelly's "Trapped in the Closet" series, a strange and gripping stream-of-consciousness operatic experiment. The earworm sticks, and so Kelly haunts. The specter of harmful actions is softened by the harmonies of the lullaby. "I Admit" is not a prepackaged, publicist-approved message shared via the Notes app. It is a return to R. Kelly's most treasured form. In releasing a song rather than a public statement, Kelly has kept the narrative of his misconduct confined within the format in which he is most adept. Even if "I Admit" never garners Kelly any streaming revenue, the renewed support he's gotten from a legion of fans—who've shared their appreciation of Kelly's openness on platforms from Facebook to SoundCloud to Instagram—is itself a kind of currency. Kelly's fans continue to rally around him, to stream his songs into oblivion even as Spotify removes him from (and then restores him to) its promoted playlists. Music executives continue to ignore his alleged abuses.
To these brokers of power, none of the women who have recounted tales of Kelly's abuse is worthy of being the hero in this story. Kelly, and Kelly alone, occupies that mantle. To remove him from it—to insist that women deserve a world in which their pain matters, too—would be to admit that Kelly is not alone in believing these women are disposable. What would be the cumulative effect of ceding the podium to Kelly's accusers for 19 minutes each? Would the chorus of pain, of triumph, of betrayal, rattle radios? It's impossible to imagine the precise impact of giving them that space—if these women's stories were granted half the weight that labels, streaming companies, and fans alike have assigned to Kelly's self-indulgent navel gazing.

"I Admit" may come across like a therapeutic exercise for Kelly, but as a work of art, the song only further props up the singer by framing his traumas as more relevant than those of his alleged victims. His traumas aren't irrelevant, but they aren't the sum total of his interactions with the world; to treat them as such is to preclude any possibility of healing for those he's harmed. With this latest entry into the canon of men's quasi-apologetic works, the singer simply magnifies his own vulnerability in a world that takes artistry as reason enough to exclude others' concerns. If Kelly believes, as he seems to, that admitting to (some) nebulous misdeeds is enough to absolve him of his sins, then what motivation is there for any influential artist accused of misconduct to consider a more rigorous path toward restoration? This story will go on, and unless powerful actors intervene, Kelly will remain a hero.