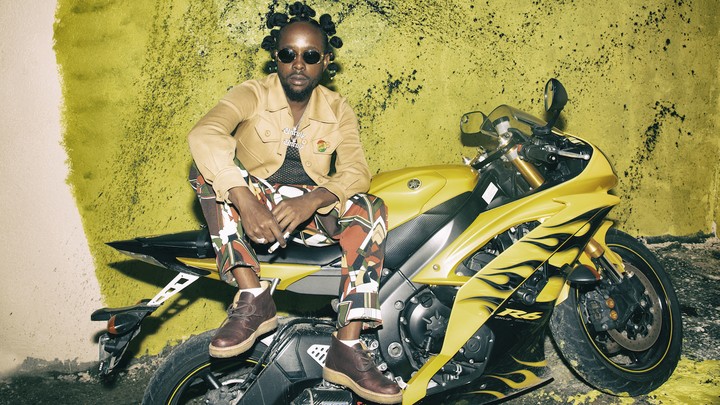 Popcaan is always in motion, but his voice beckons home. When he answers my call last Friday, a week after the release of Forever, his second studio album, the prolific dancehall singer is quick to tell me he's in the car. As if to confirm the veracity of his claim, an unknown vehicle in the background honks its horn seconds later. The sound interrupts our conversation with an abrupt blare. When I ask where he's headed, the artist born Andrae Sutherland adopts a high, singsongy tone crackling with amusement: "I'm goooo-iiiiing for some billions, for the gloooory."
Answering questions with rhythm and flair has long been Popcaan's calling card. It was, after all, a jovial call-and-response that first ushered the St. Thomas Parish–born singer into dancehall fans' regular rotation back in 2010. Vybz Kartel, the multiplatinum "king of the dancehall" born Adidja Azim Palmer, shouted out a young Sutherland on "Clarks," the impossibly catchy dedication to the sensible British shoe brand beloved by Jamaicans across the world. "Wha gwan, Popcaan?" the Portmore-bred Kartel asked on the track's intro, before ceding the mic to Popcaan for the pre-hook. "Deh yah enuh hot skull, but tell me something," Popcaan mused, before asking Palmer, "A where you get that new Clarks there Addi?"
Their banter is a friendly exchange in which Popcaan answers Kartel's introductory inquiry by homing in on the real issue of import—where Kartel acquired his fly-ass shoes. But the Pon di Gaza 2.0 single was also the first time Popcaan, who'd signed with Kartel's Portmore music empire in 2008, had been thrust into the limelight so forcefully by his mentor. And his introduction was a hit. Where Kartel's voice rumbled gruff and powerful, Popcaan's favored higher registers and more rounded delivery (as does the verse from his fellow featured artist Gaza Slim). Both Popcaan and Gaza Slim also co-wrote the track with Kartel. The interplay was magnetic. The song captured—and maintained—listeners' attention, becoming a radio hit internationally. In the singers' native Jamaica, the success of the song sent the shoes' popularity rocketing so high that, months later, Popcaan told The Guardian it was impossible to "go less than $10,000 Jamaican for Clarks" (or about $115 USD, a notable markup from the pre-"Clarks" price of roughly $68 USD). By late 2010, Popcaan had arrived on the scene, but he wasn't done stepping into his role as one of dancehall's all-stars.

The following year, the singer released "Only Man She Want" as an international single. Cocky but sweet, the song found Popcaan singing over So Unique Records' "Lost Angel Riddim." In standard riddim protocol, artists like Gaza Slim, Sheba, and Vybz Kartel all released their own rendition over the same production, but Popcaan's stuck. "Only Man She Want" established the singer as a solo artist to watch, a rising star who didn't need Kartel's cosign to shine. In 2012, he signed with Mixpak Records. By the time Popcaan released his studio debut with the label, 2014's Where We Come From, he'd begun to step out from Kartel's shadow, releasing mixtapes and collaborating with artists like Pusha T and Snoop Dogg (who had briefly adopted the moniker "Snoop Lion" while pursuing a reggae career). Kartel's later criminal sentencing—to life in prison for the murder of Clive "Lizard" Williams—dampened the Portmore artists' spirits, but it didn't stop them artistically.
It's tempting to make the case for Kartel's incarceration as the incidental catalyst that enabled Popcaan's subsequent rise, but Where We Come From presented a fully fledged artist, a thoughtful and introspective singer whose creative inspiration found its roots in the pitfalls and triumphs that checkered his life. Executive-produced by the Mixpak Records founder Dre Skull, who Popcaan told me is "like family," the record is multilayered and dynamic, its bangers as considered as its ballads. With lilts and lullabies, Where We Come From made the case for the complexity of both the artist and the country that birthed him.
The introductory track, "Hold On," offered a weighty, considered message of hope: "Tell the ghetto youth dem / Hold on / One day we'll be free at last," he sang urgently. "Hold On" references "sufferation from Africa to India," then zeroes in on a pain closer to home: "Society still treat we like criminals / But one day we'll be free at last / Jamaica." Popcaan's insistence on the essential humanity of people like him—Jamaican people, black people, people shut out from traditional economies—resonates throughout Where We Come From. On "The System," he laments the lack of opportunities granted to young people, again leaning into a tradition of referential lyricism by directly addressing his producer and creative collaborator: "Dre Skull, wha' di system do fi ghetto youth? Nothing." On "Ghetto (Tired of Crying)," his pain is physical: "Hungry days wi know / Ghetto, pon crackers and water wi grow," he sings, referencing the inexpensive water biscuits that once formed the bulk of his diet.

But beyond threading Popcaan's rags-to-riches narrative, the record also cemented his reputation as a hitmaker. Where We Come From's first single, "Everything Nice," debuted at No. 2 on the Billboard Top Reggae chart. "Love Yuh Bad," which has thus far racked up more than 8 million YouTube views, became a fixation of the famed Jamaican interloper Drake. The Canadian rapper interpolated a line from "Love Yuh Bad" on his own "Too Good" in 2016. Despite Drake abandoning a leaked version of "Controlla" that initially featured Popcaan, the collaboration between the two catapulted Popcaan's (and dancehall's) stock among previously unfamiliar audiences. As numerous non-Jamaican artists (Drake, of course, but also Justin Bieber, Fifth Harmony, and Major Lazer) gain critical acclaim and commercial success for their "dancehall inspired" or "tropical house" music, Popcaan's prominence has taken on a new urgency.

Even as Kartel continues to release music from behind bars, Popcaan and a crop of young Jamaican artists have been tasked with shaping the future of dancehall. "Me excited about any young artist or any new artists, you know, because me love seeing mi youth dem winning and me love seeing dem make it out of the struggle because I know what the struggles is like, you know?," he told me. "So I love to see when they get out, and I just want them to always remember that music is what put them here, you know, so always put that first." For Popcaan, prioritizing the music has always included finding new ways to reconnect with its histories and expand all that it can contain.
---

Forever, his sophomore album, finds Popcaan moving through a new chapter—with the benefit and burden of the hard-earned wisdom he acquired earlier in life. Where We Come From featured the artist confronting the struggles he both witnessed and endured, but Forever is largely triumphant. More than 10 years after signing with Portmore, Popcaan is, too. "I get more famous. I get more serious about music and about the project that I'm doing," Popcaan said of the shift. "I think about this album on a wider scale than I was thinking when we did Where We Come From, you know. I was younger, too, so I just grow up."

Forever offers a glimpse at what exactly that maturation has looked like for Popcaan, who spends a significant (though not overbearing) portion of its 17 tracks singing with a new lightness. Songs like "Happy Now" showcase the artist's concern for his people with specific, familiar scenes that serve as multiply referential endorsements for the healing power of music:
When you wake up sad this morning, you feeling down
System a force you, fi go rise you chrome and brown
Cry out to the most high
Gwan home and listen Bob Marley, no woman don't cry
Sutherland has long seen music as part and parcel of salvation. "I used to sing on the choir when I was with my grandma in church, and she used to make sure I sing in church," he said. "It kinda build my talent that I was growing up, too. I was singing there and use my voice and it was beautiful." That liturgical influence is most evident on Forever's third single, the nearly ecstatic "Firm and Strong." Midway through the song, a choir joins in as Popcaan sings with increasing intensity. Alongside the production mainstay Dre Skull, the choir producer Ken Lewis, the choir director Alvin Fields, and the choir engineer Christine Kern craft a technical effect that is both meditative and haunting. "Firm and Strong" is as inspiring as it is threatening, at once drawing from the energies of diss tracks and of gospel. For his part, Sutherland appreciated the opportunity to employ traditions that matter to his family: "I'm glad that I'm able to even use a choir in my music even though I'm not doing gospel music."
For Popcaan, integrating the sounds and feelings of home into his music isn't hard; it's the source from which his inspiration flows. "My family is so important to me," he said. "Like, even when I was at some place the other day I was with my whole family—my grandma, my grandfather, my father, my mother, my kids … Anywhere I'm with my family, that's home to me." Forever doesn't dwell on details from Sutherland's personal life, but it pulses with a distinct vulnerability. On "Strong Woman," he valorizes both one specific individual and women as a group: "Baby you're vigorous / You motivate the two of us / And dem nuh really know / Why mi love yuh so / Why mi love yuh so much / Because you is a strong girl, strong girl / Tell yuh bout a strong woman."
Sutherland, who grew up in a home led by his mother and grandmother, wove the lyrics from the life story of a woman he knows: "I was thinking like, oh my God, this girl, this girl been through hell and around and she's still here and she's still going strong," he said of the writing process. "When I was doing this song I was thinking, like, it's not just about one person anymore, because there's so much woman in the world." The track is celebratory and deferential even when it veers into carnal territory, a fitting dedication coming from a man whose country of birth is upheld largely by matriarchal figures. Women are Popcaan's world. Asked about his prized mane, which he styled elaborately—and differently—for the covers of Where We Come From and Forever, Popcaan was quick and jocular in his response: "I love my hair crazy. That's me, that's my image. When you see Popcaan, you can expect his hair changes." But the thought of letting just anyone touch his hair caused him immediate distress. "Just one [person] or my mother" are allowed, he urged. "My mother or my girlfriend."
---
Perhaps unsurprisingly, the new album's biggest aesthetic shift from Popcaan's debut is the sheer volume of dewy sensuality that hovers over its 57-minute run time. To borrow from American parlance, Forever is a grown 'n' sexy record; half its tracks beg to be played on any quiet-storm evening radio. It's "for the ladies" taken to its logical conclusion, a silken and syrupy series of tracks that ooze seduction. "I didn't want it to be like the everyday music that I sing," the singer noted. "I wanted it to be a total different theme music, a different feel, a different energy."

To be clear, Popcaan crafted a more sensual listening experience with his most treasured demographic in mind: "I gave my female fans a whole segment for them, you know? They deserve it, they support me so much, I love them," he said. "They deserve it all," he added, referencing the title of one song on Forever. The segment can skew one-note at times, but its highlights compensate for the similitude: On "Body So Good" and "Wine for Me," the album's first two singles, Popcaan woos from the dance floor. "Naked" and "Through the Storm" are stripped down, nearly acoustic entries into courtship. For the congenitally romantic singer, the songs are an extension of the amorousness he lavishes on both his fans and his love.

But easily the most exhilarating track on Forever is the one that best summarizes the direction Popcaan—and the broader genre—will stretch into next. "Dun Rich," a pleasant and comparatively up-tempo jam, is Popcaan's second notable collaboration with the Nigerian Afrobeat star Davido. The two came together in 2017 for "My Story," an irresistible ode to the romantic possibilities that tech creates. "He was very gassed about singing that song … Davido and I have good energy," Popcaan said of his collaborator. "He came to Jamaica and came to my house. He came to see how we live and everything. He was there when we was doing the track with the Gorillaz and everything so, you know, like, he's been around."

Popcaan and Davido's collaboration is particularly exciting given the natural synergy between dancehall and Afrobeat. As artists from each genre draw from one another's work—and credit one another publicly—their respective fields (and homelands) both stand to benefit. It's not Poppy's first time producing work across diasporic lines; late last year, he also hopped on the remix for the Ghanaian British singer and producer J Hus's bouncy hit "Bouff Daddy." In an industry overrun by artists and executives who pillage the work of artists from both the Caribbean and the continent, it's encouraging (and perhaps even genre shaping) when singers of their stature extend their collaborative instincts across borders.

"Over time I think me and Davido should do our own album together," Popcaan said. "For the sake of dancehall and Afrobeats, we should do that." The genres' similarities (which often lead to them being confused for each other by undiscerning parties) is a source of opportunity, a diasporic link to be celebrated. "Yeah man, the Afrobeats and dancehall music and reggae music is family," he added. "The same offspring."
For Popcaan, then, this next chapter sees him moving both forward—to success, to an ever-expanding global fame—and back, to himself, to his family, to his roots both physical and symbolic. To incorporate Afrobeat and other black musical traditions into the broad and evolving world of dancehall is to strengthen existing connections. Forever is stirring as a work of art, but as a compass, it thrills. Popcaan, for his part, is addicted to that harmony. "When you hear the beat it's like … it reminds me of my own music, you know?" he said. "It's the closest music to our music, with the beats and everything rocks. The same energies, the same vibes."
We want to hear what you think about this article. Submit a letter to the editor or write to letters@theatlantic.com.
Hannah Giorgis
is a staff writer at
The Atlantic
, where she covers culture.