Orange Is the New Black Is Still Worth Watching
Despite the Netflix show's reliable inconsistency, few series are as willing to take this many risks.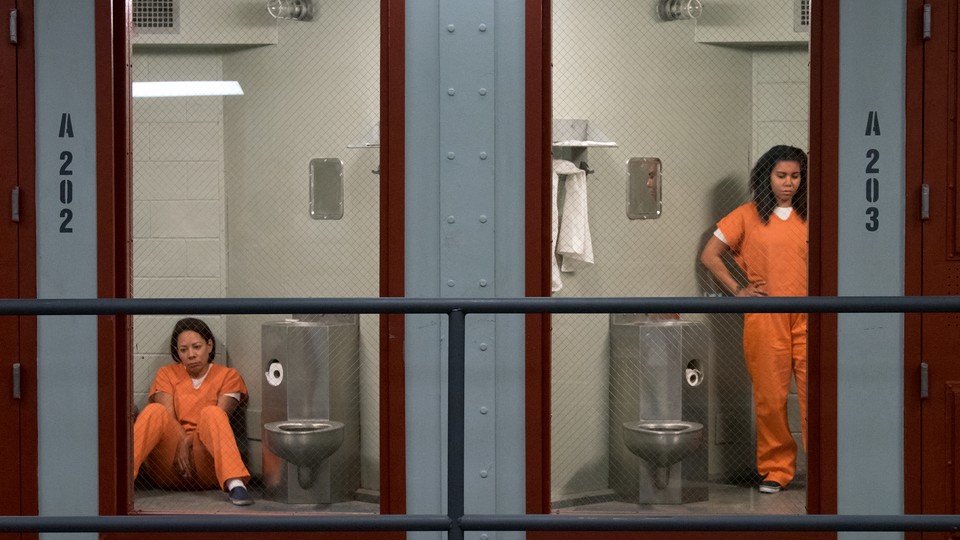 Orange Is the New Black has never been a show you might characterize as consistent. Since its debut in 2013, it's toggled between different modes and moods, to the point where not even the Netflix series seems entirely clear whether it's a comedy or drama. It constantly reinvents its characters, redeeming even the most unlikely villains, and turning its one-time protagonist, Piper (Taylor Schilling), into a monster. In Season 5 the show even blew up its own structure, setting all 13 episodes smack in the middle of a three-day riot at Litchfield.
It's a show that frequently requires patience, and a willingness to suspend disbelief. And what viewers get in return are occasional moments of transcendent television, including the miraculous lake scene at the end of Season 3 and the wrenching, infuriating end of Season 4. The series's sixth season, which debuted in its entirety on Netflix on Friday, is the same kind of grab bag: Some episodes are dazzling, some sloppy, but Orange and its creator, Jenji Kohan, are still pulling off tricks and twists that few other shows dare attempt. And the best one is still the show's calling card—it continually flips assumptions and expectations about who its characters are.
It also presses the reset button to some extent, taking the opportunity to prune a character list that has stretched to the point of unmanageability in recent years. The three-day Litchfield riot of Season 5 ended with a standoff in a bunker below the prison, and with the show's various factions being split up and shipped to different locations. In Season 6, the prisoners implicated in the kidnapping and shooting of Desi Piscatella (Brad William Henke) have been transported to Litchfield Max: Piper, Taystee (Danielle Brooks), Red (Kate Mulgrew), Gloria (Selenis Leyva), Cindy (Adrienne C. Moore), and Flaca (Jackie Cruz) among them. Daya (Dascha Polanco) has confessed to shooting CO Humphrey; the FBI is interviewing inmates to find out who to prosecute for the riot, as well as for Piscatella's accidental death.
The season's focus on a core group of characters who've been around since the beginning feels like something of a relief. Orange has had upwards of 75 different characters since its inception, and its habit of bringing back departed inmates and guards for cameos means there's basically no one you can ever mentally file away. Hard-core fans might feel the absence of people like Maritza (Diane Guerrero), Brook (Kimiko Glenn), Big Boo (Lea DeLaria), and Norma (Annie Golden). But the streamlined call sheet allows the show to focus on the ramifications of the riot, and the ways in which the justice system forces the characters to turn against one another.
Since Season 3, Orange's primary villain has been the prison system itself. The inequality and brutality entrenched within Litchfield makes it virtually impossible for the inmates to succeed, and as the new episodes explore, people with power have an almost impermeable ability to protect themselves. A flashback in the first episode reveals how the armed riot squad closed ranks after one of their members accidentally shot Piscatella as he was fleeing, arranging the crime scenes, coordinating stories, and even cherry-picking a friendly coroner to implicate the inmates in the murder. With forces like that against them, Orange asks, what shot do these women have?
But with the main characters thrown into the unfamiliar environment of Litchfield Max, the series also takes the opportunity to introduce some new antagonists. Madison (Amanda Fuller) is the least likable, a cruel Bostonian bully whose best trait is that she once "blew a lesser Wahlberg." More intriguing are Carol (Henny Russell) and Barb (Mackenzie Phillips of One Day at a Time fame), two sisters, longtime Litchfield residents, and vicious rivals who orchestrate the drug business within Max's C and D Blocks and have historic beef with Frieda (Dale Soules). While neither Carol nor Barb feels totally convincing as a character, there's something sweetly subversive in the show presenting older women as this menacing and empowered.
The true star of the last two seasons has been Taystee, and Brooks does more outstanding work in the new episodes, as does Moore's Cindy. But considering how long the show spends spinning its wheels midseason, neither quite gets the time they deserve. There are endless subplots and physical gags involving Nicky (Natasha Lyonne), Blanca (Laura Gómez), and Luschek (Matt Peters), and flashbacks for the new characters that feel thinly sketched and ill-reasoned, given how little the show intends for you to care about them.
More compelling, finally, is Schilling's Piper, a woman whose privilege and flimsy sense of self have at times made her the show's most irritating character. Schilling has always had the ability to make Piper seem plausibly deluded rather than messily written, and in Season 6 Piper finally seems to accept that what makes a person is what she does, not what she looks like or thinks she deserves. It's a realization that's of a piece with the series's habitual inner debate about morality, and its argument that the biggest thing separating the women within Litchfield from the people outside is circumstance. "Let's not forget who the bad guys are," one character says in the new episodes. But the whole point of Orange Is the New Black is that it isn't so easy to tell.