Mamma Mia! Here We Go Again Is a Gleefully Pointless Sequel
The entire gang is back for a reprise of 2008's hit jukebox-musical movie—this time with some deep cuts from ABBA's catalog.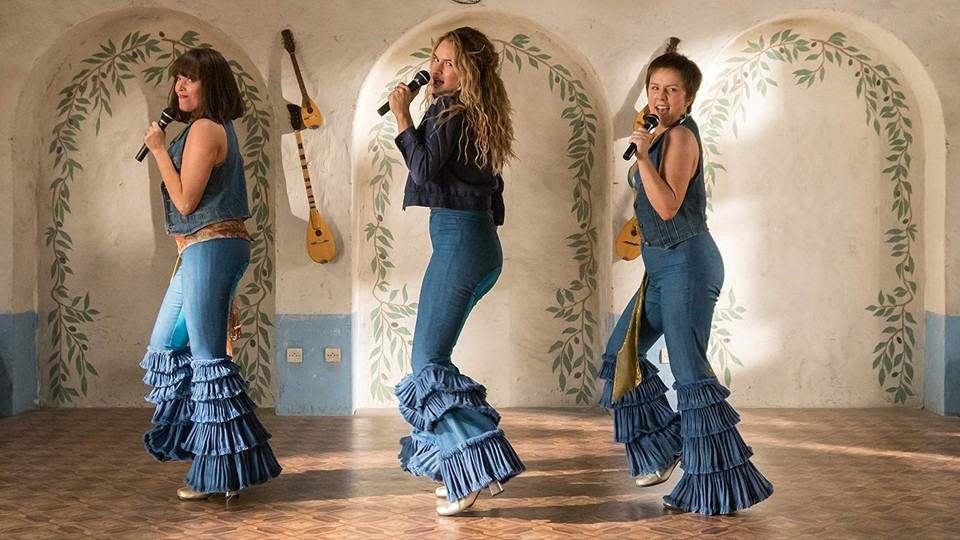 This story contains a mild spoiler for Mamma Mia! Here We Go Again.
Hollywood is, at its very heart, an industry that exists to answer questions. For example, I've long wondered what it might look like if Cher and Andy García, resplendent in linen, marched toward each other at a snail's pace singing ABBA's classic hit "Fernando" as fireworks exploded around them. Now, with Mamma Mia! Here We Go Again, the sequel to everyone's favorite 2008 jukebox musical, I have my answer—it looks magnificent. There are few who could argue that the first Mamma Mia! really needed a follow-up; after all, it used almost all of the best ABBA songs. So, to justify Here We Go Again's existence, there's Cher and García singing "Fernando" to each other. I say that's enough.
To summarize the (surprisingly knotty) plot of Here We Go Again I must also dispense a spoiler, one the film reveals in its opening moments but that has been coyly dodged in the marketing. Donna Sheridan (Meryl Streep), the footloose and fancy-free hotelier of the first movie, has died (the manner of her death is unspecified, so I'm assuming a jet-ski accident, or perhaps she was devoured by sharks). To honor her memory, her daughter Sophie (Amanda Seyfried) has refurbished the Greek island getaway that her mom used to operate; the film's spectacle revolves around that grand opening, and, in flashback, the story of young Donna (Lily James) chancing across the island for the very first time.
The writer and director Ol Parker cuts somewhat jarringly between present and past—between Sophie as she worries about guest lists and young Donna as she wrangles the three handsome men who will become potential fathers to Sophie, the central plot device of the first film. Pierce Brosnan's steely architect Sam is played by Jeremy Irvine as a younger man, Colin Firth's Harry becomes Hugh Skinner, and Stellan Skarsgard's Swedish lothario Bill is de-aged into the particularly chiseled Josh Dylan.
Everyone's very friendly and supportive, barring one blow-up between Donna and Sam; this is not a film that's excessively interested in explosive drama. The death of older Donna is handled mostly through characters making wistful sighs (Streep does get to make one ghostly appearance). Sophie, meanwhile, has a mild disagreement to work out with her husband Sky (Dominic Cooper), but a happy ending is never really in doubt. It's too bad, then, that so much of the ABBA back catalog left for this movie to mine is downcast balladry, given that the big anthems were used up the first time around.
That means there are plenty of slower numbers like "Angeleyes," "One Of Us," and "Andante, Andante," that gum up the works. The film has to dip back into the classics for another go-round just to keep things peppy. This time it somehow works "Waterloo" into the main plot (with choreography best described as romantically imperialistic); there are also welcome reprises of "Dancing Queen" and "Super Trouper," as well as, of course, the title song. As per before, it's all staged in the charmingly rustic environs of Donna's hotel, by the crystal waters of the Aegean Sea.
Here We Go Again is a viewing experience best described as a long nap on the beach while staying at a chain resort. It's extremely pleasant, if a little lacking in imagination, and every so often, a waiter comes by to refill your drink. Throughout the film, reference is made to Donna's imperious mother Ruby, a glitzy lounge singer in Vegas. She is played by Cher and shows up with all the appropriate fanfare before her big number; my audience erupted into ecstatic cheers the second she arrived on screen.
Some space must be set aside for praise of Cher's singing partner García, who already lit up the screen once this summer with his mesmerizing turn as Diane Keaton's love interest in Book Club. Here, he plays a man called Fernando Cienfuegos (his last name, Christine Baranski's character explains, means "a hundred fires"). Mr. Cienfuegos wears at least two neckerchiefs at all times and a straw boater hat; he's able to predict coming storms with total accuracy, and delivers all of his lines with a gentle, but deep, purr. He is, simply put, the personification of an expensive bottle of Rioja: robust, full-bodied, and deeply sensual.
García's work is justification enough for a ticket to Mamma Mia! Here We Go Again, but when it comes to seeing this movie, it's likely you made your mind up long ago. This is a jukebox musical sequel featuring the songs of ABBA in which beautiful actors, young and old, cavort around the cobblestones giving their all in the name of a gleefully harmless two hours at the cinema. You know if you're its target audience, and if you're reading this on your way to the theater, I can only wish you Godspeed and good fortune.