Les Moonves and the Familiarity Fallacy
The CBS chief's associates have been offering a common defense: that the man they know simply wouldn't do the things he is alleged to have done.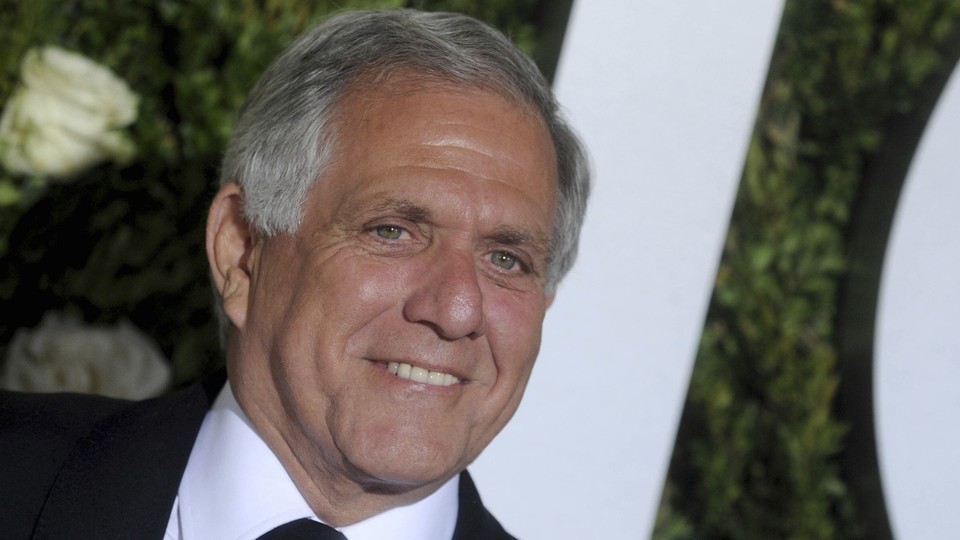 "Les Moonves is a close friend. I've known him for 40 years. He is a kind, decent, and honorable man. I believe him and I believe in him."
That was Lynda Carter, Wonder Woman herself, defending the chief executive and "programming wizard" of CBS after Ronan Farrow's long-in-the-works expose—detailing allegations of sexual impropriety against Moonves and other powerful men at the network—was published late on Friday. Carter's defense was echoing several others, many of them high-ranking women at CBS, including Sharon Osbourne, the CBS Sports publicist LeslieAnne Wade, and Moonves's wife and employee, Julie Chen, who came forward this weekend to defend Moonves's character in general and his moral decency in particular. As Jo Ann Ross, the president and chief advertising revenue officer at CBS Corp, summed it up: "My experience with him on a professional and personal basis has never had any hint of the behavior this story refers to."
In that, the women were also echoing the defenses of the 60 Minutes executive producer, Jeff Fager, offered in Farrow's report by his prominent colleagues Lesley Stahl ("In my own experience, Jeff is supportive of women and decent to women") and Anderson Cooper ("I work there part time, but in all the years I've been there I've never seen Jeff engage in any inappropriate behavior"). They know him, the insiders explain, in a way that readers of Farrow's story—about Moonves and Fager, but also about a trickle-down culture of misogyny and impunity at CBS—simply could not. They have firsthand knowledge, the insiders remind the rest of us. They have All Access, as it were. And so they are able to see things in a way that the rest of us are not.
I knew him, Horatio, and he is supportive of women and decent to women: It is a common refrain in #MeToo stories that involve the famous and the powerful. (Lena Dunham and Jenni Konner, defending their friend Murray Miller after the actress Aurora Perrineau came forward with allegations that the writer had sexually assaulted her when she was 17: "While our first instinct is to listen to every woman's story, our insider knowledge of Murray's situation makes us confident that sadly this accusation is one of the 3 percent of assault cases that are misreported every year.") The refrain was there when several women who had been his colleagues on Saturday Night Live joined together to defend Al Franken. ("We would like to acknowledge that not one of us ever experienced any inappropriate behavior.") And when more than 60 women who work in the media, including Rachel Maddow and Andrea Mitchell, signed a letter in defense of Tom Brokaw. ("Tom has treated each of us with fairness and respect … We know him to be a man of tremendous decency and integrity.") And when Nancy Alspaugh, Matt Lauer's ex-wife, defended him after the allegations against him were made public by declaring, "He's been the best person that's ever held that job and I couldn't imagine that anything that he would have done—that would have been so out of character for him—that would have caused that reaction."
The impulse, of course, is understandable, even as it throws into relief the human complexity that underscores every #MeToo story shared in the media: It's human to want to defend the person you know. To want to believe that the person you know, personally, is different, that the person you work with and joke with would never, could never. That he is the exception. That he is the 3 percent.
And yet. That kind of familiarity doesn't scale to a defense. There's saying I know him, and then there's assuming that the knowing itself is an exoneration. It's one of the common logical fallacies at play in the ongoing discussion of #MeToo as it radiates and reverberates and continues. What I know him overlooks, of course, is the obvious: An abuser will not abuse everybody. Not just because of matters of dull pragmatism, but also because people are complex and variable and, as a rule, containing of multitudes. In 2015, the writer Nona Willis Aronowitz wrote an essay, "(Not) All Men," considering how easy it is to recognize abuse—or sexism more broadly—when it is perpetrated by men you don't know. And, conversely, how easy it is to rationalize the same thing when it is perpetrated by men you know and love. One of the "major obstacles in the Fight Against Patriarchy," Aronowitz wrote, "is that a sexist guy will always seem like an outsider—a bad-news ex-boyfriend, perhaps, but not your male feminist friend, your super chill brother, your gentle dad." It's the logic of as the father of daughters, in reverse: Familiarity breeding not just empathy, but also exculpation.
I thought about Aronowitz's essay when I was reading Farrow's report on CBS. I thought, too, about the differences between nouns and verbs in the reckoning #MeToo is bringing about, the way behavior—the verbs—can seem clean-cut in their moralities, while the bigger picture, with its mess of nouns, can be so much more complicated. I thought on the one hand about the obvious: that it is assault for someone to pin down on a couch a colleague who had come to his office for a business meeting, her hands over her head, so that she "can't breathe," and "can't move." That it is assault for him to try to kiss her, "violently," such that she begins to feel like "a trapped animal"—such that her life begins to flash before her eyes. And that it is a different kind of violation—but a violation, still—for him to attempt to edit the interaction after the fact, by calling their mutual colleagues to tell them what a great meeting it had been. For him to tell her that she'll "never work at this network again."
And then I thought about all the complications, the kinds that are summoned when people—so many people—come forward to defend Moonves on the grounds of his full personhood: the fact that he has a wife of almost 14 years who is, so far, publicly standing by him; that he is a father to an 8-year-old son; that he has publicly championed feminist causes; that he helped to found the Commission on Eliminating Sexual Harassment and Advancing Equality in the Workplace—a commission chaired by Anita Hill. The fact that Moonves acknowledges trying to kiss Illeana Douglas but denies, CBS told Farrow in a statement, "any characterization of 'sexual assault,' intimidation, or retaliatory action." And the related fact, of course, that Les Moonves has overseen the transformation of CBS from a languishing network into a hit-making powerhouse. All the standard can-you-separate-the-art-from-the-artist questions, translated to the realm of corporate oversight and corporate profit.
Here is Terry Press, the president of CBS Films, commenting on the New Yorker story in a statement posted to her personal Facebook page:
I do not believe that it is my place to question the accounts put forth by the women but I do find myself asking that if we are examining the industry as it existed decades before through the lens of 2018 should we also discuss a path to learning, reconciliation, and forgiveness?

To reach a point where we can accept some space between zero accountability and complete destruction, we must first grapple with the issue of equivalency. If we paint episodes of vulgar (and deeply regrettable) behavior from 20 years ago with the same brush as serial criminal behavior, we will never move forward and more importantly, we eschew the complicated nuances of context for the easier path of absolutes.
It's a comment that, in its entirety, is full of straw men and scapegoats (no one, in 1997, the year that Illeana Douglas alleges Moonves assaulted her, thought pinning a colleague down on the couch and forcibly kissing her was a normal thing to do). But it also echoes the kind of grappling that the colleagues of alleged abusers are left to do when stories of their abuse are made public. Charlie Rose's CBS This Morning colleague Gayle King, after the allegations against him were published: "What do you say when someone that you deeply care about has done something so horrible? I'm really grappling with that." The comedian Sarah Silverman, on the allegations against "one of my best friends of over 25 years," Louis C.K.: "Can you love someone who did bad things?"
These are painful questions. They are reminders that #MeToo is not a movement that is taking place in the distance, over there, but one that is taking place right here—right inside the home we all share. The American media has a tendency to talk about #MeToo stories in terms of obvious monstrosity: villains, victims, the clarity of evil. It's language that is used because it's true—what could be more monstrous than what Harvey Weinstein is alleged to have done, over all those years?—but also because it is, in its way, reassuring. Monsters, after all, are not known for their subtlety; they wear their villainy on their (scaly/slimy/hardware-studded) surfaces, making it undeniable and evident. There is comfort, and there is distance, in that obviousness. The monster may be trying to get into your house, but you have seen his fiendishness clearly against the flat horizon and therefore locked the door.
The anxiety that Gayle King and Sarah Silverman are suggesting—and, I think, the anxiety that Lynda Carter and Lesley Stahl and Jo Ann Ross are getting at, too—is the kind that comes with the monsters who are not so obvious about their monstrosity. The accusations leveled against Matt Lauer and Al Franken and Murray Miller and, now, Les Moonves and Jeff Fager—and their colleagues' defenses of them—are reminders of that unsettling intimacy. They force everyone to confront the truth that is the ultimate conclusion of Ronan Farrow's investigation: Venality has a way of hiding in plain sight. It lurks and lingers, not only in the lives of alleged victims, but also in the lives of the friends of the alleged perpetrators. And in the TV shows we watch to unwind after a long day. And in the systems that, through a thoroughly modern alchemy, take art and capitalism and spin them into products that delight and entertain. To reckon with #MeToo, in that sense, is also to reckon with the banality of monstrosity. It is to reckon with the systematization of harassment. It is to reckon with the fullness of the physics at play in what one of Ronan Farrow's sources observed to him: "There are no bridges at CBS. There is only Les Moonves."