What It Means for Kawhi Leonard to Join the Raptors
Toronto fans may be upset about losing DeMar DeRozan, but the end of two franchise players' tenures is a reminder that loyalty in sports is meant to be rebuilt.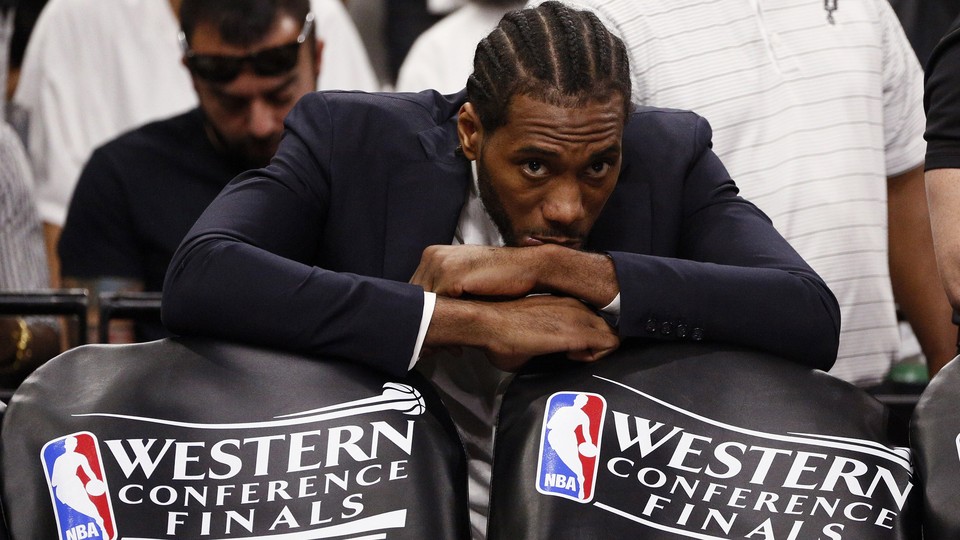 Last week, the San Antonio Spurs swapped their disgruntled forward Kawhi Leonard to the Toronto Raptors for DeMar DeRozan in a trade that involved a package of players and a protected first-round pick. It brought to an end the tenure of two franchise players on teams that have strived to establish an identity of stability through continuity.
The Spurs have won five championships since 1999 and have had a winning record in the regular season every year since 1997. The Raptors have made the playoffs for five consecutive seasons since 2013, a high-water mark in their history. They've set a franchise record for regular-season wins four times in that span.
In a league dominated by player movement each season, via either free agency or trade, the deal still took many by surprise, and once again raised familiar questions of allegiance. This particular trade offered two vastly different examples rooted in the same predictable premise: Loyalty in sports, between a player and a team, is always temporary.
A year ago, the San Antonio Spurs couldn't have foreseen their relationship with Leonard deteriorating to the point where he would request a trade this summer, with the Los Angeles Lakers as his stated preferred destination. Leonard is a two-time Defensive Player of the Year and won the NBA Finals Most Valuable Player award in 2014. He was supposed to take up the mantle of David Robinson and Tim Duncan and make the Spurs championship contenders for another decade.
Instead, Leonard missed the first 27 games of last season with a right-quadriceps injury, then played nine games before he was sidelined again. After he was cleared to play by the team's medical staff, Leonard got a second opinion from his own doctor, then rehabbed on his own. The Spurs and Leonard disagreed on whether he was ready to return to the court. Toward the end of the season, Leonard remained sidelined as his own medical staff did not clear him to return to the court. Frustrated, the team held a players-only meeting a month before the playoffs involving Leonard, who didn't return and wasn't on the court for their first-round defeat to the Golden State Warriors. The trust between player and team dissipated to the point of no return.
In Toronto, an almost entirely different narrative played out. DeRozan had his strongest season in his nine years with the Raptors, as his offensive game continued to evolve. The Raptors won 59 games and was the best regular-season team in the Eastern Conference. DeRozan publicly stated his desire to remain a Raptor for the entirety of his career. For a team often seen as an outpost of the NBA, that has never attracted a marquee free agent and isn't a preferred destination for star players, the way DeRozan upheld Toronto as a basketball city helped him build a strong relationship with the Raptors' fan base.
In spite of DeRozan's connection to Toronto and his year-to-year improvement, the Raptors failed once again in the 2018 postseason, losing in four games to the Cleveland Cavaliers in the second round. Toronto's latest playoff failure was preceded by a sweep to the Cavs last year, and the franchise clearly decided that whatever loyalty DeRozan had for the team and the city was outweighed by its desire to give themselves a better chance at winning a championship.
DeRozan was adamant after the trade that there was a breach of trust by the franchise, not only in trading him, but also because team president Masai Ujiri reportedly indicated to DeRozan that he would not be traded. Around the league, former teammates and opposing players expressed the same sentiment. Ujiri described it as a "gap of miscommunication."
Of course, the problem with the framework of loyalty, in either direction, is that it is ephemeral. Players demand new scenery, through the sheer force of their market power or because they seek a better chance at winning. Teams do, too. They commit to players—as the Raptors did by signing DeRozan in a five-year, $139-million deal in 2016—then change course when there's an opportunity to chart a better one.
It's happened before, and will happen many times again. Isaiah Thomas played through a hip injury in last year's playoffs for the Boston Celtics and was in line for a huge contract this summer, but was then traded to the Cleveland Cavaliers, where he missed the start of the season recovering from his injury, and then was traded midseason to the Los Angeles Lakers. An injury-plagued year across two teams derailed Thomas's free-agency value; he signed a veteran's minimum contract with the Denver Nuggets earlier this month.
Kevin Durant and LeBron James, on the other hand, have recently exercised their rights as free agents to dictate where they land in pursuit of winning championships; their fans are left to rethink their commitments to a particular athlete.
Even the best examples of player-team allegiance have holes in their narratives. Kobe Bryant, who spent his entire 20-year career with the Lakers, is often brought up as an example of an athlete exemplifying loyalty to one team. Such a story line ignores the fact that Bryant publicly demanded a trade in 2007, and only rescinded those requests after the Lakers built a championship-caliber roster around him again.
Players and teams often forego these implied agreements of trust in pursuit of the end goal: winning. The Leonard trade is no different. Leonard's long-term uncertainty is a stark contrast to the stability that DeRozan provided. But the Raptors have now acquired a player who is, when healthy, the best they've ever seen. If loyalty is cyclical, we begin anew: Should the Raptors win and scale new heights in the playoffs, their fan base will find a way to gravitate toward Leonard. The Spurs, once the most steady organization in the league, find themselves on the opposite end of the spectrum, having to figure out life without a dedicated franchise player. Meanwhile, the Raptors will have a year to build up trust with Leonard before he becomes a free agent next summer. The key ingredient to that, too, will be finding success on the floor.