The Working Women of GLOW
The Netflix comedy is, above everything, about the fulfillment and joy of jobs.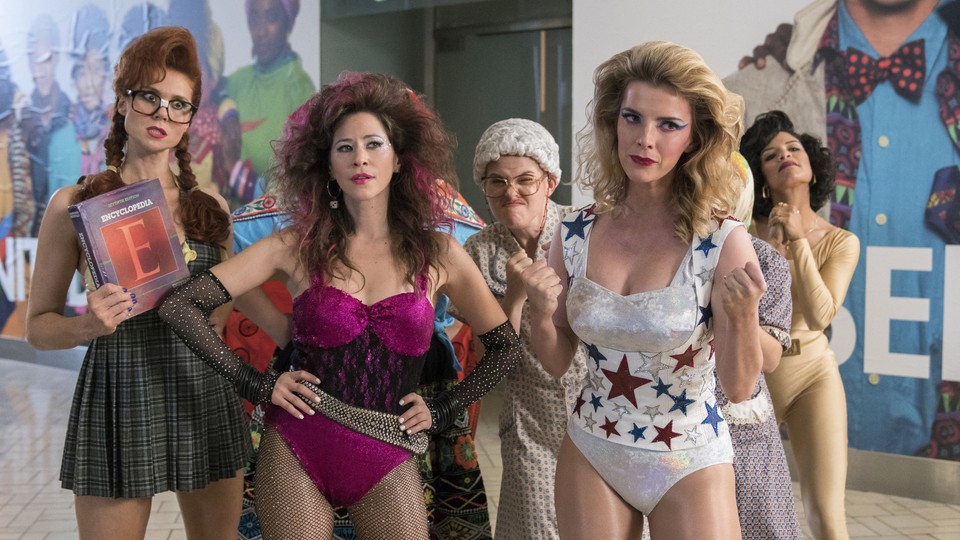 Midway through the second season of GLOW, Ruth (Alison Brie) goes for what she thinks is a working dinner with the head of a cable network. The meeting doesn't end well—the fact that it takes place in a bungalow at the Beverly Hills Hotel might hint at why—but before it falls apart, the TV executive questions Ruth about her career choices. "So, you come out to Hollywood to be the next Ellen Burstyn, you're doing Chekhov in scene class one day, the next you're in a women's wrestling show on a local network," he says, chuckling. "It's the best job I've ever had," she replies.
What makes GLOW great is that she really means it. Ruth, as Season 1 documented, might be a serious actress stepping into the strange new world of spandex and somersault leg drops, but she's indubitably gratified by her new gig, and by the feeling of empowerment it gives her. The thrill of the first season of Carly Mensch and Liz Flahive's series wasn't in its bedazzled '80s aesthetics. It was in the rare opportunity to see a television show about a group of women finding fulfillment at work. "Finally, I'm getting to do something and it feels different," Ruth says. "I feel different. Strong. In control." In GLOW's second season, the co-showrunners told me, the intention was to take the women's stories deeper, exploring the opportunities and complications that come with professional achievement.
There's a distinctly meta aspect to GLOW's second season, which is essentially a television show finding its footing about a television show finding its footing, while its stars adjust to the strangeness of their (relative) newfound fame. But at its core, the series is still very much a workplace dramedy, taking a collection of very different people and forcing them to collaborate. In Season 2, Flahive said on the phone from Los Angeles, "it felt like the thing to explode and explore was, for this group of women, what does it feel like to make something? What does it feel like to finally have a job that you know is going to go on for a while? And then what is it like when your voice isn't being heard, and you're being kept down by people around you?"
GLOW is set in 1985: the era of Live Aid, New Coke, and Courteney Cox becoming the first woman to say the word period on American television. What's clear from the new season, though, is that workplace dynamics for women haven't changed all that much in three decades. In the first episode, Ruth is frozen out by Sam Sylvia (Marc Maron), GLOW's director, after she threatens his sense of authority by filming an opening sequence for the show without his oversight. Debbie (Betty Gilpin), who's managed to negotiate a role for herself as a producer in addition to being GLOW's star, is persistently ignored and shut out of meetings by Sam and Bash (Chris Lowell). "We would have invited you but someone had to go home to their baby," Bash explains.
For Mensch, who had a baby herself in between filming Season 1 and Season 2, it's impossible to portray the full range of stories about working women's experiences without thinking about motherhood. "It felt like it would almost be criminal not to include mothers," she told me. One of the strongest episodes of Season 2 juxtaposes Debbie's experiences as a new mother with those of Tammé (Kia Stevens), a wrestler whose son attends Stanford. Debbie forgets formula when she drops her baby off at daycare (and then forgets to pick him up altogether). Tammé's son is dismayed when he learns about her role playing Welfare Queen, an ugly racial stereotype. "Sounds like you're playing a minstrel character on public television," he tells her. But for Tammé, who reveals to Debbie that she spent seven years packing Mongolian food into airline meals, her feelings about her new job are more complicated: She's deeply aware of all of how fraught her role is, but she also seems gratified by the first truly creative job she's ever had.
The storyline that feels the most timely in Season 2 is Ruth's aborted meeting with the network head. The idea for a plot about sexual harassment had been in the works, the co-showrunners said, before the allegations about Harvey Weinstein emerged last year, given that the wrestlers were coming into a new environment with the show going to series. Post-Weinstein, GLOW's writers felt emboldened to take the story further. But what interested them most wasn't what happened between Ruth and the executive. It was how other people—particularly Debbie—would respond to Ruth's reaction. "That was complicated to us, and messy, and gray," Flahive said. "And that's the thing about the show that's exciting."
Flahive and Mensch first met 10 years ago when both were playwrights in New York. They each broke into television under female showrunners: Mensch on Weeds with Jenji Kohan, who's also a producer on GLOW, and Flahive on Nurse Jackie with Liz Brixius and Linda Wallem. Both were lucky, Mensch said, in that they never directly experienced a lot of misogyny that many women have in the industry. "But we're a writing staff with tons of women, and tons of women who have experienced things, so we tell stories. All of our friends have been telling stories for years, actresses have been telling stories. We're highly aware of it all." The plot isn't ripped from the headlines, she said, so much as it's a plot every TV show about the entertainment industry has to tell.
What's distinctive about GLOW, though, is that it reflects an alternative—the kind of charged, funny, complicated stories that women can tell when they're given the opportunity to do so. The show's joyful spirit and abundance of spandex belies its intentions. In the first season, the show's heroine, Ruth, was revealed in the first episode to have betrayed her best friend in the most intimate way, and yet she remained sympathetic. In a later episode, she unceremoniously had an abortion and continued living her life without fallout. In Season 2, Debbie and Ruth's relationship continues to be the central relationship of the series, eclipsing any romantic subplots.
What brings them together again and again is their creative chemistry. In the second season, Flahive said, you're watching them deal with their history in the context of making something together; together, "they're trying to find their voice and their power within the show." As co-showrunners, Flahive and Mensch find a similar kind of support in each other. It isn't so much about delegation—they learned quickly that they both like to be everywhere when the show's in production—as it is about emotional backup, and having someone else to draw on. "So much of the job is making late-night decisions, and that can be very lonely," Mensch said. "It's really nice to have someone else there."