The Real Love Affair on GLOW
The Netflix series is about a relationship, but not in the traditional sense.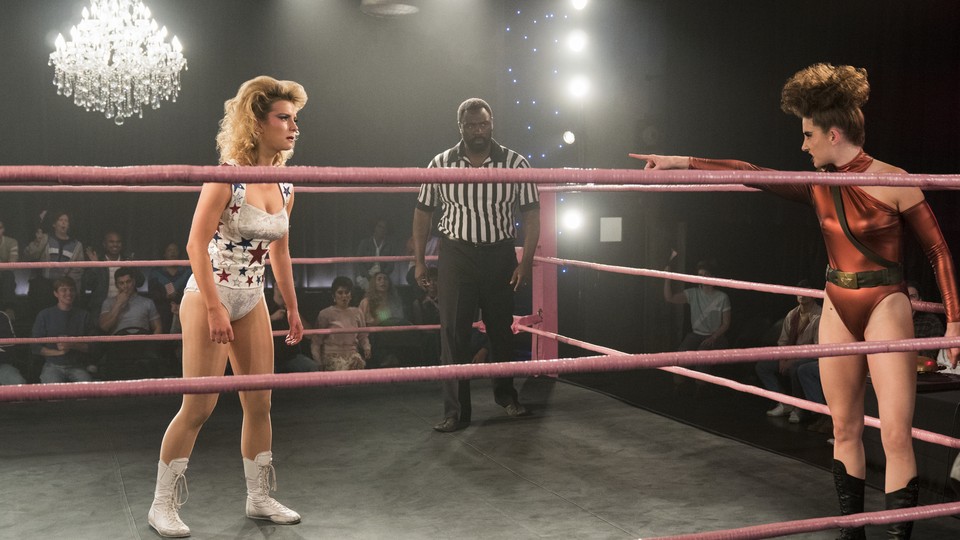 This article contains spoilers through the second season of Netflix's GLOW.
When the first season of GLOW ended, it was on a cliffhanger. Over 10 episodes, Ruth (Alison Brie) and Debbie (Betty Gilpin) had crafted new identities as Zoya the Destroyer and Liberty Belle, two women wrestlers with an intense, Cold War–inspired rivalry. In the final episode, Zoya and Liberty Belle faced off after weeks of training in a thrilling, meticulously choreographed bout. At the end, they took a minute to acknowledge how well it went. They both smiled. Ruth tentatively asked Debbie if she wanted to get a celebratory drink. Debbie's smile immediately fractured. "No," she said. "We're not there." Ruth's face fell. The credits rolled.
It was an odd, disconsolate note for the series to end on given the triumphant nature of the final few scenes, as the stars of the Gorgeous Ladies of Wrestling wrapped their first TV shoot. But it was a realistic one. In the pilot for GLOW, viewers met Ruth, an out-of-work actress, and Debbie, a soap star turned stay-at-home mother, only to discover at the end of the episode that Ruth had been sleeping with Debbie's husband. Debbie, incandescent with rage, confronted Ruth in the warehouse where GLOW was rehearsing, prompting the show's wily director, Sam Sylvia (Marc Maron), to imagine how sparks might fly between the two women in the ring. Debbie was cast as Ruth's arch rival. The question underpinning the season was whether wrestling would bring the friends back together, or whether Ruth's behavior was ultimately unforgivable.
Television has centered female relationships before, often in quartet form (Girls, Sex and the City, The Golden Girls), or in ways that are riven with tension (The Handmaid's Tale) or codependency (Broad City, Grey's Anatomy). Insecure thrives on examining the relationship between Issa (Issa Rae) and Molly (Yvonne Orji). But GLOW does something different. It treats the relationship between Ruth and Debbie like a romantic one, elevating it above any other partnership in the series. Their breakup as friends is the core event that precipitates their casting on the show, and it's conceived as seriously and as thoughtfully as a romantic breakup. Debbie's final "We're not there" affirms that they might have made progress as coworkers, but they're a long way from fixing the damage that Ruth has done—and they might not make it.
The second season of GLOW, which was released in its entirety late last month, continues to foreground Ruth and Debbie's relationship, culminating in a moment of violence and a furious, ugly fight in a hospital room. One of the questions for the writers in Season 2, GLOW's co-showrunner Liz Flahive told me, was whether Ruth deserves happiness, and if she does, whether Debbie, who is going through a divorce, should have to watch Ruth be happy. It's a question that branches out from something the show considered in its first season: Can Ruth, who's revealed so early on to have betrayed her friend so egregiously, still be sympathetic? As a character, Ruth defies simple likability: She's ambitious, pretentious, and frequently ridiculous. But in Brie's hands, she's also engaging, insecure, neurotic, and brave enough to be rooted for. "Look, people do really mess things up," Flahive said. "And watching a character try, for better or worse, is so compelling."
For the first half of Season 2, the dynamic between Ruth and Debbie remains unchanged. Debbie, in addition to channelling some of her anger into her bouts as Liberty Belle, redirects her energy toward her professional ambitions, negotiating a raise and a promotion to producer. Ruth, for the most part, meekly takes whatever Debbie throws at her. At work, they interact politely but struggle to make eye contact. When Ruth is asked out by a cameraman, Russell (Victor Quinaz), she accepts a ride home with Debbie instead, taking whatever crumbs she can get. "Is it going to bother you if, um, I go out on a date? Do you mind if I meet someone?" she asks Debbie. "I don't care what you do," Debbie replies quietly, before going on to deride Russell in a way that makes it clear how much she does care.
As the season continues, the tension between the two women comes to a head first when Debbie rails at Ruth for running away from a casting-couch situation that might have saved their show. "Feminism has principles," Debbie spits. "Life has compromises." Then, after a furious, despondent Debbie encounters her ex-husband's new girlfriend, she intentionally fractures Ruth's ankle in the ring. The event restores a degree of balance to the relationship that enables one of the most excruciatingly realistic TV fights between two friends in recent memory, in which buried resentments are dug up and toxic patterns thrown out. Gilpin, conveying Debbie's commingled rage and guilt, is hypnotic in the scene, equally furious at Ruth and at herself. Ruth, emboldened by a growing sense of her own victimhood (and by a Valium–Klonopin cocktail), strikes back. Their relationship, she poses, is built on how Debbie savors her success against Ruth's failure. It doesn't justify Ruth's infidelity to her friend, but for the first time in the series it suggests how it could have happened.
The scene is so potent because it's so familiar. Friendships between women rely, often, on the unsayable—the secret comparisons, the petty jealousies, the familiar patterns of behavior. A fight with a friend can feel as emotionally draining, as unbearably cruel, as a fight with a partner. By putting Ruth and Debbie's tangled relationship at the center of GLOW, the show comprehends this dynamic, almost to the detriment of the supporting characters (it's the rare Netflix show that has so many stories to tell that it could stand to be longer). It uses the tension between two former friends as fodder for both character growth and narrative progression. But it also takes a realistic view of female friendship that television often sugarcoats. TV friendships, Emily Reynolds wrote in the New Statesman in 2016, tend to be idolized and cherished in a cutesy Galentine's Day, yas-queen, matching-bangs kind of way. Ruth and Debbie are different. GLOW never guarantees that their friendship will recover, or that it should. What it does do is assert its significance in the first place, and emphasize how devastating its breakdown is to each of them.