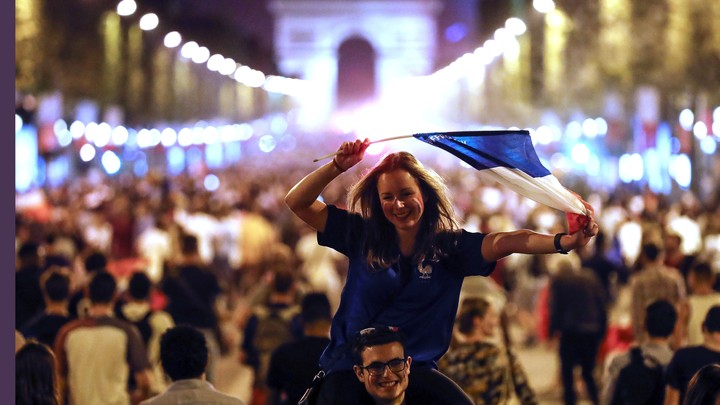 As we flooded out Paris into the streets to celebrate France's World Cup semifinal victory Tuesday night, I saw, here and there, people wearing jerseys from 1998. They are looser than the ones they sell now, a brighter blue, with a red stripe and a white collar. On the backs are the names of an older generation of players—Zidane, Thuram, Henry—who in that year won France's first and only World Cup trophy. I imagined some had been carefully kept in closets for 20 years, maybe just brought out once or twice, waiting for a night like this one.
With France in the final of the World Cup on Sunday, it feels like almost every conversation somehow winds back to another century, and whether what happened in 1998 will happen again now. Kylian Mbappé, the star striker of the French team, wasn't even born yet, and neither were many of those who celebrated Tuesday night. But they have grown up hearing, again and again, about those miraculous days, which have come to seem untouchable and irretrievable.
The moments the younger generation has known when people poured out into the streets have been times of mourning, notably after the November 2015 terrorist attacks. One of the targets that night was the Stade de France, where the 1998 World Cup had been won, and where the French team was playing a friendly match. The bombing of the stadium was foiled, but that night haunts this moment, and the desire for a time of celebration and communion in the streets of Paris.
World Cups are built to create cycles of memory and hope. They offer a predictable structure that creates space for the unpredictable, and they create vertiginous chronologies. England makes it to its first semifinal in 28 years, hoping to get to its first final in 52 years, and then a goal by Croatia erases it all. The numbers are, in a sense, banal. But they are shot through with deep sadness because the time of waiting stretches out over lifetimes, and in most cases even longer.
The layers of memory at work in France today are particularly powerful. The story of the 1998 World Cup is now legend: A team made up of a diverse cast of characters—a Basque player named Bixente Lizarazu, a Guadeloupean named Lilian Thuram, a child of Algerian immigrants named Zinedine Zidane, a descendent of Kanaks from the French territory of New Caledonia named Christian Karembeu, and more—played joyously and victoriously. Zidane scored two goals against Brazil in the final. The victory came in France on July 12, and the three days of celebration that followed ran over the Bastille Day weekend. The only comparison anyone could find was the liberation of Paris in 1944 because of the sense of an opening onto brighter futures, and the ways in which people from all classes and backgrounds merged and melded in the streets.
Two years earlier, the French far-right leader Jean-Marie Le Pen had attacked the players, claiming many of them were "foreigners" and complaining that some didn't sing La Marseillaise before the games, suggesting they didn't really love France. The players themselves responded powerfully in words, but most powerfully by winning in 1998. Their victory was seen as a vindication of the idea that it was precisely thanks to its diversity and its immigrant population that France could be strong and victorious. The celebrations in the streets enacted that sense of possibility, with all the groups mixing together in an ebullient embrace, the French flag speaking the stories of players such as Zidane and Thuram as the true story of the country. Over the next few years, Thuram used his iconic status to speak out eloquently against racism and for more open and human policies on immigration, work that ultimately led him to create a foundation focused on anti-racist education.
In 2006, a French team once again led by Zidane and Thuram made it to the World Cup final, then lost after Zidane head-butted an Italian player and was expelled from the game. The gesture became a global meme and symbol that spurred fascinating conversations, and ultimately it only expanded the legend surrounding Zidane. But the pain of that night's loss haunts this week's final, a prodding anxiety that something like that might happen again.  
What the team represents—and what at times has continued to earn it virulent racist attacks—is a forcible truth about what France actually is. The team, like the nation, is a global crossroads, a place shaped by hundreds of years of colonial history and migration. That fact of history, which is the foundation for the country's future, is often overlooked, or dealt with through xenophobic fantasies. At the very least, the French team resists that tendency. In victory, it offers the opportunity both to face reality and, through embracing and knowing it, to craft it anew.
There is one way in which 2018 can never be like 1998. Those days of 20 years ago are all the more reified—a crystallized nostalgia—because of how little they ultimately changed France. Whatever whiff of utopia they offered, the decades since have offered instead ever intense and deepening struggles and conflicts about race and immigration. That knowledge of the limits of what soccer can do will haunt even the most boisterous of celebrations if France wins on Sunday.  
For now, though, the ending is unwritten. And so we're left to look for signs. France is meeting Croatia as it did in 1998, though this time in the final. In that game, the defender Lilian Thuram scored two miraculous goals, and after the second he kneeled on the pitch with his hand over his mouth in the pose of a thinker. That story, and that image, long central icons in the fable of 1998, is now being told with a new urgency, as if it offers the promise of another similar victory. There's another good sign: The semifinal win against Belgium was secured by a defender, Samuel Umtiti, who, as Vincent Duluc wrote in the French sports daily L'Équipe, "maintained the French tradition of defenders who score in the semi-final of the World Cup every twenty years."
We are in the midst of a spiral of history, a repetition with a difference. The intensity of right now, the days before, is that combination of not knowing what the next turn will be, exactly, while knowing that whatever happens will be epic and extraordinary. All the events that have led up to France being in the final are, in a sense, already written. But they will take on a different meaning, become parts of a new parable, if France wins the World Cup anew on Sunday.
We want to hear what you think about this article. Submit a letter to the editor or write to letters@theatlantic.com.