England's Unfamiliar Emotion: Hope
In the wake of results at the 2018 World Cup that no one was expecting, a nation adjusts awkwardly to success.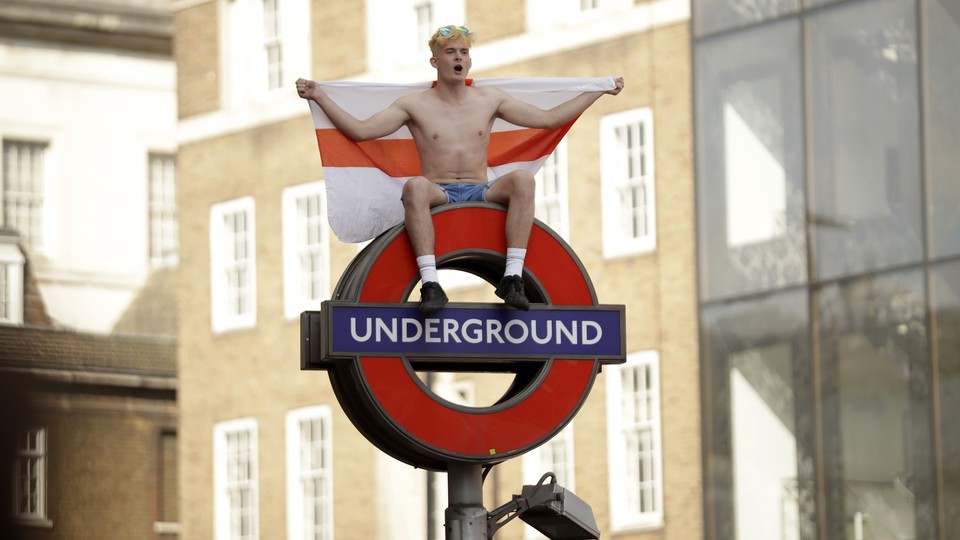 LONDON—It says a lot about England's state of soccer fandom that its unofficial anthem is a paean to dreaming through disillusionment. "Three Lions," a single recorded in 1996 by the comedians Frank Skinner and David Baddiel with the Lightning Seeds' Ian Broudie, acknowledges the eternal disappointment of rooting for England in bald terms. "So many jokes, so many sneers," Baddiel sings in the second verse. "But all those oh-so-nears wear you down through the years."
That was then. This is now. Qualified though it might be, the quixotic refrain of "Three Lions"—"football's coming home"—has finally reemerged from its decades-long hibernation. On Saturday, England beat Sweden 2-0 to advance to its first World Cup semifinal in 28 years. And in the wake of the England team's completely unpredictable failure to, well, fail, fans are getting to grips with an unfamiliar emotion: hope.
This was not supposed to happen. Since 2006, England's performance on the world stage has been lamentable, a comedy of errors marked by group-stage evictions, racism scandals, and grifters. In 2016, after the abrupt departures of two successive managers, the former England player and manager of its feeder under-21 team Gareth Southgate was given temporary charge of the national team, a decision that seemed safe, if uninspired. Expectations for Russia 2018 were muted, to say the least. "Before the tournament started, I could not make a case for us winning it," the former England captain Alan Shearer wrote, Eeyore-ishly, in a column for the BBC. "I just wanted to see some signs of improvement."
What happened instead has been a surprisingly smooth path to Wednesday night's semifinal against Croatia, as a youthful and undaunted England side swept away a nation's pessimism. Southgate's great accomplishment—aside from the manager's natty collection of waistcoats—has been getting the squad to envision itself as a team, as opposed to a collection of surly prima donnas who'd rather be spending their summers on Roman Abramovich's yacht. England has one of the youngest and most inexperienced squads of all the teams competing in Russia, with an average age of 26. But the flip side of youth is that players like Jordan Pickford (24), Raheem Sterling (23), and Dele Alli (22) aren't old enough to remember the most bruising moments of failure (Alli was born in 1996, the year his boss famously missed the penalty that evicted England from the European Championship it was hosting).
To other flashier, more trophy-laden nations, simply reaching the semifinal stage wouldn't be grounds for celebration. In England, the team's Sweden victory prompted chaotic, rowdy frenzy all over the country. In Stratford, West London, supporters celebrated by invading the local IKEA. In Doncaster, a woman renewing her wedding vows structured her celebratory breakfast to coincide with the game. In Clapham Junction, an area of south London, a particularly rowdy fan led crowds in chants before leaping onto (and falling through) the roof of a bus stop. Near London Bridge, a man in a Southgate-esque waistcoat was among revelers taking victory poses on top of a smashed-up ambulance, and in Folkestone, a car with two fans riding on the hood ploughed through a red light, narrowly missing pedestrians.
Meanwhile, "Three Lions" is surging on the U.K. pop charts and on Spotify. "It's Coming Home" has become one of the most contagious memes of 2018. British Airways reported a 700 percent increase in people searching for flights from the U.K. to Russia. (Not currently scheduled to attend the semifinal are any members of the U.K. government or British royals, due to ongoing tension between Britain and Russia over the poisoning of a former Russian spy and his daughter with the nerve agent Novichok, which may have led to the accidental death of another woman this week.)
As England heads toward its Wednesday-night match with Croatia, the anticipation of a potential victory—and a spot in the finals for the first time in 52 years—offers some welcome relief from the turbulence surrounding Theresa May's government and the ongoing gloom of Brexit. (Almost as perturbing as the England team's current run of success is the fact that Sunday marked England's 50th straight day of sunshine.) Waistcoat sales are cresting. Motorways and shopping malls are being abandoned. Even Southgate is daring to dream. "How far can we go?" he told The Guardian. "Let's push the boundaries, let's create our own history."