Don't Worry, He Won't Get Far on Foot Is Sad and Listless
Gus Van Sant continues his cold streak with a biopic of the Portland cartoonist John Callahan, played by a mumbling Joaquin Phoenix.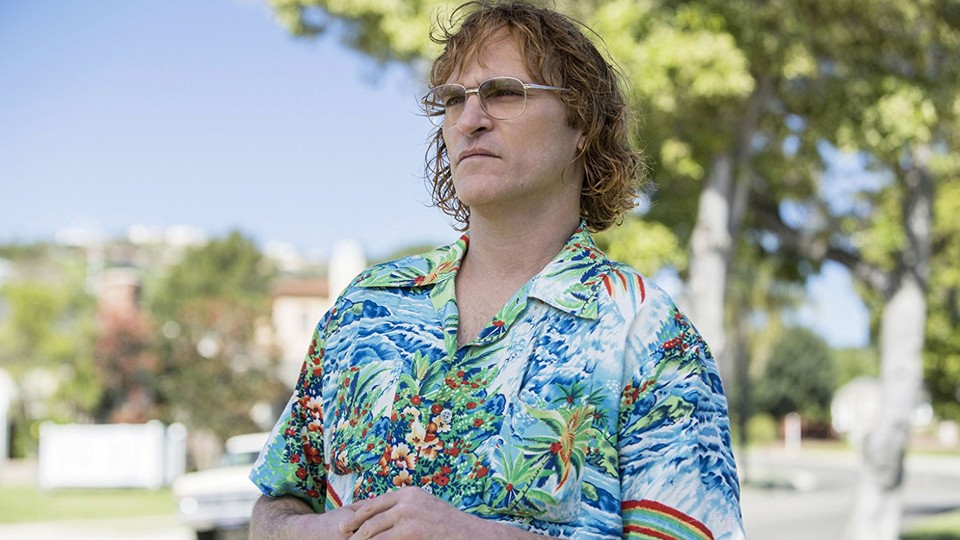 What's happened to Gus Van Sant? For decades he was one of America's most inventive and heartfelt independent directors. He emerged with grimily poetic works such as Drugstore Cowboy and My Own Private Idaho before jumping to the mainstream with films such as To Die For and Good Will Hunting. In the 2000s he toggled between experimental efforts (Gerry and the Oscar-winning successes such as Milk) with ease; even his failures, such as his bizarre 1998 remake of Psycho, were fascinating. But in recent years, Van Sant has become virtually anonymous, his artistry impossible to detect in flop after flop. His newest work is no different.
On paper, Don't Worry, He Won't Get Far on Foot has a lot of promise despite its ungainly title. It stars a coterie of Oscar-nominated talents and indie darlings, including Joaquin Phoenix, Jonah Hill, Rooney Mara, Jack Black, and Carrie Brownstein. The film is based on a memoir by John Callahan (played by Phoenix), a quadriplegic cartoonist who became a folk icon in Portland, Oregon, for his biting, macabre drawings and his frankness about his alcoholism. And, for the first time since his underrated Paranoid Park (2007), Van Sant wrote and directed (he didn't contribute to the screenplays of recent fiascos such as Restless, Promised Land, and The Sea of Trees).
But it doesn't matter. Don't Worry, He Won't Get Far on Foot is a turgid and plodding biopic that's less interested in Callahan's artistry and more in his recovery. The movie centers on a mildly charming performance from a mumbling Phoenix, but the story is aimlessly told, cutting back and forth between Callahan's wayward youth and his later celebrity without any real purpose. At 113 minutes, Don't Worry feels epically long for such an intimate tale of a man overcoming his personal demons. It's hardly the worst movie of the year—Van Sant is too competent a filmmaker for that, even now—but it's frustrating for how dashed-off every element seems.
Don't Worry features multiple timelines that all overlap with each other. There's Callahan as a hard-drinking young man, before the car accident he suffered as a 21-year-old that paralyzed his lower body. Then there's Callahan in immediate recovery, where he's aided by a winsome Swedish therapist in a Mia Farrow haircut called Annu (Mara), with whom he falls in love. Then there's Callahan attending Alcoholics Anonymous, where he struggles through a program spearheaded by a guru-like sponsor named Donnie (Jonah Hill). Finally, there's Callahan the cartoonist, exorcising his demons through darkly funny, sometimes gruesome doodles that earn him local fame (and occasional public scorn).
The thing that fascinated me the most about the movie was Callahan's cartooning; Van Sant brings some of his most famous works to life with squiggly animation, loosely linking better-known gags to the real-world incidents that may have inspired them. Still, that's just a tiny fragment of a film that spends more time on Callahan's experiences in therapy, first for his physical recovery from the accident, and then with the group AA sessions led by Donnie. But Van Sant only paints a limited and derivate picture of those processes.
There's some energy to the group-talk sessions, helped along by the spirited ensemble (including Beth Ditto as a hard-charging, self-identified redneck mom and the inimitable Udo Kier). Everything else is rather lifeless, with Hill playing Donnie as disaffected to a fault, dispensing proverbs and maxims (including Lao Tzu quotes and "drink water") in a droning monotone. Phoenix is much more engaging as the older Callahan, but is less convincing when playing him as a younger man (Callahan was 21 when he was paralyzed, while Phoenix is 43 and looks like he's already lived a long and hectic life).
Outside of the appreciably foul-mouthed Ditto, the film's female characters are underserved, with Mara playing a person so one-dimensionally ethereal she often seems like a figment of Callahan's imagination. Van Sant's persistent impulse to cut ahead to Callahan's older, more settled life (which the movie does frequently) makes little sense, given that whatever narrative the film has is powered by his journey through the 12-step program. This approach all but turns Callahan's eventual triumph over his addiction into an expected footnote.
Van Sant has always been a good director of actors; he's also excelled at portraits of insular, vibrant communities over the years. Don't Worry, He Won't Get Far on Foot should have indulged both of these talents, given its strong ensemble of actors and its focus on Callahan's core group of friends and supporters. Instead, it's lazy and scattered, giving the viewer glancing looks at little pieces of Callahan's life and then forgetting to stitch everything together. Perhaps one day Van Sant will find the project that reignites his creative spark. But this isn't it.