How Do You Measure a Country?
MacArthur "genius" award winner Carrie Mae Weems's reflections on police violence ask the audience to understand that, yes, brutal violence is America.
Sarah Lewis, a curator and Harvard professor, was standing in the Museum of the Confederacy when she got a call from the Spoleto Festival in Charleston, South Carolina. Dylann Roof had just killed nine worshippers at the Emanuel AME Church in their city, and the arts organization wanted to commission an artist who could create a piece about "grace in the face of tragedy."
"I knew immediately that Carrie Mae Weems was the artist for this project," Lewis said at a performance of Weems's work at the Aspen Ideas Festival on Tuesday. Weems began her career as a photographer, moving toward installations and video art. For Spoleto, Weems created Grace Notes: Reflections for Now, a live collage of spoken word, dance, and video. As time went on, the work morphed, becoming a linked but separate piece, Past Tense.
When the work was first coming together in 2016, Weems framed it as a contemporary version of the Greek tragedy in which Antigone is condemned for her quest to bury her brother against the king's wishes. "Antigone, of course, is sent to her doom, but I want to live," Weems said at the time. "So, tonight, here in this place, we ask you, our audience, for permission to bury many of our dead, to bury our brother."
It was a striking statement: No one should need permission to bury their dead. But recall Ferguson in 2014. Michael Brown's body lay in the street for at least four hours. The New York Times reported at the time that it "set the scene for what would become a combustible worldwide story of police tactics and race in America."
Weems's work often deals with these realizations about how black people are seen. Her art probes what context is necessary for white people to actually see black people's experiences of the world. What magic, what art, what audiovisual cues force people who can ignore police violence, for example, to open themselves up to it?
It seems unjust that black people should need to do this work. And yet Weems said at Aspen that to do so is not a choice for her. "I don't deal with the history of violence constantly because I want to, but really because I am compelled to," she said, introducing the performance. "My background, my culture, my concerns, along with my skin, the way in which I have been marked by time forces me in some ways to do so."
In Aspen, the set was spare, just four lecterns on the main stage, flanked by two screens. Weems was joined in the performance by Lewis, the producer and writer Tanya Selvaratnam, and the arts curator Damian Woetzel. The piece weaves between perspectives: a woman reflecting on her own past, a narrator surveying the nation from above, the activist directly addressing the audience. The reflective woman realizes that "to get to now, to this moment, she needs to look back over the landscape of memory." Then another performer intoned, "Day by day, the country was slowly, persistently changing. Traditions were dying, forces colliding, and demographics shifting." And Weems again:
We walked onto history's stage square-toed and flat-footed, unarmed and unprotected. So imagine, you are always stopped, always charged, and always convicted. Imagine you or your child is constantly living in a state of fear.
The two screens flipped on to show dreamlike sequences of men running on a treadmill in a strange blue light. Then, the ubiquitous footage of black men being killed and brutalized by police begins. "I saw him stop. I saw him turn with raised hands. I heard a shot. I saw him fall," said Selvaratnam, as the videos play. "For reasons unknown, I rejected my own knowledge and I deceived myself by refusing to believe that this was possible. So their rights were denied, and people said little and did even less."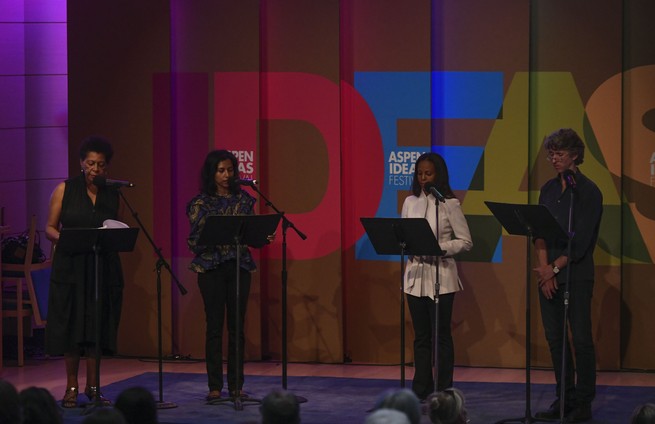 Juxtaposing the narration with the videos, Weems interrogates the ways in which the visual evidence of police brutality can be melted away by the desire to maintain a different sense of how this country is. Placed within this context, the videos of Eric Garner, Philando Castile, Laquan McDonald, Rodney King, and others show the continuity of this violence, an anti-narrative of freedom.
As the footage continues, now intercut with video of a group of black people beating their hearts in unison, one of the performers asked: "In this mystery of all mysteries, measure for measure, how do you measure a life?" The calm, distinct delivery of the performers disintegrates; they begin talking over and under each other:
"She was 25. He was 22. He was a father. She was 31. A man. He was 36. A brother. She was a mother. A boy. She was 28," they said. "He was 25. A cousin. She was 34. A child. He was 43. A friend. She was 37. A girl. He was 27. A father. She was 35. A child."
The words don't so much crescendo as get sewn together, a quilt that keeps growing and growing and growing.
The screens show Philando Castile's partner, Diamond Reynolds, in the moments after the shooting. "Please don't tell me my boyfriend just went like that," she says, and then, "Yes, I will sir, I'll keep my hands where they are."
And then, from this most specific, painful, awful experience, Weems zooms out, back into the universal fact of mortality. She links these deaths to your death, whoever you are, and the one thing that will unite us all in the end. And she asserts, too, that despite all this specific racial violence, she is free to consider the totality of life and death, all its many measures, not circumscribed by the one demographic attribute that was assigned to her at birth. "How do you measure a life?" she asked.
"By the way you confront life or by the way you confront death? By the number of friends you've gathered during a lifetime or by the remaining few who stand with you at the bitter end shedding copious tears when they lay your body down?" she asked, choking up. "By the road traveled or by the effort, the drive, the sheer determination to endure all of the impossible? Or by the kindness and the grace displayed in the process of living your life to the bitter end? How do you measure a life?"
It is significant that Weems calls her obsession "the history of violence," and not just violence. Each episode of police brutality cannot be seen on its own, outside the history of slavery, of lynchings, of northern mobs burning the homes of their new black neighbors, of stop and frisk, of the near impossibility of convicting any police officer for doing anything to a black person.
And yet, she calls on her audiences not just to see the ends of these black lives in a sealed chamber, somewhere far away from from life in America, but to consider how their deaths measure this country. Time and again, when some new American bad deed is reported, powerful people cry out, This is not who we are! or This is un-American!
But what if it's not? What if this is an America that coexists easily with the one some people prefer to imagine? Then, how grotesque it becomes to claim the good, just version of America as truth rather than aspiration.