Can HBO Give Deadwood a Proper Ending?
The network has green-lit a feature-length finale for the show it canceled 12 years earlier.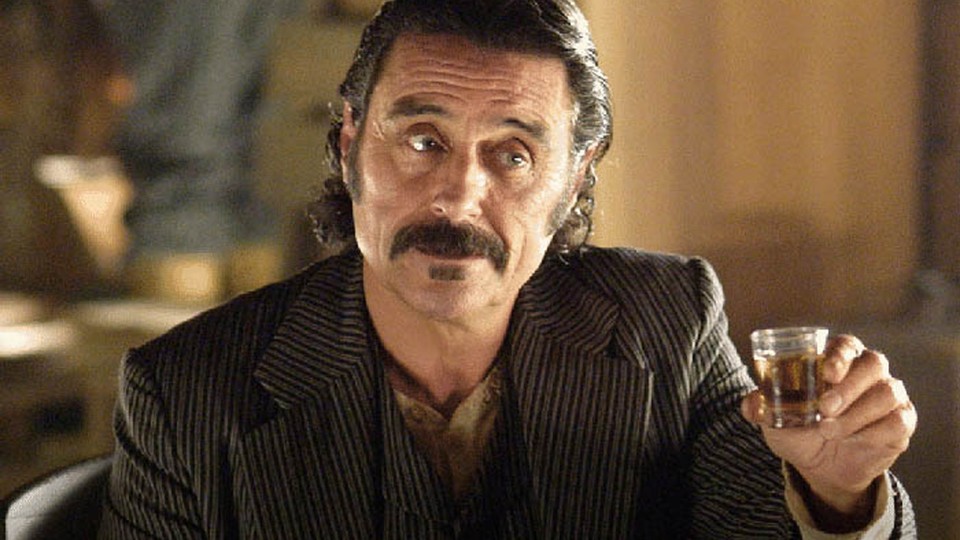 HBO's acclaimed series Deadwood ended on an abrupt note in 2006, canceled in a manner that was once commonplace in the world of television and now would be practically unheard of. Deadwood, created by the highly regarded but mercurial TV auteur David Milch (a co-creator of NYPD Blue), was a revisionist Western set in the famed South Dakota town during the 1870s, overflowing with baroque profanity and philosophizing about the American frontier. Though it was not quite the ratings hit of HBO's crown jewels The Sopranos and Sex and the City, it was a critically beloved show that got plenty of Emmy nominations. After three years, HBO pulled the plug.
For years, Milch has ruminated on the regret he feels over Deadwood's sudden end; the show never got to the epic showdown he had promised, involving the real-life figures Al Swearengen (played by Ian McShane) and George Hearst (Gerald McRaney), nor did he get to dramatize the actual town's fate (it burned to the ground in 1879, though it was later rebuilt). "If I'm given strength and time, we're definitely going to do more Deadwoods," he said in a 2007 interview, acknowledging the "abrupt rupture" of its cancellation. For years, rumors bubbled up that HBO was close to striking a deal with Milch to make a TV movie that would wrap up the Deadwood narrative, but they never came to fruition until last week, when the network finally gave the green light.
Had Deadwood premiered in 2014 rather than 2004, at the beginnings of the "Peak TV" era, rather than the premium cable "golden age" of a decade prior, it never would have been canceled. Now even the most marginal hits are championed by their networks as centerpieces, and any show that garners Emmy attention is practically guaranteed to stay on the air. Big Little Lies was made as a miniseries and still got a renewal from HBO; the streaming network Netflix has renewed low-buzz shows like Altered Carbon and Ozark despite their mixed reviews.
Deadwood is rightly regarded as one of the greatest shows in TV history, along with HBO's other totemic contributions The Sopranos and The Wire (which it aired alongside). But unlike those two dramas, it never got a proper conclusion, ending on a confused, if at times poignant, note. The death of one semimajor character played a big role in the inadvertent series finale, "Tell Him Something Pretty," but so did the antics of a theater troupe that was entirely irrelevant to the larger plot. And though so many of Deadwood's outstanding cast have gone on to other great opportunities, huge talents like McShane, McRaney, Timothy Olyphant, Paula Malcomson, and Robin Weigert couldn't hope to top the depth and complexity of the roles Milch wrote for them.
The show's cancellation was only partly because of its ratings—they were relatively strong by the standards of premium cable, on a par with Six Feet Under, which ran for five seasons. It was an expensive show to produce, given its vast ensemble cast, extravagant sets (most of which still stand in California), and the unpredictable nature of Milch, who was known for running over schedule and delivering script pages the morning of filming. A 2016 Hollywood Reporter feature claimed that he was in $17 million of debt, despite earning some $100 million making television, because of his penchant for gambling.
When Deadwood was canceled, Milch was already busy working on another TV project for HBO, the truly bizarre surfing drama John From Cincinnati, which crashed and burned after one season. He then moved on to Luck, centered on the world of horse racing and starring Dustin Hoffman, but it was canceled in the middle of the production of its second season because of concerns over a series of animal deaths that occurred during filming. All of that, combined with Deadwood's incomplete ending, have cast a serious pall over Milch's career.
So why not let the magic of Peak TV reverse that trend? The revival of a beloved pop-culture property is now a cornerstone of every network's marketing strategy. But it usually brings back TV that delighted viewers in the '80s and '90s: Will & Grace (on NBC), Murphy Brown (returning to CBS), Twin Peaks (transmuted to Showtime), and, of course, the intense flash in the pan at ABC that was Roseanne.
From the 2000s, only two big shows have returned, and as with Deadwood, each was pitched as the undoing of some great mistake. They both happened on Netflix. First, there was Arrested Development, brought back in 2013 seven years after Fox canceled it. Like Deadwood, Arrested Development was an Emmy-laden show that ran for three years to critical acclaim and ended in 2006 on a note that felt undeniably rushed. But its fourth season was jarring and critically divisive; a fifth season premiered this year and was swept up in controversy over the continued presence of the actor Jeffrey Tambor.
Second, there was Gilmore Girls, brought back by Netflix for four feature-length episodes. Gilmore Girls ran for a healthy seven seasons on The WB, but its creator, Amy Sherman-Palladino, left after the sixth, and the final year was a disaster, its finale a tepid mess. The Netflix edition, subtitled A Year in the Life, gave the reins back to Sherman-Palladino and let her end the series on her own terms. But in both cases, reviews were mixed and fans of the original shows were far from universally pleased.
It's hard to end a TV show well. Deadwood certainly exists as a prime example of how strange television narratives can be, and how harshly business decisions can change the art you're enjoying. But as our recent slew of revivals has shown, successfully bringing back a show is even harder to pull off—viewers may tune in for the name brand alone, but satisfaction is hardly guaranteed. Even without an ending, Deadwood is arguably the apex of the television medium. Bringing it back feels both alluring and dangerous, a chance to improve on greatness, but with the potential to end on an even more bitter note. That challenge is Peak TV epitomized—risky, somewhat superfluous, but creatively thrilling nonetheless.