Baseball Needs Bryce Harper to Be Better
The Washington Nationals slugger, arguably the sport's most famous player, no longer numbers among its best.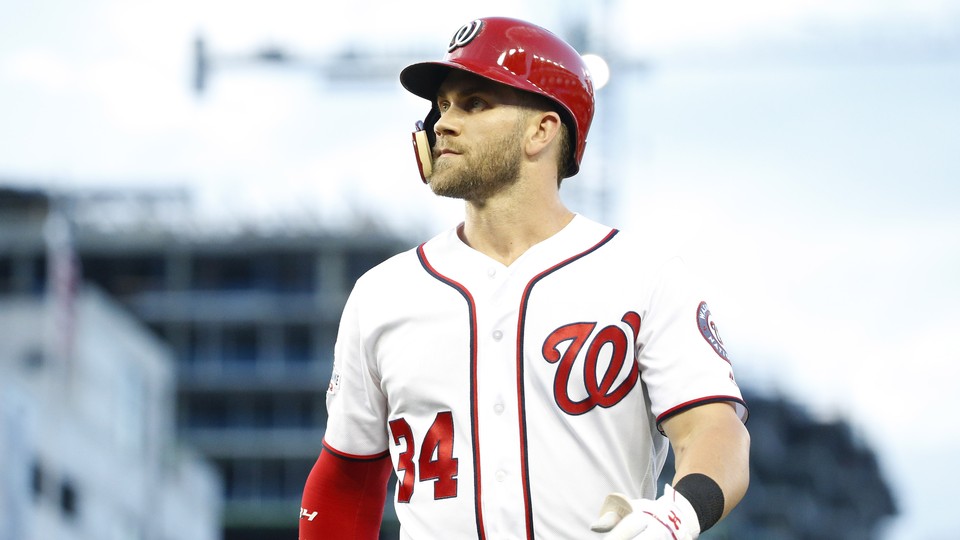 In some ways, the present moment looks like a pinnacle for Bryce Harper. Tuesday evening, the 25-year-old Washington Nationals slugger will be starting in the All-Star Game in his home ballpark, marking his fourth consecutive appearance at the midsummer classic and the sixth of his seven-year career. Monday night, he made his much-anticipated return to the Home Run Derby (he long maintained he'd prefer to participate in Washington) and, on the strength of his trademark cloud-cleaving swing, won in style.* When Harper reaches free agency this winter, he could sign the most lucrative contract in baseball history. For a player whose professional life has often mirrored the tropes of a sports video game—he appeared on the cover of Sports Illustrated at 16 years old, debuted in the majors and won Rookie of the Year honors at 19, and was named the MVP at 22—taking center stage at Major League Baseball's marquee in-season event is a fitting continuation.
But there's trouble below the surface. For one thing, Harper's Nationals, heavily favored to win the National League East at the season's start, find themselves sitting right at .500 and looking up at the Philadelphia Phillies and Atlanta Braves in the division standings. For another, Harper simply hasn't been all that great this year. His 23 home runs have him tied for eighth overall, but his batting average sits at .214, by far a career low, while his strikeout total is on pace to dwarf his previous high. His defense in right field, once part of the package that made him a seemingly prototypical five-tool player, grades as abysmal. According to Baseball Reference's "wins above replacement" (or WAR) metric, which weighs a player's contributions in every facet of the game, Harper hasn't added a single victory to the Nationals' ledger this season. His WAR during his MVP campaign, for comparison, was 10.0.
Predictably, this has caused some consternation in his camp. Scott Boras, Harper's agent, recently denied that his client's struggles have anything to do with his impending payday—which suggests in some listeners' heads, of course, the precise opposite. But Harper's slump also resonates throughout the game at large. It's no secret that baseball has fallen behind basketball and football in nationwide popularity, particularly among younger generations. And Harper represents the sport's best approximation of a post–Derek Jeter superstar: well-known but still young, cocky in a harmless and internet-friendly way, with apparel deals and TV commercials to complement his on-field accolades. At his best, he is baseball's great mainstream hope. So the immediate question—just how good is Bryce Harper, really?—is followed by another one: How good does baseball need him to be?
---
Here's a vintage Bryce Harper moment. On July 4, 2015, in the middle of his MVP year, the Nationals hosted the San Francisco Giants. In the first inning, Harper faced Madison Bumgarner, the Giants' ace, who was months removed from his World Series heroics. Despite the day's festivities, Bumgarner looked like he always does: hard-eyed, set-jawed, as if the only thing more dishonorable than surrendering a run would be showing evidence of having fun. Harper, meanwhile, came to the plate not only wearing the Nationals' spangled special-edition holiday uniform (unbuttoned, as was his tendency in those days, to halfway down his chest), but also holding a bat customized with stars and stripes along the length of the barrel. "Stars on the shirt, stars on the bat, star in the batter's box," the Nationals' announcer said. Harper turned on a fastball and ripped his 25th homer of the year into the right-field bull pen; returning to the dugout, he tossed his hair back in celebration. Bumgarner looked like he had swallowed something sour.
The moment was memorable not only for the basic competitive triumph, but also for the cultural and generational charge it held. Where other sports routinely celebrate showdowns of young and old, brash and dignified—examples include Allen Iverson crossing over Michael Jordan in 1997 and the Philadelphia Eagles wearing plastic "underdog" masks during a playoff run that ended in a Super Bowl defeat of Tom Brady's New England Patriots—baseball, for the most part, keeps to traditions of deference and humility. Players take pitches to the ribs if they admire their home runs for too long; veterans forever tutor (or harass) rookies about holding to professional standards. Personality is suppressed in favor of respect—a palatable enough ethos on its own merits, but one that doesn't make for scintillating television. It makes sense, in this context, that no baseball player cracked this year's ESPN list of the 100 most famous athletes worldwide.
Even in the years preceding his MVP win, Harper had offered an alternative: a rare willingness to perform coupled with the rare talent to back it up. He didn't just appear on that Sports Illustrated cover as a teenager; he also did so with a severe overapplication of eye black streaking his cheeks. As a minor leaguer, he followed up a home run by blowing a kiss to the pitcher. When, during Harper's first month in the majors, the seasoned pitcher Cole Hamels aimed to teach him a lesson by plunking him with a fastball, he responded by stealing home. He played full tilt and wanted to celebrate in the same fashion. "Baseball's tired," Harper told ESPN The Magazine in 2015. "It's a tired sport, because you can't express yourself." His career has amounted to a one-man mission to change that.
But Harper's occasional struggles, never more noteworthy than this year, can be read as another result of that full-bore mentality. Injuries have robbed him of at least 40 games during three seasons; he has never played more than 153 of the 162 games in a season. His big swing can render him somewhat inconsistent, producing an arcing homer one night and four strikeouts the next. Boras, his agent, has blamed Harper's poor average this season on the growing prevalence of the infield shift, wherein defenders overload the side of the field where the batter is more likely to send the ball; he calls the practice "grandly discriminatory" against left-handed power hitters like his star client. One remedy to the shift—shortening the stroke and slapping the ball the other way instead of selling out for homers—is something Harper seems disinclined to embrace.
This year or next, in Washington or elsewhere, Harper may well bounce back to his previous heights; he is still very much in his career's early stages. For now though, he is neither the best player in baseball (that would be Mike Trout) nor the best in the upcoming free-agent class (the Baltimore shortstop Manny Machado) nor even the best on his own team (the Cy Young Award favorite Max Scherzer). His free-agent contract, once predicted to register at $500 million, seems to shrink by the month. As the All-Star Game arrives in his city, his entrenched celebrity has outpaced his on-field effectiveness. On merit, he doesn't deserve to be starting, but starters are determined by fan vote.
Baseball diehards might wonder what the problem is. Tuesday's game will feature no shortage of splendid young players. The American League outfield alone, with Trout joined by fellow MVP candidates in the Yankees' 26-year-old Aaron Judge and Boston's 25-year-old Mookie Betts, boasts enough talent to define an era. But those players, when they hit their home runs, tend to put their heads down and jog dutifully around the bases. They are brilliant as on-field technicians, less so at making a single play feel like an epic in miniature.
That's what Harper can do and, one senses, what Major League Baseball wants him to do. "I kind of line up with Bryce Harper on this," the MLB commissioner Rob Manfred said in a 2016 interview. "We've got a great generation of young stars coming into the game … This generation's going to define what the game looks like on those topics" of self-expression. Every league's culture, though, is set by its best players; it is no accident that LeBron James, and not a backup point guard, spearheads the NBA's involvement in social issues. So if Harper wants to reshape baseball's mores, to drag the sport into the spectacle of the 21st century, he'll first have to play like he used to, when pomp and production went hand in hand.
---
* This article originally stated that Harper was making a debut appearance at the 2018 Home Run Derby.