Brett Kavanaugh, Jim Jordan, and the Fog of the Partisan
It's a slippery slope when weighty matters get dissolved into claims of bias and fakery.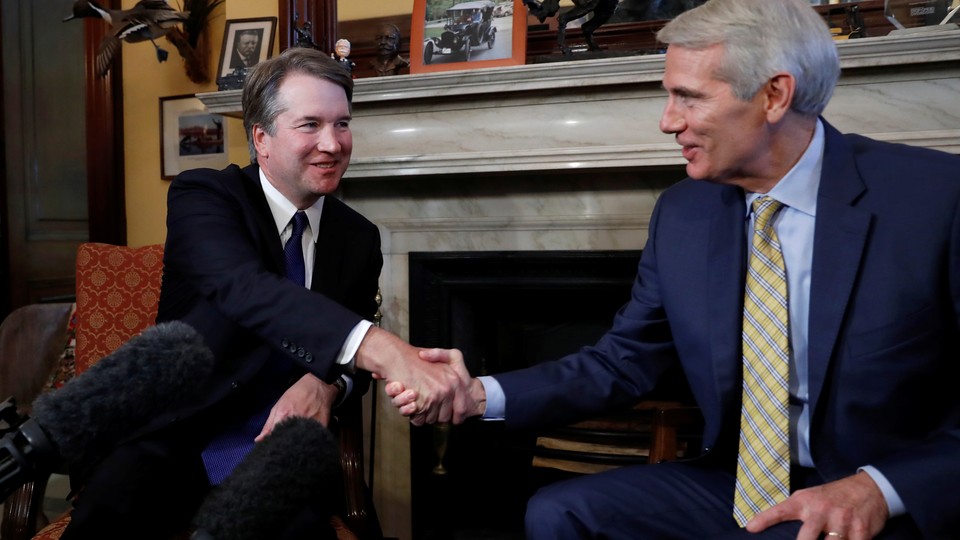 This week, shortly after Donald Trump announced his nominee for the Supreme Court seat left vacant by the retirement of Anthony Kennedy, a joking hashtag began trending on Twitter. #BrettKavanaughScandals, building on his public introduction at the White House—"For the past seven years, I have coached my daughter's basketball teams," Kavanaugh said; "the girls on the team call me 'Coach K'"—reveled in the notion of Kavanaugh as a family man and a man of faith and an all-around nice guy. A man, in other words, for whom real scandal would be unthinkable. "Brett Kavanaugh," one entry went, "agrees with the 5th dentist who advises AGAINST chewing Trident." And: "Often wore robes to work. Even on casual Fridays." And: "Claimed Ben Affleck was the most authentic Batman." And: "When his daughters begged for Oreos, Kavanaugh bought them Creme Betweens thinking they'd never notice the difference."
Brett Kavanaugh, dadjoke incarnate: It's a series of punchlines that doubles as political argument—a case made, tweet by lighthearted tweet, about the constitutional goodness of the man who has been selected to interpret the Constitution on behalf of all Americans. But there is another series of punchlines lurking in the main one—these at the expense of the American press. The jokes of #BrettKavanaughScandals soon expanded to include specific jabs at CNN, at newsrooms, at journalists in general. The reporters who have been investigating the background of Brett Kavanaugh, the jokes go—reporters who have been, the jokes further go, searching for scandals that are simply not there—are revealing their own silliness, and their own silly bias. The reporters, in this vision, are not reporting on Brett Kavanaugh, a man who stands to have an outsized impact on literal lives and deaths for decades come, because it is their job to do so. They're doing it because they are determined. They're doing it because they are voracious. They're doing it because they are partisan.
There was a similar dynamic at play when, this week, Jim Jordan, the Ohio congressman currently plagued with a scandal of a much less laughable variety—the accusation that he looked away from the reported sexual abuse of athletes when he was the assistant wrestling coach at Ohio State—mocked the people attempting to investigate his past. "Now @CNN is contacting all 100+ of our former staff and interns asking for dirt on me," Jordan tweeted. "Getting desperate! How can you ever trust such #fakenews?"
Fake scandals, #fakenews: Each treatment, on its own, is silly, to the point that either would seem unworthy of much attention. And yet: Each is very much worth paying attention to, precisely because of what the silliness masks: Each one works to destabilize the main thing at play—a lifetime appointment to the Supreme Court on the one hand, allegations of complicity in sexual abuse on the other—by shifting the focus to something else entirely. Something light. Something easy. Something relatable. Kavanaugh's car-pooling; Jordan's eye-rolling: Both take the weighty matters at hand and dissolve them into the familiar fog of politics and bias and fakery. The easy permissions of partisanship.
Here are some of the things that Jim Jordan, founding member of the Freedom Caucus and rising star of the GOP, is alleged to have known about when he worked at Ohio State: a team doctor, Richard Strauss, allegedly groping the wrestlers in his care to the point of making them ejaculate. Voyeurs allegedly watching the wrestlers in saunas and showers. An overall atmosphere that doubled as, according to one accuser, a "gauntlet of sexual deviancy." Not only did Jordan know, one of the wrestlers, Dunyasha Yetts, has claimed; "for God's sake, Strauss's locker was right next to Jordan's and Jordan even said he'd kill him if he tried anything with him."
And, then, here are some of the ways that Jordan has answered that mix of accusations: by, on the one hand, attempting to make a distinction between formal allegations made against Strauss and the broader culture of abuse that the doctor is alleged to have created. "Conversations in a locker room are a lot different than allegations of abuse or reported abuse to us," Jordan told Fox News, seeming to acknowledge that he did, indeed, have some awareness of that culture. He added: "No one ever reported abuse to me."
Jordan—and the many fellow members of Congress who have spoken out on behalf of the man who has been suggested as a successor to Paul Ryan as House speaker—have also turned to that extremely familiar path when it comes to the public discussion of #MeToo stories. The politicians have done their own oppo research, this time against the accusers. Jordan has recently begun arguing that Mike DiSabato, the former wrestler who was the first to formally report abuse to Ohio State, has a "vendetta" against both Jordan's family and the university. "He's out to get Ohio State," Jordan told Fox News.
Other Republican lawmakers have been making similar arguments, eagerly publicizing—eagerly politicizing—news reports that have engaged in their own form of dirt-digging: dredging up the legal histories of the wrestlers who accused Jordan of complicity in an effort to suggest those accusers' bad faith. (Jordan noted, in his discussion of DiSabato's "vendetta," that DiSabato had been recently arrested.)
Louie Gohmert, Jordan's congressional colleague and his fellow member of the House Freedom Caucus, pointed out that the law firm that Ohio State hired to investigate the men's allegations of sexual abuse at the university, Perkins Coie, has also done legal work for the DNC, Hillary Clinton, and Barack Obama—and for Fusion GPS, the DC firm that commissioned the Steele dossier. As Gohmert put it in a statement: "They were recently paid by Hillary Clinton and the DNC as a pass-through entity to hire Fusion GPS to concoct the salacious and unverified Russian dossier at the heart of the Clinton team's attempted take-down of President Trump." The whole thing, the Texas representative summed it up, "doesn't pass the smell test."
The cumulative effect of all this, statement by statement and tweet by tweet and "yes, but" by "yes, but," is to change the terms of the discussion at hand—until, eventually but suddenly, the conversation is no longer about Jim Jordan's alleged complicity, but rather about bias and conspiracy and, in short, the predictable playing of politics. The new information settles into the familiar old grooves. The personal outweighs the structural, and the small stuff triumphs over the big. Bias—an accusation, an atmosphere—trumps all. It's so much easier to talk about Brett Kavanaugh's car-pooling and basketball coaching than it is to talk about Brett Kavanaugh's record of jurisprudence. It's so much easier to talk about the supposed politics at play in the Jim Jordan story than it is to talk about the moralities. "Getting desperate!" Jim Jordan tweets, of reporters who are simply reporting on the man who would be Speaker. It's easy—too easy—to believe him.