Blindspotting Is a Boldly Sincere Love Letter to Oakland
Daveed Diggs co-wrote and stars in a buzzy, funny, and often unsubtle look at race relations and gentrification in the Bay Area.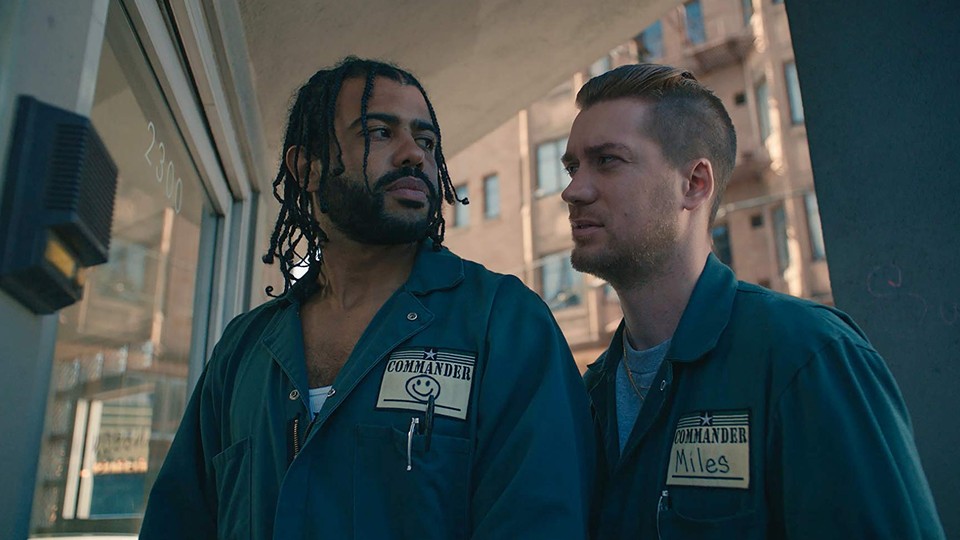 There's perhaps no type of movie that's harder to make than a sincere one. Not a film that's sappy or cheerful or relentlessly emotional, but one that tries to make a genuine and powerful point about the way of the world. Carlos López Estrada's directorial debut Blindspotting is a lot of things—it's an anarchic buddy comedy, a sly satire of gentrification, and a sober drama about an African American man trying to carve out a life after being released from prison. But more than anything, it's a deeply earnest work, written by its two stars Daveed Diggs and Rafael Casal as both a love letter to their hometown of Oakland and as an anguished cry over the state of race relations there.
That heart-on-sleeve storytelling is Blindspotting's biggest strength and its biggest weakness; it's what makes the movie so magnetic at times and so awkward at others. Still, in a year of debut films trying to grapple with America in innovative ways (like Sorry to Bother You and Eighth Grade), Blindspotting is another strong effort that's well worth seeing. It also marks a particularly exciting movie-star moment for Diggs, who won a Tony for his performance in Lin-Manuel Miranda's hit musical Hamilton.
Before Diggs collaborated with Miranda, he and Casal met as members of the Bay Area's spoken-word scene. The two wrote Blindspotting together and play its lead characters—Collin (Diggs), an ex-con living in an Oakland halfway house with three days left on his parole, and Miles (Casal), his jocular, obnoxious longtime friend who always seems one second away from making the worst possible life decision. The mismatched pair make their way through a changing city while joined at the hip, even though it's obvious they probably shouldn't be anymore. Their relationship might be a too-broad metaphor for the things that evolve as we grow up, but their easy camaraderie helps power the plot.
Watching Collin and Miles sit on street corners and bust each other's chops is by far the best part of Blindspotting; credit to Diggs and Casal for writing a weighty drama that has no problem being funny for about 75 percent of its running time. The duo walk into neighborhood stores and marvel (in horror) at the $10 kale juice being sold behind the counter, or saunter into their place of business (a moving company) to clown on Collin's ex-girlfriend, Val (Janina Gavankar), who clearly still wants the best for Collin even as she can't forgive him for the hot-headed incident that landed him behind bars.
What exactly that was is a mystery Blindspotting doesn't reveal until later in its running time. The film unravels its many narrative threads slowly. It opens on the Chekhovian tableau of Miles buying an illegal handgun for no good reason, and early on Collin witnesses a devastating cop shooting that appears racially motivated. But Blindspotting isn't focused on one single issue. None of these explosive plot elements is taken for granted, and Diggs and Casal are trying to flesh out a whole host of ideas. Their script delights in the myriad ways these incidents, big and small, intersect in the city Collin and Miles are navigating.
Underneath it all is an (initially) unspoken tension between Collin, a black man trying to stay on the straight and narrow, and Miles, a reckless, gun-brandishing white guy who never seems to be looking over his shoulder for the police. Estrada loads his film with jump cuts that create a sense of rising panic—as though something unexpected could happen any minute, or like Miles's nervous energy could turn into something more dangerous. His audacity, especially next to Collin, can come off as callous; this winds to a confrontation that feels worthy of their nervy chemistry, and of the movie's larger themes.
Unfortunately, the film also builds to a showdown over the police shooting that Collin witnesses, and that climax is far more clunkily handled. It's Blindspotting's most sincere moment, and without spoiling further, I have to admit it didn't work for me at all. It lays the mission statement of Diggs and Casal's script bare and practically explains it to the audience. Even though 2018 is a year for unsubtle art, the finale hits the nail on the head too cleanly. Blindspotting has enough verve, humor, and passion to recommend it—even as it overplays its hand in its final minutes.