The Wildest Wimbledon in Recent Memory
The tournament boasted chaotic early matches, a record-long slugfest, and a monumental comeback for Novak Djokovic.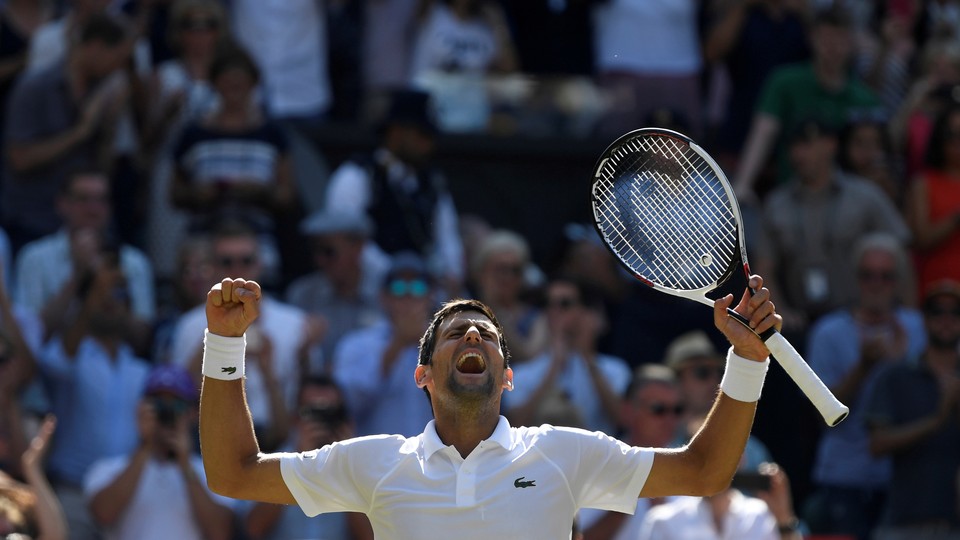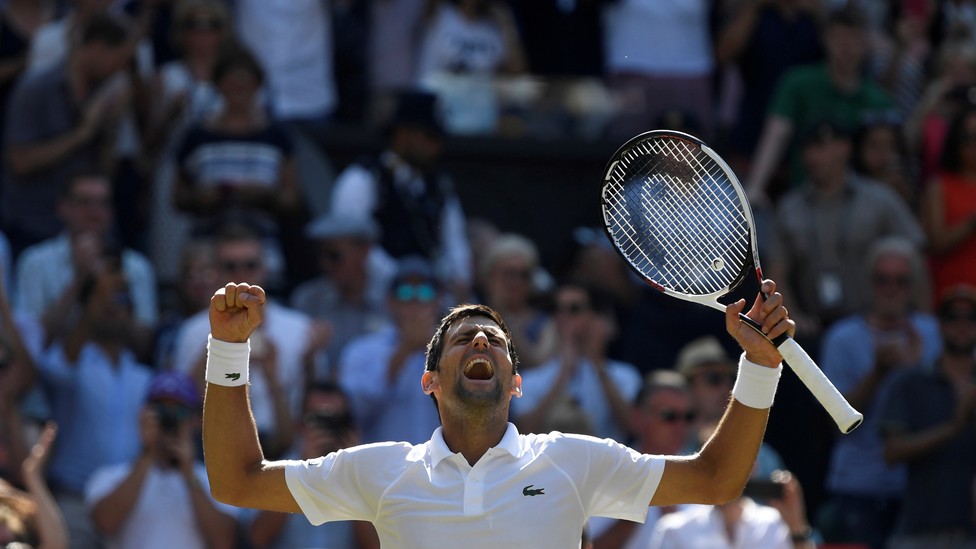 The wildest Wimbledon in recent memory ended with Novak Djokovic playing against type. Over the years Djokovic, 31, has become as much defined by his 13 Grand Slam titles as by the exuberant manner in which he's given to celebrate them. But when Kevin Anderson dumped one last forehand into the net on match point to cinch a 6-2, 6-2, 7-6 (3) victory for Djokovic, there was no roaring at the heavens or wallowing on Centre Court for the Serb. There was only relief as Djokovic exhaled sharply and crouched down with his racket under the crushing weight of the moment. The livelier reaction came from his 3-year-old son, Stefan; propped in his mother's arms in Djokovic's players box, Stefan applauded vigorously and shouted "Daddy! Daddy!" as his pooped papa was presented with his fourth Wimbledon trophy. It marked an emotional coda to an incredible journey for a man who had gone from being one of the most dominant players in history to a barely recognizable husk of himself in a dizzying span of 25 months.
As comebacks go, this was one for the ages, and it owes as much to Djokovic's fighting spirit as to a chaotic fortnight that saw four of the top seven seeds on the men's side bow out early in the first weeks. The damage to the women's draw was even worse. In an Open-era first, all top-10 seeds lost before the quarterfinals. The notable outlier was Serena Williams, whose No. 25 seed was more of a consequence of her taking maternity leave than an actual indicator of her true ability. She'd drop only one set in her six games leading up to the final. Her quest for a record-tying 24th Grand Slam title seemed fated to end as a victory for working mothers the world over. And then she ran into Angelique Kerber.
A canny counterpuncher and former tour dominator whose No. 11 seed was also somewhat deceiving, the 30-year-old German was brilliant where Williams was flat and sloppy. The latter had almost five times as many unforced errors as Kerber, who mixed trademark defensive aggression with uncharacteristically strong service games. After taking little more than an hour to complete a 6-3, 6-3 rout, Kerber became Germany's first Wimbledon women's-singles champion since her idol Steffi Graf hoisted the last of her seven Venus Rosewater dishes in 1996. "It was always my dream as a little girl to do the same" as Graf, said Kerber, a three-time major champion who's now only a French Open title away from a career slam. "Winning here, it's forever. Nobody can take the title away from me now."
Meanwhile, the upsets on the men's side cleared a path for the 12th seeded Djokovic to become the lowest-ranked man (at No. 21 in the world) to take a Wimbledon title in 17 years. His stiffest test came in the semifinal round against Rafael Nadal, a foe Djokovic has vanquished 26 times in 51 Open-era meetings. The 52nd installment of their rivalry proved yet another wonder of clever shot making and spectacular defense, and it had far too many twists and turns to enjoy in one sitting. It morphed from a late-Friday-afternoon outdoor affair to a nighttime spectacle played under the Centre Court roof, which then got postponed until Saturday because of an 11 p.m. neighborhood curfew. The following afternoon, Djokovic got the better of Nadal in five sets, but only just. "It was clear that very few things separated us," Djokovic said afterward. Actually, the difference was four points.
Their five-hour-and-16-minute epic was long indeed, and yet: not the longest Wimbledon semifinal. That record came right before, in a six-hour-and-35-minute slugfest between Anderson and the top-ranked American John Isner. Their clash, billed as a grudge match between two college rivals (Isner's 2007 NCAA title with the Georgia Bulldogs came at the expense of Anderson's Fighting Illini), was everything Djokovic–Nadal wasn't: lumbering, arrhythmic—and yet it was no less compelling to watch. In the end, Anderson, a 6-foot-8-inch South African who owes his top-10 spot in the rankings to sweat equity and a killer serve, exacted revenge in five sets to book his second appearance in the finals of a Grand Slam. But that victory, and the marathon quarterfinal against Roger Federer that preceded it, would take a toll.
By the time he returned to Centre Court for Sunday's final, Anderson had been plodding around the grass for more than 21 hours. The wear and tear on his big body showed early in the match. After dropping the first set in 29 minutes, Anderson called a trainer over to his chair to work on his right elbow and bicep, but the effect on his game was negligible. For most of the first two sets Anderson struggled to stay within the lines, allowing Djokovic to play more conservatively while feasting on those mistakes. In the third set, Anderson cleaned up his game enough to give himself a few set-point opportunities on Djokovic's serve but, alas, his tank was too dry to seal the deal. "I'm definitely not feeling as fresh as I was going into the tournament," he told the crowd following match point. "I would've given another 21 hours to have the opportunity to play in front of you."
Djokovic's Wimbledon result, a surprise to just about everyone except Andy Murray, puts him squarely back in the "greatest player ever" conversation alongside Federer (who has a record 20 career majors) and Nadal (who has 17). What's more, Djokovic gathers this fresh momentum as the tennis season moves from grass to hardcourt—his preferred surface. Likely, he'll enter this year's U.S. Open, and every tournament leading up to it, as the odds-on favorite—unless, of course, he loses his way again. But at this point, who would dare pick against him now that he's got his swagger back? When Djokovic plays at his physical and mental peak, resistance is futile.