Uncle Drew: A Solid Piece of Branded Content
Kyrie Irving stars as his beloved Pepsi commercial character in a competent NBA-themed comedy for the summer.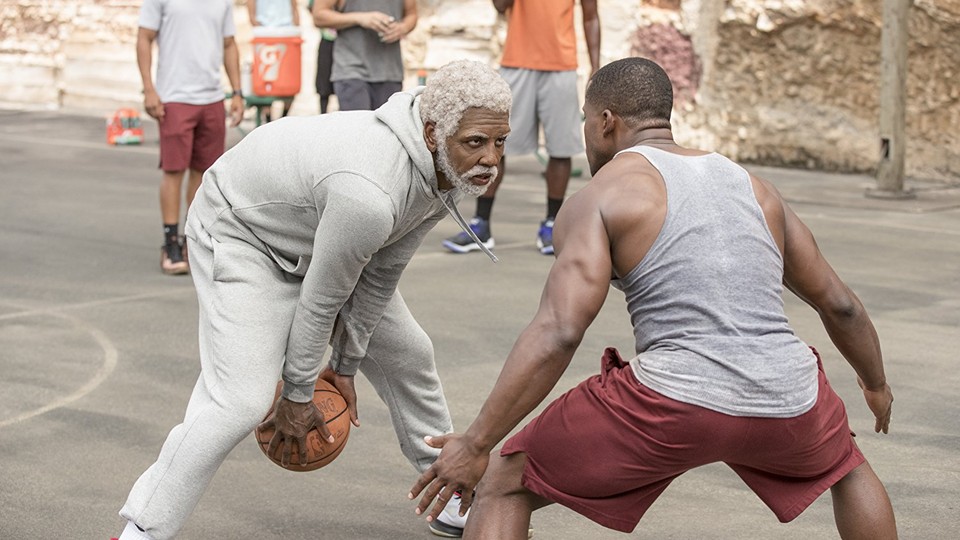 In decades past, when the NBA offseason arrived in June, it meant no more basketball for a while, a break from (in this reviewer's humble opinion) the world's greatest professional sport until the fall, when the new season tipped off again. But ours is an age of media saturation, of total brand dominance in every sphere, of 24/7 coverage. So NBA fans now get to exult in the draft, in the drama of offseason trades and free agency, and, starting this year with the release of Uncle Drew, in the revival of the novelty basketball movie.
Here is a project with truly canned origins (a series of Pepsi Max commercials that debuted in 2012), starring an ensemble of mostly athletes, with a one-joke premise (an old man is good at basketball!) stretched into a 103-minute feature film. Crazier still, it largely works—it's a perfectly watchable time at the movies, at least for anyone missing the NBA over the summer. But it's hard to shake the underlying corporate air of all the hijinks ensuing, and the sense that the director, Charles Stone III, and writer, Jay Longino, won't let their stars indulge in sillier tangents. The jokes could be dirtier, the plot looser, the basketball action more gleefully ludicrous. Instead, everything feels very competent but safe.
If the last genuinely iconic NBA-branded movie (Space Jam) was centered around the collaboration of Michael Jordan and Bugs Bunny, Uncle Drew is a team-up between Irving (an All-Star point guard for the Boston Celtics) and a troupe of impressive makeup artists. Using rubbery prosthetics, they transform him into the legendary streetball player Uncle Drew, once a hallowed king of Harlem's famed outdoor court Rucker Park, who has a habit of wearing sweatpants, calling everyone "youngblood," and dazzling unsuspecting opponents with his superb crossover dribble.
According to the gossipy barber Angelo (J.B. Smoove, also in comical old-age makeup, perhaps to heighten the verisimilitude of Irving's look), Uncle Drew was the king of Rucker Park in the 1960s, dominating its tournaments with a squad of similarly gifted legends, until a mysterious romantic entanglement split the group up for good. After watching the septuagenarian Drew show off his skills, amateur coach Dax (Lil Rel Howery) entreats him to get the band back together, desperate to field a team at Rucker Park's upcoming tournament after his initial crew was poached out from under him by the villainous Mookie (Nick Kroll).
And thus, the film's bare-bones story begins, largely a travelogue punctuated with easy generation-gap jokes. Drew prefers '70s funk to hip-hop, drives a retro van outfitted with an 8-track tape, and enjoys lecturing showboating youngsters about the fundamental unselfishness of the game, when played well. He and Dax drive around the country picking up his old teammates, all played by former NBA stars. There's Preacher (Chris Webber), a power forward who has become a showboating minister; Lights (Reggie Miller), a sweet-shooting guard who is now legally blind; Boots (Nate Robinson), a fast-break specialist confined to a wheelchair; and Big Fella (Shaquille O'Neal), a domineering center who now runs a dojo.
Drew and Big Fella have some unresolved conflict over a woman in their past, who died offscreen in the intervening years. That's about as well-rounded as a female character gets to be in Uncle Drew, which also features Tiffany Haddish as Dax's mean ex-girlfriend Jess and Erica Ash as Boots's well-meaning niece Maya. Every male character in Uncle Drew is one-dimensional, but the women get one less dimension than that, existing mostly as plot devices (though WNBA legend Lisa Leslie does show up to get a few highlights on the court). In general, this is a film that suffers anytime it tries to include actual plot twists, and thrives in moments of goofy banter.
Set pieces include a rollicking car chase with Lights behind the wheel, an extended dance-off at the club, and, of course, plenty of hoops action at Rucker Park, choreographed to imitate a typical NBA highlight reel. Howery, one of the breakout stars of Get Out in 2017, is a reliable sparring partner for Irving and the rest of the old-timers; Kroll dips into the cartoonish vibe of his cult classic Kroll Show to play a delightfully uncool hanger-on at Rucker Park.
But it's never a great sign when your comedy's best moments are confined to the post-credits blooper reel. Uncle Drew is at its strongest when it's being completely inane and farcical—it's not like there's any real question whether the good guys will triumph on the court. But given that Uncle Drew was originally birthed by Pepsi's advertising department, it's hardly surprising that his feature film feels like its edges have been sanded off. As a work of corporate branding, Uncle Drew is a success; as a piece of summer entertainment, it's pleasant enough.