What Tracy K. Smith Sees in America
In her latest collection, Wade in the Water, the U.S. poet laureate takes a loving and unflinching look at a country's present and past.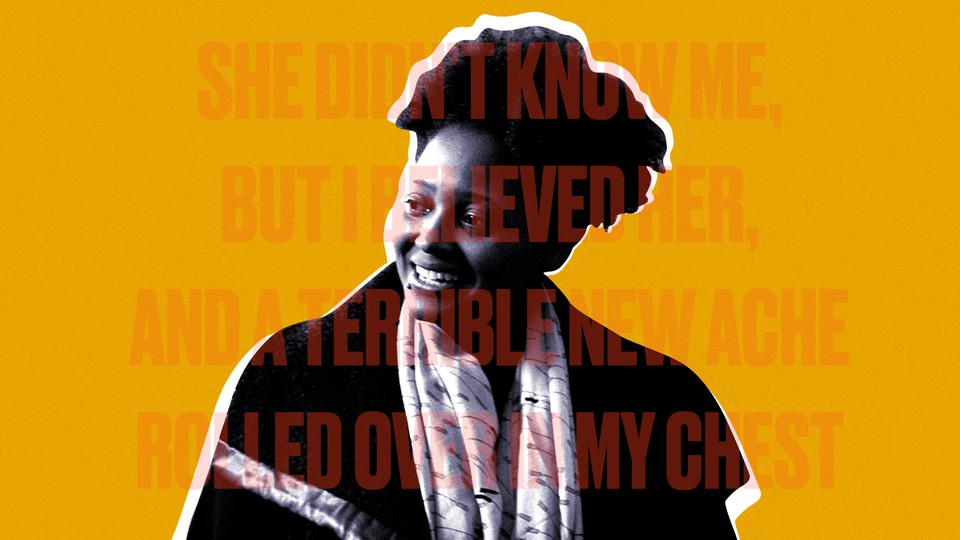 "Our country is like a really old house," the historian and journalist Isabel Wilkerson said in an interview barely a week after the 2016 election. "Old houses need a lot of work. And the work is never done ... Whatever you're ignoring will be there to be reckoned with until you reckon with it. And I think that that's what we're called upon to do where we are right now." Tracy K. Smith, in her current role as U.S. poet laureate and in her fourth collection of poetry, Wade in the Water, is rolling up her sleeves and excavating the basement of this old house.
Wade, published in April, reads like a book a laureate should write; these are poems that draw on weighty subjects and hinge on ideas of belonging. From the United States' dark chapters of slavery to present-day acts of racial violence, Smith's pieces consistently match the largeness of their content. Hers are poems that insist on compassion and love—poems of many voices and places across America.
Recently appointed to a second term as laureate, Smith is an extraordinary writer who has collected major awards, including the Pulitzer Prize for her third collection, 2011's Life on Mars. She's a professor and director of the creative writing program at Princeton University, and her 2015 memoir, Ordinary Light, was a finalist for the National Book Award for Nonfiction. Though Smith was already a prominent literary figure, her newest collection takes on the responsibility that comes with having a more public persona.
A reflection on history and America's current moment, Wade in the Water centers on a series of erasure poems in which the entirety of the poem is composed of words from a source text. This structure allows the voices of those Smith wishes to honor, and sometimes challenge, to speak for themselves. What emerges is deeply poignant commentary on the violence done to black Americans. For example, "Declaration," which uses as its source text the Declaration of Independence, opens with "He has / sent hither swarms of Officers to harass our people."
Erasure poems, also referred to as documentary or blackout poems, are powerful tools to understand the present through the past. They accomplish what Smith intends for her work to do—they make the reader pause. "You want a poem to unsettle something," Smith told The New York Times Magazine in an April profile. "There's a deep and interesting kind of troubling that poems do, which is to say: 'This is what you think you're certain of, and I'm going to show you how that's not enough. There's something more that might be even more rewarding if you're willing to let go of what you already know.'"
"The Greatest Personal Privation," another moving erasure poem in Wade, draws from letters between family members of Mary and Charles Colock Jones, who were slaveowners. Here, Smith imagines the enslaved mother and daughter, Patience and Phoebe, speaking through the Jones's words:
We may yet discover
The whole country
Will not come back
From the sale of parent
and child.
Patience and Phoebe were members of the Geechee/Gullah communities in Liberty County, Georgia. In a subtle linking of past and present, Smith dedicates her collection's title poem to the Geechee Gullah Ring Shouters, a group of performers in Georgia preserving their culture through song and dance. In "Wade in the Water," Smith recounts how she, like every other member of the audience, was greeted by one of the Ring Shouters with a hug and the words I love you:
She didn't
Know me, but I believed her,
And a terrible new ache
Rolled over in my chest
In this description of embrace, Smith captures the triumph and burden of forgiveness so embedded in black spirituals. As both speaker and writer, in this and a majority of the poems in the collection, Smith reflects on how her art form can and should unify people.
Since her appointment as laureate in 2017, Smith has traveled to small, rural communities, initially focusing on the South and Southwest—a project she sees as a kind of literary evangelism. "It's been a privilege to share my own work and the work of other contemporary poets with strangers that crowdsourcing algorithms tell me I ought to have nothing in common with," Smith said of her outreach in a recent lecture, "and to hear people say things like, I'm white, you're black; I'm from this place, you're from another, and yet, when you talk about your father you restore my own father to me." On upcoming trips, Smith plans to read both her own work and selections from an anthology she edited, American Journal: Fifty Poems for Our Time, to be published this fall.
In Wade, Smith invites her readers to see America, and the world around them, via the eyes of a generous and attentive observer, whether weeping "through a movie starring Angelina Jolie" in one poem, or watching a mentally ill man stopping traffic "as if he hears / a voice in our idling engines" in another. Her poems are accessible in that they're placed within contemporary and familiar contexts. Some of the best moments in Life on Mars feature David Bowie as the subject and object of Smith's admiration. But beyond these markers of pop culture, Smith compels readers to empathize with the stranger, the unknown. "Until I can understand why you / Fled ... Let me imagine / you are my mother in Montgomery," Smith writes in the Wade poem "Refuge," addressing an imaginary refugee woman. "Until / I want to give you what I myself deserve, / Let me love you by loving her."
Writing toward voices on the margins has been a consistent theme throughout Smith's work. In her second collection, Duende, Smith reckons with injustice and empathy on behalf of victims of racial violence from multiple backgrounds, including a murdered Brazilian boy and kidnapped Ugandan girls. These poems, like the erasure poems in Wade, are also inspired by and include direct quotes from a wide range of texts. But what distinguishes Smith's newest work from earlier collections is its rootedness in questioning U.S. history and identity.
Bodies, especially black bodies, take on a heightened symbolism beyond the personal in Wade. In her ekphrastic poem "Unrest in Baton Rouge," Smith responds to the viral 2016 photograph by Jonathan Bachman that depicts a young black woman, Iesha Evans, head high and defiantly calm as she faces two charging, armored police officers. The poem opens with "Our bodies run with ink dark blood" and flows into a series of painful observations. "We watch and grieve. We sleep, stir, eat. / Love: the heart sliced open, gutted, clean. / Love: naked almost in the everlasting street." "Unrest" is a reminder that it is, still, significant to have an African American woman occupying poetry's highest national title. The role isn't a political one, but Smith models how artists can speak truth to power, especially under an administration that has been criticized for eroding the progress made on civil rights in the U.S.
Though Smith's work contains multitudes, she ultimately fixates on the notion of national identity in Wade. Like Wilkerson, Smith uses the metaphor of a house in, not so subtly, writing about America. Her poem "Ash" cycles through a roulette of personalities, anthropomorphizing a structure:
House with hands. House of guilt. House
That other houses built. House of lies
And pride and bone. House afraid to be alone ...

House the seasons singe and douse
House that believes it is not a house.  
Smith is this country's poetic caretaker, calling both for collective reckoning and collective empathy. Her work dwells in the threshold between history and the present. Like the best poets, Smith shows her readers that they share a common foundation, and also questions how that foundation was laid. Through these poems, she offers a blueprint for how Americans can better listen to the country's long-buried voices, and to its voices on the margins now.