The Trumpian Dissonance of Kanye West's 'Violent Crimes'
On Ye, the album he premiered Thursday night, the rapper speaks of his daughters (and wife) with a disturbingly voyeuristic tone.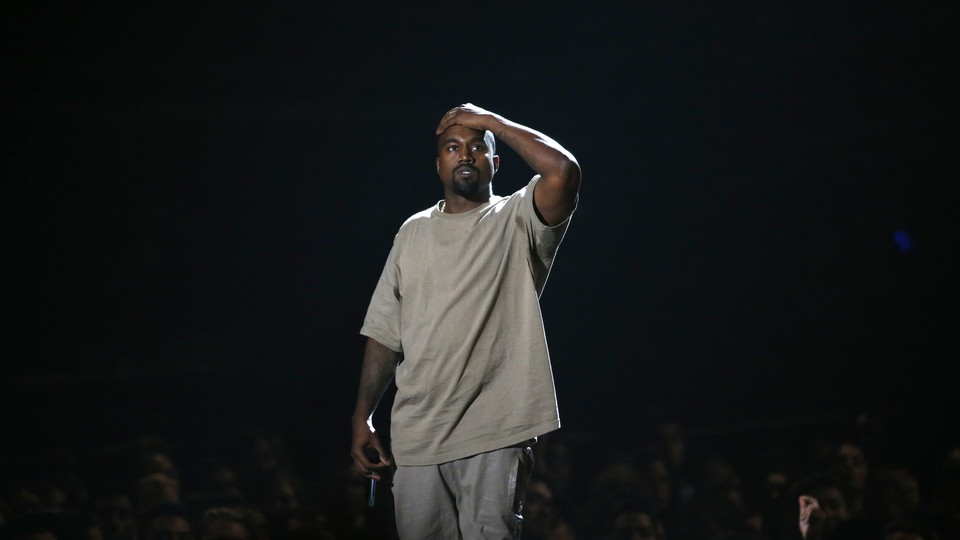 Kanye West, who took to the rugged plains of Wyoming to produce and later premiere his latest album, Ye, ends his predictably bellicose new record with a woman's voice. As the Phil Collins–esque "Violent Crimes" winds down, a voicemail from Nicki Minaj abruptly pierces the silence the lullaby leaves behind. Her voice a crescendo of aggression, Minaj echoes lines West had rapped earlier: "I'm sayin' it like … / I want a daughter like Nicki / Aww man, I promise / I'ma turn her to a monster, but no ménages / I don't know how you saying it, but let 'em hear this."
The lines, which reference the still-resonant triumph of Minaj's verse on West's 2010 "Monster" as a benchmark of success, may very well have come from the rapper herself. In her voice, the admonition that West's hypothetical daughter avoid the sexual act from which Minaj draws her own stage sounds protective, but almost tongue-in-cheek. When the lines appear earlier in the song though, coming from West, the context in which they're presented does little to offset the indelicacy of discussing a child's future sex life. Kanye's daughters aren't hypothetical; neither North nor Chicago West exists solely as a symbolic totem of Kanye's putative redemption from his time among the "players," "pimps," and "monsters." But in "Violent Crimes," the last song he premiered Thursday night in Wyoming, West attempts to undo years of his own misogyny—much of which is on full display throughout the same album—by offering his fatherly ambitions as some sort of mea culpa for having worshipped at the altar of his own manhood.
For the notoriously impenitent West, any admission of wrongdoing—even in the past—may seem revolutionary. But "Violent Crimes" finds West, now a father of two daughters, trafficking in the same paternalistic tropes that have animated male allyship for what feels like millennia. The song captures the paradigm shift of new fathers-of-daughters so succinctly that it is almost admirable, if only as a rhetorical study: "Father forgive me, I'm scared of the karma / 'Cause now I see women as somethin' to nurture / Not somethin' to conquer." In this framing, women and girls are not worthy of respect and protection by virtue of being human beings, but rather because of their proximity to men. It is not Nori and Chicago's essential personhood that prompts West to nurture them, but their relationship to him: one in which he is both role model and custodian, dream giver and disciplinarian. West cherishes the attendant control. Even in his attempt to share a realization that affects how he will now treat a sizable portion of the population, West once again centers himself.
More troubling than West's lyrical dispatch from the intersection of fatherhood and narcissism is the voyeuristic tone in which he raps about his own daughter(s). He outlines his strategies to control the girls' bodies as they mature, in discomfiting detail:
Don't do no yoga, don't do pilates
Just play piano and stick to karate
I pray your body's draped more like mine and not like your mommy's
Just bein' salty, but niggas is nuts
And I am a nigga, I know what they want
I pray that you don't get it all at once
Curves under your dress, I know it's pervs all on the net
All in the comments, you wanna vomit
That's your baby, you love her to death
West pays particular attention to the contours his daughters' bodies may develop in the future, referencing his wife's famously enhanced curves in the process. He threatens hypothetical future boyfriends, then imagines a scenario in which a battered daughter comes racing back to him. The lines are disturbing, reminiscent of how Donald Trump speaks about his eldest daughter, whom he has called "hot" and whose sex life he often alludes to. On an album full of references to a president whom West has received no shortage of criticism for defending, "Violent Crimes" stands out for the perverse intimacy with which it links West to Trump. The two men's arrogance may be staggering, but the ease with which they discuss—and seek to control—women's bodies is just as striking. Both men draw from deep reservoirs of entitlement; when trained on girls and women, that potent mixture of shielding and possession can grow much more pernicious.
"Violent Crimes," which features 070 Shake and Ty Dolla $ign in addition to Minaj, is the starkest example of West examining his own misogyny on Ye, but it's hardly the only track on which he veers into chauvinism. Kanye has long spoken of the women in his life with equal parts reverence and disdain. Ye is no exception to that unsavory tradition. On "Wouldn't Leave," which features Ty Dolla $ign again, along with Jeremih and PartyNextDoor, West crafts a cocksure ultimatum. West and Ty close the song with a deceptively saccharine-sounding dedication: "For any guy that ever fucked up (love me or hate me) / Ever embarrassed they girl (love me or hate me) / Ever embarrassed they wife (gone when you miss me)." The lines are an easily legible reference to Kim Kardashian's public attempts to recoup sympathy for her husband in the wake of his political calamities.
Rather than presenting an apologetic album, though, West instead doubles down on his original comments: "I said, 'Slavery a choice' / They say, 'How, Ye?' / Just imagine if they caught me on a wild day." The entire song boasts of his wife's decision to "always ride for [her] man" as both natural and irrevocable. "Wouldn't Leave" is a self-satisfied smirk that denies Kim's ability to ever escape West's side—and his shadow; the eerie requiem for her independence is reminiscent of the suicide-threatening "Sad!" from rapper and alleged domestic abuser XXXTentacion's frighteningly popular sophomore record. On Ye's opening track, West waxes poetic about wanting to kill a loved one; on the aptly named "Yikes," he claims to pray for Russell Simmons because the mogul "got #MeToo'd."
Taken together with "Violent Crimes," these tracks paint a portrait of a man who views his love of the women closest to him as a mechanism of control. "Violent Crimes" stands out among them because it weds paternal love so closely to the potential to enact violence against those who trespass against his loved ones. Where Kanye's first post-fatherhood dedication, the Paul McCartney–assisted "Only One," reflects with warmth on the relationship between West and his mother, "Violent Crimes" obsesses over how Kanye might wield his power. It also evokes the newfound paternal concern of West's erstwhile collaborator Jay-Z, who released "Glory" two days after the birth of Blue Ivy, his first child with Beyoncé. In it, Jay alludes to his rocky past, noting the pressure he feels to not "deliver failure" like the men in his family had previously. The endearingly corny track ends with the sound of the newborn Blue crying. Five years later, after the infamous elevator fight with Solange and the release of Lemonade thrust the specter of Jay's infidelity into public dialogue, Jay-Z again referenced his daughter in verse. "What good is a ménage à trois when you have a soulmate? / 'You risked that for Blue?'" he raps on the titular track of his confessional 4:44. The proximity of his 5-year-old daughter's name to the mention of his sexual indiscretions is jarring, unnecessary: The line underscores the hypocrisy in Jay-Z's behavior, but it also brings a child into decidedly adult discourse—and delegitimizes the harm done to her mother in the process.
West is hardly the first man—rapper or otherwise—who professes to see women in a more caring light after having fathered daughters. Daughters have long been deployed as shields against criticism, human buffers against paternal toxicity. The men who offered mealymouthed rebukes of Harvey Weinstein's behavior did so with full knowledge that the invocation of their paternal love could stand in for a more robust response. The daughters did not need to be vocal, cared for, or pictured to serve as such distractions; they simply needed to be offered up as rhetorical martyrs. West, who has always considered himself a vanguard artist, seems to have only now learned what countless men in power have proven: to have a daughter is to have a scapegoat.