The Sweet Revenge of Ocean's 8
Debbie Ocean's subplot to ensnare her ex-partner is the most gratifying, true-to-life element of a movie that sells itself on the fantastical.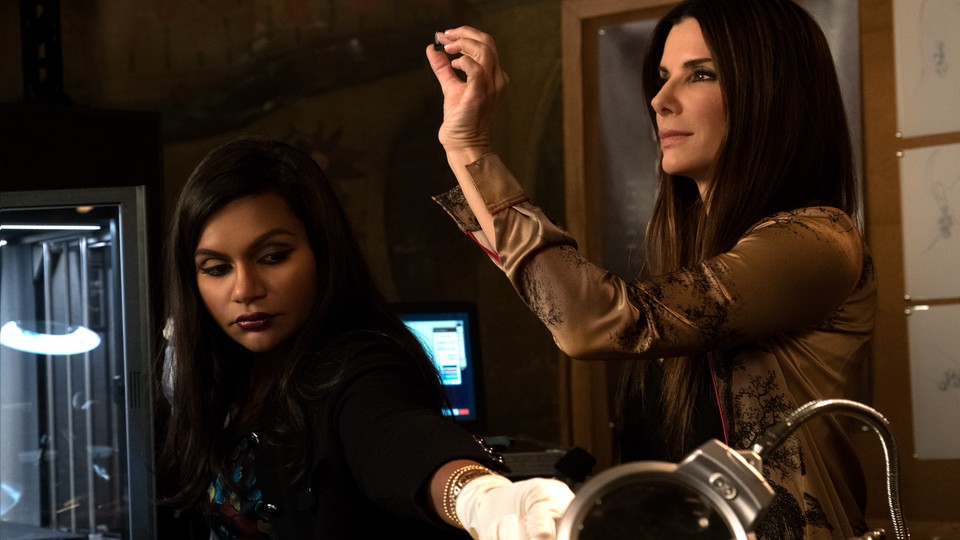 This article contains minor spoilers for the plot of Ocean's 8.
Ocean's 8, the Gary Ross–directed installment of the heist franchise, opens with an incarcerated Debbie Ocean (Sandra Bullock) convincing her parole board that her most urgent aspiration is "a simple life" on the outside. As soon as her request is granted though, Debbie retreats into the comfort of her cons. In quick succession, she briefs a corrections officer on how the two will continue her schemes with Debbie on the outside, then heads to Bergdorf Goodman to scam an unsuspecting sales clerk out of high-end makeup.
With her feminine armor thus acquired, Debbie makes a personal pit stop: She swings by a gallery named after her former lover and fellow con artist, Claude Becker (Richard Armitage). Debbie pounces on the unsuspecting art dealer with laser precision and holds him at knifepoint. "You look … " The visibly shaken Claude stammers, only to be interrupted by a glowering Debbie: "Recently incarcerated."
Thus begins a minor subplot of the notably female-led Ocean's 8. It's soon revealed that the pair had scammed together, until Claude framed Debbie for a shadowy financial crime that landed her in prison for five years. (Meanwhile, Claude only saw his star rise.) The time Debbie spent incarcerated was time she spent devising the plot that forms the film's central con, and mulling retaliation against Claude: Not only would Debbie assemble a motley crew of female criminals to steal a $150,000,000 diamond Cartier necklace during the annual Met Gala, she would also pin the crime on Claude.
I expected to spend the entirety of my Ocean's 8 viewing experience entranced by Rihanna, who plays the not-so-different-from-herself hacker Nine Ball. I knew I would take mental notes on the lavish looks. I did not, however, expect to find myself rooting for an Armitage to fail with more energy than I did during Get Out.
Against the backdrop of a conspicuously gender-swapped film in which most men are either bumbling or menacing, Debbie's open hostility toward Claude is invigorating. Why should she hide it? Where my colleague Christopher Orr found the Claude subplot "unnecessary and moderately tedious," I found it intriguing—the most true-to-life element of a movie that sells itself on the fantastical. After all, most women sent to jails have experienced forms of gender-based trauma (most often at the hands of a partner). Debbie's experiences as a rich, white con artist hardly mirror the realities of most incarcerated women, but the source of her catalyzing betrayal—in love and in business—is nonetheless familiar. To watch Debbie then frame Claude for a heist that so gloriously enriches her (and seven other women) was particularly gratifying, the karmic cherry on top of a decadently illicit sundae.
Film has long toyed with the specter of female revenge. Entire series (and films) literally titled Revenge trace (mostly) women returning blows of various forms to the people who have most harmed them. (Bullock's co-star Rihanna has drawn ire for her habit of killing men in her music videos.) The theater of feminine vengeance is a curious one, born of an oft-unspoken recognition that women are disproportionately targeted by any number of entities inflicting pain. Most stories of this sort begin with a man—father, stranger, but more often, partner—enacting violence either physical or psychological. Jennifer Lopez's Enough found its main character training to kill her abusive husband; The First Wives Club took a deeply personal approach to the financial con: Its spurned female protagonists target their ex-husbands' bank accounts.
Ocean's 8 doesn't much deviate from this formula; man transgresses, man must suffer. The film never makes light of Debbie's penchant for revenge, but in a vehicle as swanky and fun as Ocean's 8, male atonement is simply more entertaining to watch than it has been in many other films. (Audiences seem to agree: The film dominated at the box office its opening weekend.) If Claude is an underwritten character, his flatness at least serves to underscore Debbie's feminine dominance in the revenge subplot. Debbie doesn't kill, maim, or even really address Claude much at all; she merely renders him helpless. It's nearly impossible not to laugh at the visual humbling of a handsome man blubbering to police about how he couldn't possibly have stolen high-priced jewelry because he was too busy kissing world-famous actress Daphne Kluger (Anne Hathaway).
For what it's worth, Debbie's lust for vengeance doesn't escape critique in Ocean's: Her desire to frame Claude for the Met Gala heist initially causes tension with her partner-in-crime, Lou (Cate Blanchett). And the film doesn't recommend framing trifling ex-lovers for elaborate burglaries any more than it recommends committing those crimes in the first place. Still, there's a sweet satisfaction in watching as Ocean pulls it off. The gala heist may have been an adventure in avarice, but the framing capped it with style. If, as a wise woman once said, the best revenge is your paper, then Debbie Ocean absolutely got hers—and made a man pay in the process.