What Is The Staircase Trying to Do?
The pioneering documentary is more passive than its successors, but the portrait it crafts is a damning one.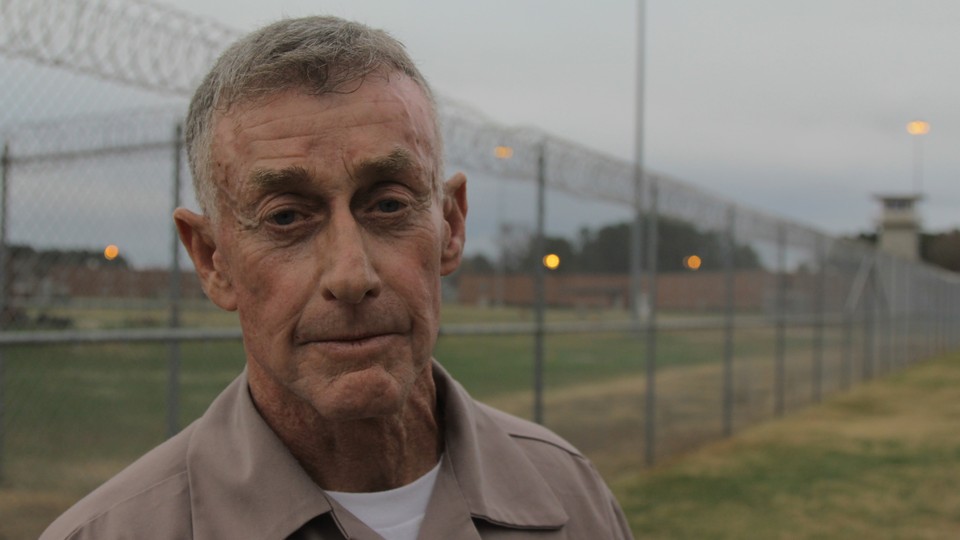 This article contains spoilers through all 13 episodes of Netflix's The Staircase.
Watching The Staircase in 2018 can feel odd, because audiences have become so habituated to true-crime stories doing work. The ferocious investigative labor of Serial's Sarah Koenig is pivotal to the podcast series's success. In The Jinx, Andrew Jarecki stages elaborate reenactments in his efforts to prove Robert Durst's guilt. In Wormwood, Errol Morris goes a step further by hiring Peter Sarsgaard and Molly Parker to play real-life characters in Morris's interrogation of the suspicious death of a CIA scientist.
The Staircase arguably helped spawn all these shows, but what characterizes it now, 14 years after the release of its first eight episodes, is a distinct feeling of passivity. Its director, Jean-Xavier de Lestrade, doesn't seem interested in weighing the guilt of Michael Peterson, the North Carolina writer who was charged with the first-degree murder of his wife, Kathleen, in 2001. He simply watches, and captures what he sees. De Lestrade's unwillingness to interject—to help shape a narrative, or even pay lip service to information that doesn't surface organically in scenes—can be frustrating, and it opens The Staircase up to questions about its journalistic integrity. But in the eight original episodes, two follow-ups, and three new installments recently released on Netflix, de Lestrade has made something different: not a classic true-crime investigation, but a strange, sad portrait of cultural fault lines and their consequences.
It's tempting to call the story of Michael Peterson a tragedy. Not just because his protestations of innocence and grief are pitiable (although they are), or because he summarizes his life with a quote from Romeo and Juliet, "All are punished" (although he does). It's tempting because, in The Staircase, it's Peterson—as opposed to his dead wife—who's unfailingly presented as the victim. After a short news brief detailing how Kathleen Peterson's body has been found in the couple's mansion in Durham, North Carolina, the series begins in earnest with Peterson walking the camera crew around the home, describing the events on the evening of Kathleen's death. He's calm and detailed in his account of how the couple watched a movie, talked about their kids, and drank a first bottle of wine, followed by a second. Then, he explains, the couple went down to the pool on their property. In Peterson's telling, Kathleen went upstairs to bed while he stayed by the pool with his wine. It was the last time he saw her alive.
What happened next was so bizarre, so unpredictable, that it made the Peterson murder investigation a national story. In a meta twist, the way the various revelations are parceled out in episodes of The Staircase has made the series a cultural touchstone in its own right, to the point where it was parodied in an NBC sitcom starring John Lithgow. Peterson maintained that Kathleen must have died by falling down a staircase, despite the fact that she had lacerations on her head that indicated she'd been struck. Investigators discovered that Peterson was bisexual and had recently arranged a meeting with a male escort. (Peterson insisted Kathleen knew about his bisexuality, and that their marriage was very happy, if unconventional.) Then, in the third episode, came an even more dramatic revelation: A female friend of Peterson and his first wife died in 1985 after falling down a staircase.
In 2001, the year Kathleen Peterson died, de Lestrade released Murder on a Sunday Morning, his Oscar-winning documentary about a 15-year-old wrongfully accused of murdering a tourist in Jacksonville, Florida. The Staircase was intended to be a companion piece about how the justice system functions for wealthy white men compared to black teenagers. The first eight episodes are characterized by a sense of confidence that the system will prevail. Peterson and his defense attorney David Rudolf spend a disproportionate amount of time laughing at Peterson's absurd predicament and Rudolf's astronomical bills. Peterson wonders, earnestly, how people navigate the legal system who don't have millions of dollars at their disposal.
Rudolf's blithe trust in American justice—not to mention the discovery of a crucial piece of evidence that has since immortalized the words blow poke—leads him to make a naïve and possibly fatal decision in his closing arguments. Rather than make a deliberate effort to prove that Peterson is innocent, he endeavors only to persuade the jury that he's not guilty beyond reasonable doubt. When, after four days of deliberation, the jury finds Peterson guilty, Rudolf is almost more horrified than his client. "When the jury came in, it didn't just disappoint me," he tells the camera. "It shook the foundations of my beliefs … in the justice system, in human beings, in my own abilities, in my judgment, in my sense of reality."
The Staircase, though, has captured what's gone wrong. Its exhaustive, intensive coverage of the trial has seen Assistant District Attorney Freda Black associate Peterson's sexual preferences with moral depravity in court. "I don't mean to offend anyone, but he did say they were going to have anal sex," she says of Peterson's meeting with the escort, describing the arranged encounter as "filth, pure filth." De Lestrade's camera has lingered on jury members' stony faces and raised eyebrows as Peterson's graphic emails to the escort are read in court. Trouble has also been brewing outside the trial, where media commentators are quick to cast their own judgment. The Staircase shows Rudolf watching the TV hosts Nancy Grace and Jean Casarez erroneously discussing bloody footprints at the crime scene, a fact Grace says troubles her. "Forget about Nancy, Jean at least is supposed to be correcting things," Rudolf sputters on the phone.
When Peterson is found guilty, even the prosecutors seem surprised, given how limited their evidence was. But the series is clear about how much of a problem the eccentric, bisexual, erudite Peterson is for the jurors. The Staircase isn't interested in theorizing who actually killed Kathleen (and includes only one offhand reference to the actually quite credible theory that an owl did) because its focus isn't solving a mystery. It's illuminating how flawed and naïve the concept of blind justice is. The jurors in Peterson's case can no more put away their own preconceptions than they can realistically isolate themselves from TV news and the firestorm surrounding the case.
The three newest episodes of The Staircase, filmed over the last two years, show what a difficult lesson this has been for Peterson and his family to learn. After eight years in prison and three under house arrest, Peterson is a husk of the man he was before the trial—frail, sunken, and uncharacteristically bitter. As he discusses with his kids whether to enter a plea or seek a new trial given that much of the evidence against him has been proven to be flawed, everyone seems convinced that the system is rigged. "Anybody who believes in the justice system, raise their hand," Peterson says. No one does.
None of this entirely exonerates The Staircase from charges that it selectively included pertinent information in its narrative, that it gave only minimal lip service to Kathleen, and that it intruded on the grief of Kathleen's surviving family members, including those who believe Peterson killed her. It's troublesome, too, that the series doesn't note at any point that its editor Sophie Brunet was romantically involved with Peterson while filming. De Lestrade himself has acknowledged that the story became much more complicated and sprawling than he could have ever anticipated. His series might not ascertain Peterson's innocence, or advocate for specific reforms within the justice system. But his several hundred hours of footage, edited into The Staircase, form their own distinct, queasy testimony.