The Bold Type Delivers on Its Leads
Season 2 of the Freeform dramedy, which follows three women working in journalism, tackles its protagonists' backstories with a refreshing complexity.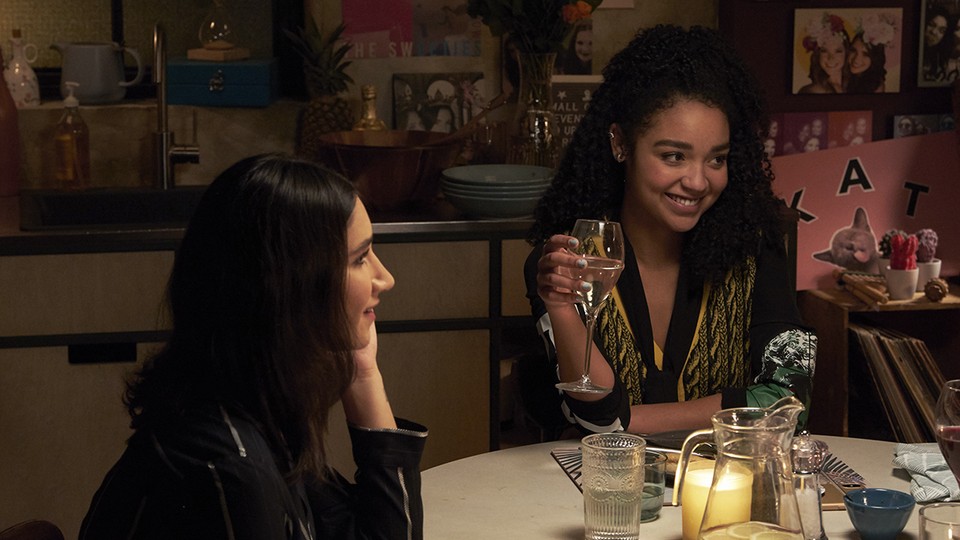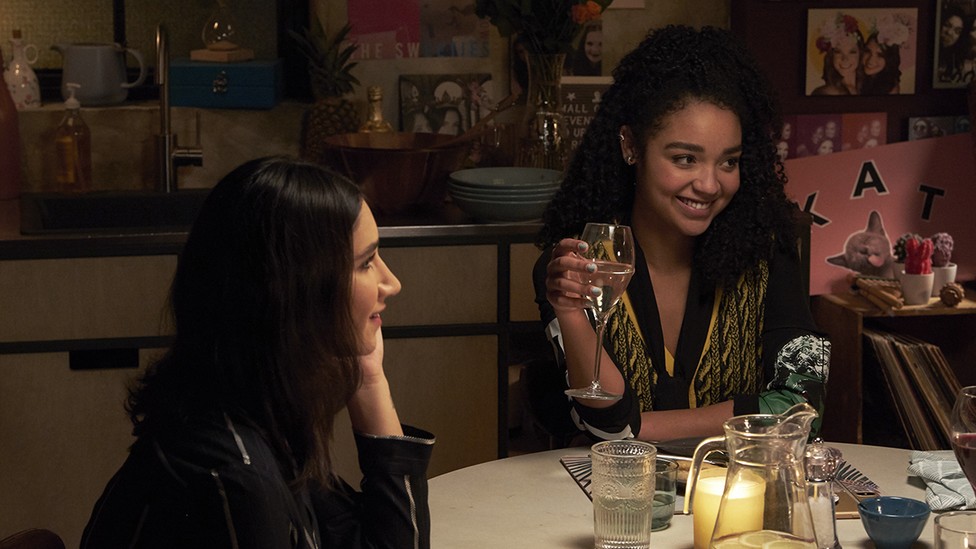 This article contains light spoilers through Season 2, Episode 2 of The Bold Type.
In a striking scene from The Bold Type's Season 2 premiere, newly enamored lovers Kat (Aisha Dee) and Adena (Nikohl Boosheri) fight about their sex life in the middle of a glamorous party.

The ill-timed dispute begins with an exchange of terse words after Kat repeatedly begs Adena to join her on the red carpet for the soirée being thrown by Scarlet, the women's magazine where Kat serves as the social-media director. Adena, whose personality skews more reserved than Kat's, takes issue with her girlfriend's insistence on flaunting their as-yet unconsummated coupledom: "You're ready to show me off and introduce me to the world as your girlfriend and put photos of us all over social media, but then … You're not ready to go down on me?"
It's a daring choice for a show that has thus far been sultry but demure. There are sex scenes on The Bold Type, but the mention of explicit acts on the Millennial-focused series had thus far been limited to discussions of sexy pictures sent via Snapchat. The workplace dramedy, created by Sarah Watson, introduced viewers to a trio of enthusiastic, offbeat young women working for the fictional fashion magazine Scarlet.
There was Jane (Katie Stevens), the newly promoted staff writer and protégée of famed Scarlet editor in chief Jacqueline Carlyle (Melora Hardin), inspired by the formidable former editor in chief of Cosmopolitan Joanna Coles. Editorial-assistant-turned-fashion-acolyte Sutton (Meghann Fahy) falls for—and eventually leaves—board member Richard (Sam Page). And, of course, social media maven Kat convinced Adena, a magnetic Muslim lesbian photographer, to appear in Scarlet's pages—and later found herself falling for the artist. Adena and Kat's courtship was a steady fixture of Season 1, but their plotline took the backseat to Jane and Sutton's personal and professional woes until the surprise of Kat's decision to follow Adena to South America in the season finale.
But Season 2 of the Freeform show has started off by rectifying the most glaring omission of its preceding installment: the incongruous characterization of Kat, the only lead of color. The premiere addresses her sexual insecurity with compassion and grace: Sutton, Jane, and even Adena all remind Kat that it's okay for her, as someone who is new to dating women, to be nervous about performing an act she's not familiar with. Their conversations are frank, honest, and refreshing—Adena reminds Kat that the two can move slowly, the resulting effect a quiet reminder that sexual exploration is only enhanced by respect and patience. The Bold Type makes the case for both enthusiastic consent and advocating for one's sexual needs and shows they needn't be at odds; it's a simple but rare writing choice that sets Kat and Adena's relationship up to mature throughout the season. Addressing conflict with empathy can be sexy, the show suggests, and resolution need not be reserved for heterosexual couplings.

In just one episode, Kat and Adena's relationship has grown tremendously from the previous season, which undercut their union with its shaking writing of Kat's character. In one particularly glaring Season 1 sequence, Kat consoles Adena, whose visa status is up in the air, after the two have a jarring interaction with police offers. But rather than name a shared fear, Kat acts as though Adena is the only one who would have reason to view law enforcement as a threat. The scene is surprising, a missed mark for a show that spent much of the first season tackling issues like immigration and rape culture. Kat is, after all, a black woman living in a country where black people are disproportionately likely to be targeted—and killed—by police. How could a hyperconnected social-media manager, who spends all her time consuming content from the same feeds that spread viral images of black death like wildfire, be so casual about a possibly fatal encounter?
Showrunner Amanda Lasher, who stepped in after Watson's departure, told BuzzFeed she was sensitive to the missteps in the prior season. For Lasher, course-correcting meant explicitly addressing Kat's race in Season 2.
"We know that we can't speak to everybody's experience, but we can speak to Kat's experience. We tried to be as specific as possible to what Kat was going through, and where she came from, and what her parents were like, and how that shaped her, so that we could understand why she made some of the choices she made in Season 1."
In the new season's second episode, Kat's parents—a wealthy black man and white woman—show up and shed new light on the character's upbringing. It's revealed that they raised her not to gravitate toward labels, to understand herself as a human before she understands herself as black or even biracial. Throughout the course of the episode, she struggles with how to identify—should she describe herself as Scarlet's first black social-media director?—and eventually makes a decision that reflects where she sees herself now, not just how she has seen herself through the years.
The moment illustrates a clear trajectory of personal growth for Kat, a character whose primary trials and tribulations have occurred outside the confines of her professional life. In both this instance and the red-carpet moment she has with Adena, Kat is shown giving extensive thought to the right way to proceed. She takes input from her friends, who want the best for her (even if they, as two white women, don't always have the right answers).
It's worth noting that Sutton and Jane face challenging situations this season, too. Sutton must decide how to proceed in the face of a new sexual-harassment policy at Scarlet that enables employees to date as long as they sign consent waivers—a development that would mean she and Richard no longer have to suppress their affection for one another. Jane is forced to contend with an editor who oversteps her editorial boundaries. Both situations present conflicts with real-life resonance.
The Bold Type dramatizes the lives of its three leads without turning any of the women into caricatures. The newsroom and New York they inhabit aren't the world's most accurate depictions of life in digital media, but they're also far from fanciful. The show is still finding its footing, and so none of its main characters have become personality avatars, the way Sex and the City's Carrie, Samantha, Miranda, and Charlotte each came to stand for a particular kind of New York City woman. But the first episodes of Season 2 are promising, a sign that the show is taking its leads—all of them—seriously, even and especially as they grapple with the issues closest to home.