Shohei Ohtani Is Proving Himself Already
Despite the early skepticism, the 23-year-old Los Angeles Angels pitcher and hitter is exceeding expectations in just the first couple months of his major-league career.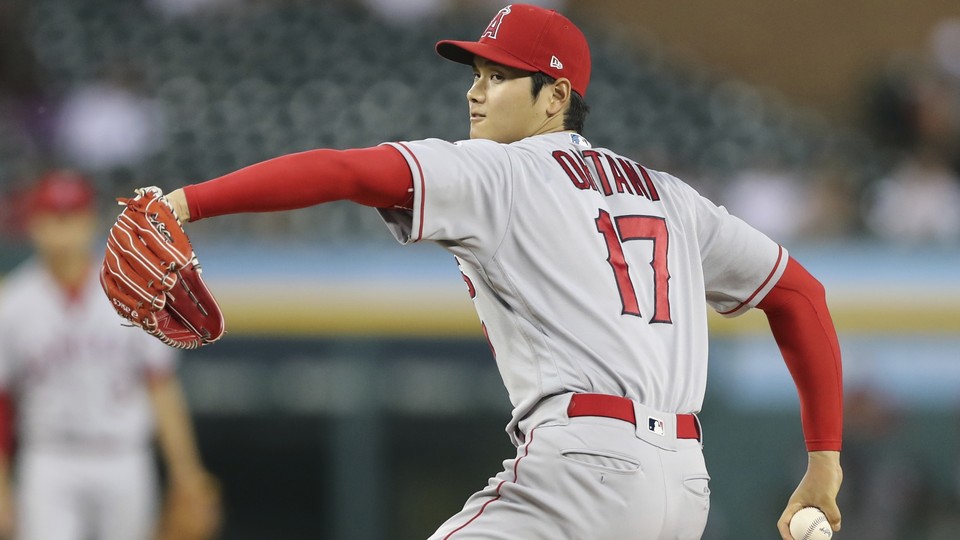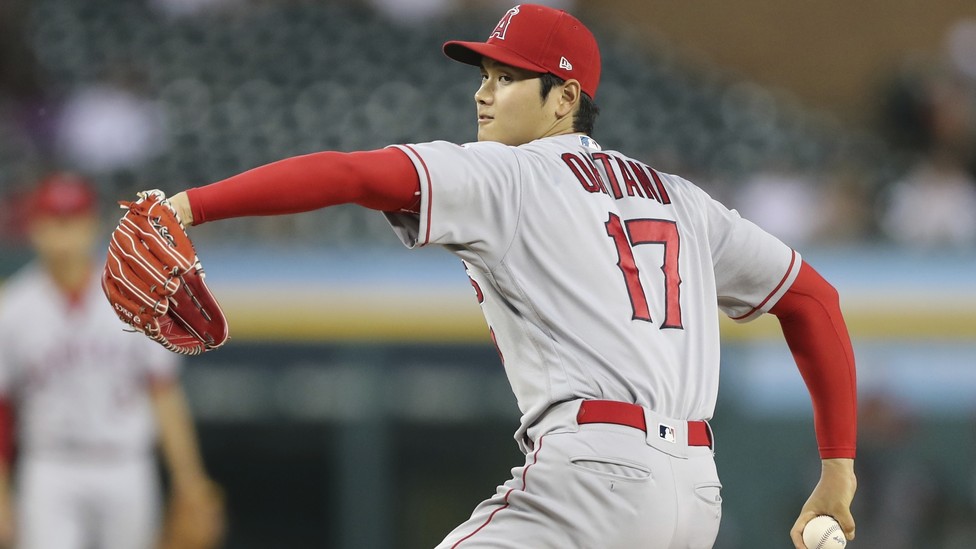 On the eve of this baseball season, Shohei Ohtani was a mystery. The 23-year-old Japanese phenom had arrived in the U.S. as a highly billed two-way star, supposedly capable of hitting and pitching at an All-Star level, but poor Spring Training stats and a sprained UCL had dampened optimism about his ability to thrive in the majors. Scouts dissed his hitting. Reporters questioned his pitching. Some analysts wondered whether Ohtani belonged not on the Los Angeles Angels' roster, but in the minor leagues.
Just over two months later, there's not much left to doubt. Over the first third of the season, Ohtani has established himself as not only the best hitter-pitcher hybrid since Babe Ruth, but also as one of the premier players in baseball today. He has a higher on-base plus slugging (OPS) than the MVP hitter Bryce Harper, and a lower earned-run average (ERA) than the All-Star pitcher Stephen Strasburg. According to Baseball Reference's ballpark-adjusted metrics, Ohtani has been 48 percent better than league average as a hitter and 30 percent better than league average as a pitcher. Along the way, he has exceeded all reasonable expectations and fulfilled many of the most extravagant ones. He has been, bar none, the biggest story in baseball this season.
Even as Ohtani's name has faded from national headlines following an unforgettable first week of the season, he has continued to excel, posting a 2.16 ERA during the month of May while hitting six doubles and two home runs. Meanwhile, he has looked as impressive on the field as he does on the stat sheet, throwing 100 miles per hour, whacking long home runs, and flashing track-star speed for good measure. As a pitcher, he mixes a blazing fastball with a diving splitter, sending hitters flailing at empty air. As a batter, he employs a sweet left-handed swing to pepper line drives all over the field.
Ohtani hasn't been a perfect player—he has struggled to hit against lefties and doesn't always command his pitches well—but he is, so far, performing in a way baseball last saw when Ruth pitched and played the outfield for the Red Sox in the 1910s. "He's only 23 years old and is going to get better," the Minnesota Twins first baseman Logan Morrison said after Ohtani shut down his team on May 13. "I think he's doing something that nobody has probably ever done and it might be a long time before you see it again."
Even as Ohtani has wowed fans and fellow players alike, his season hasn't been entirely smooth. The rookie had a start pushed back due to rain, was yanked from another due to a blister, and lost a few games to an ankle injury suffered in late April. The Angels have been generally cautious about his workload on the mound, sometimes delaying his starts to offer extra time to rest. The team's plan to have him pitch once a week and hit three or four times a week has proven to be less of a rule and more of a guideline.
But in a sense, that tumult has been reassuring. Many of the big questions Ohtani and the Angels faced entering the season centered on logistics: How would the team balance the 23-year-old's pitching, hitting, and necessary rest? Would he bat often enough to make the two-way gambit worth the trouble? Would bumps and bruises earned at the plate affect him on the mound? The season's first two months have shown that managing Ohtani's workload is plenty possible, with a little thought and some patience, even in the face of injuries and other extenuating circumstances. Maybe he can't pitch full-time while also taking at-bats as designated hitter, but he and the Angels appear to have found a viable equilibrium.
From here, Ohtani's stature figures to grow. Given the uniqueness of his game and the attention he commands, Ohtani was going to be a candidate for an All-Star berth no matter how he performed this season. But based on his output through two months, analysts agree, he figures to reach the Midsummer Classic on merit—an accomplishment few rookies achieve. He could wind up in the Home Run Derby as well, becoming the first-ever participant in that event who can throw a nasty splitter when he's not cranking bombs. After that, a pennant chase beckons. It's possible, maybe even likely, that Ohtani could wind up on the mound in the one-game wildcard playoff, should the Angels qualify.
Of course, Ohtani won't necessarily maintain his historic statistics all season long. His batting numbers have already begun to dip, and his pitching performance could easily fall off as well. But Ohtani has exceeded expectations so dramatically thus far that he could drop 20 points of batting average and add half a run to his ERA and still be an unconditional success and one of the most remarkable baseball players of this decade.
Besides, Ohtani's first two months have provided proof of concept, showing that it is indeed possible for a single athlete to play both ways and to do so at an All-Star level. Whether or not Ohtani eventually becomes an MVP and whether or not he sticks with both hitting and pitching longterm, his opening act alone has redefined what's possible on a baseball field today. For weeks leading up to his signing with the Angels and months leading up to his major-league debut, an entire sport wondered whether he could pull off a feat that has been barely attempted, let alone perfected, over the past 100 years. A third of the way through Ohtani's rookie season, the baseball world has its answer.