The Glorious, Bizarre History of Soccer and Fashion
Simon Doonan's new book, Soccer Style, summarizes the long and complicated relationship between athletes and outlandish style.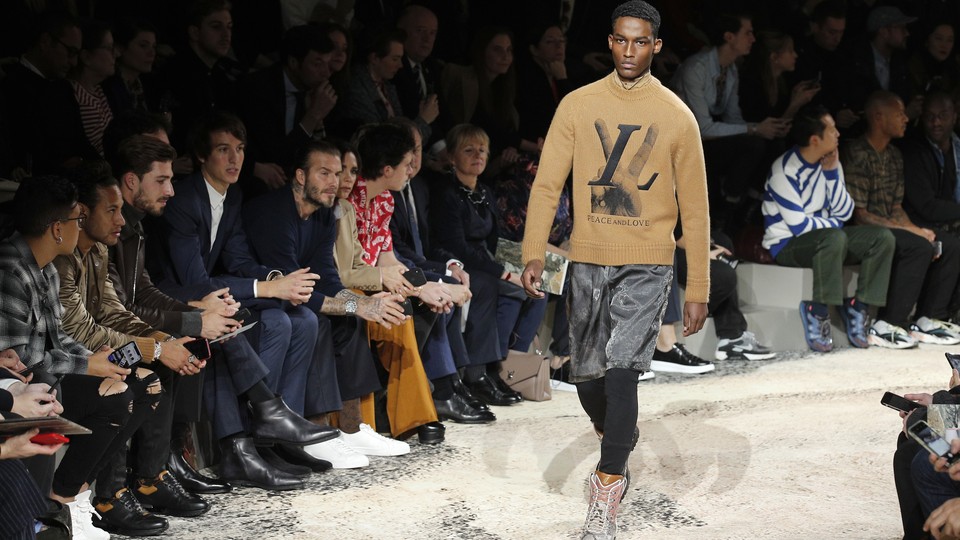 Robbie Williams's performance at the opening ceremony for the 2018 World Cup was a lot of things, but first and foremost it was fitting. In Moscow, Williams—the 44-year-old former wild child, pop musician, and soccer fanatic—wore a shiny, skintight crimson suit with a leopard-print pattern, black patent loafers, and a black shirt unbuttoned to mid-chest, revealing body tattoos and a massive silver chain. Williams's hair was shaved at the (silver) sides and swept into a single plume on the top of his head. All in all, it was a psychedelic, sleazy-chic, shameless outfit that couldn't have been more appropriate for the quadrennial conference of fashion's pompadoured peacocks and inked-up brand ambassadors.
Yeah, sure, the World Cup's about sport, kinda. But with, at most, six hours of matches to fill any given day, there's significant extra time to fill with intrigue, international politics, and—most entertainingly—misadventures in personal style. Consider David Beckham, the former England midfielder whose fashion biography runs the gamut from ill-conceived cornrows to classic-cut tweed. There are two indelible moments in his World Cup career. The first was at France '98, when Beckham was evicted from the game for kicking the Argentinian player Diego Simeone, contributing to an England loss on penalties. The second was a few weeks earlier, when Beckham stepped out to dinner in France wearing black trousers, brown sandals, and … a sarong.
Beckham, Simon Doonan argues in his new book, Soccer Style: The Magic and Madness, was the canary in the coal mine for how extravagant and combustible the relationship between soccer and style would eventually become. By 2018, we're accustomed to eccentricities like Roberto Firmino's gold-plated tie, Héctor Bellerín's pajamas, Djibril Cissé's pleated leather skirt, and Memphis Depay's Louis Vuitton boxing gloves. Doonan, the writer and Barneys creative-ambassador-at-large, recounts with characteristic humor and irreverence how this came to pass.
To be clear, he's an admirer rather than an impartial observer, a longtime football fan whose childhood in Reading (an English manufacturing town just outside London) fostered a tribal appreciation for Reading F.C.—not to mention an ardent passion for "the patron saint of footballer fashion," George Best. It was Best, Doonan theorizes, who injected glamor and heat into a game previously defined by suede trench coats, gravy commercials, and NHS dentures. "With George as their pied piper," he writes, "a new generation of players discovered the delights of swag, diving into a world of sharkskin suits, polo necks, medallions, Cuban heels, Chelsea boots, hip-hugger pants, and E-types. Simply put, they went stark raving mod."
Stylistically, Soccer Style is less measured historical analysis than zingy reader's guide, with more than 200 photos and taxonomical categories for the five variants of soccer style (Good Taste Ambassadors, Label Kings, Psychedelic Ninjas, Hired Assassins, Bohemians and Fauxhemians). Neymar, the Brazilian superstar, is a Psychedelic Ninja, with "his finger-in-the-socket hair, pointy catlike features, and super-skinny sharp-angled physique." The retired Italian midfielder Andrea Pirlo is a Good Taste Ambassador, having "entered his wine-instead-of-lager, DILFy years." Doonan resists the urge to judge, stating more than once how much he appreciates how soccer stars and their cash prop up the fashion industry, excesses and all.
That said, he often has shrewd and insightful analysis into the cultural and economic factors that shaped the outlandishness of soccer style. Until 1961, he writes, salaries in English football were capped at a mere £12 a week. When the Football League eventually elected to abolish its maximum wage, salaries shot up, and a generation of footballers were suddenly endowed with significant disposable income. During that same decade came George Best, the first true celebrity soccer star in the modern sense of the word, and "the primordial muck from which all fashionable, glamorous, charisma-riddled footballers … subsequently emerged."
It's no coincidence that Beckham is so intrinsically linked to the confluence of soccer and fashion, Doonan argues: His professional debut in 1992 coincided with both the founding of the Premier League and the democratization of fashion into "a global, throbbing, screeching, Sex and the City, shimmering spectator sport." That same decade, celebrity culture was ascendant, transforming Beckham and his superstar Spice Girls girlfriend, Victoria, into tabloid fixtures. As money flooded into U.K. football, players were able to elevate their public profiles (and snag lucrative endorsement deals) by honing their sense of style. An influx of European players also increased the glamour quotient, moving from shifty (Paul Gascoigne, Tony Adams) to suave (Thierry Henry, David Ginola).
In later chapters, Soccer Style goes from an entertaining excavation of soccer's fashion heroes to a broader cultural overview of excess on and off the field. As well as illuminating entries on tattoos, hair, manager style, and fan fashion, there are chapters on cars, endorsement deals, and (most acerbically) the WAG phenomenon, wherein the wives and girlfriends of top-tier soccer players became stars in their own right.
But what defines the book most of all, and makes it such a diverting pleasure, is Doonan's palpable affection for his subject, skin-tight Dsquared jumpsuits, Chrome Hearts man jewelry, tiger tattoos, and all. When teenagers (often from underprivileged backgrounds) are suddenly launched into the global spotlight and rained upon with preposterous amounts of cash, he wonders, what are they to do? If nothing else, embody the fantasy. Soccer players, Doonan posits, "exist for our vicarious pleasure … In their strange meteoric footballing lives we need to see all our hopes and fantasies distilled and writ large, exploding and imploding."